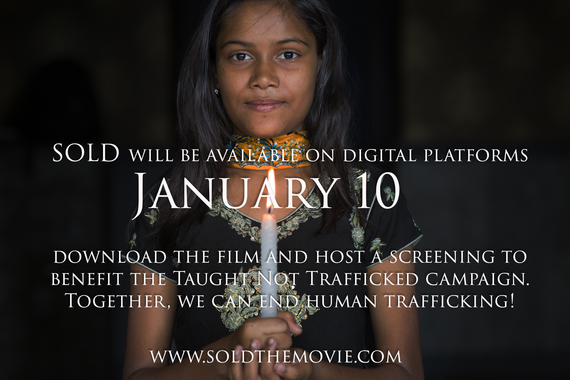 Film is incredibly democratic and accessible, it's probably the best option if you actually want to change the world, not just re-decorate it.
- Banksy

Giving voice to the millions of children who are sold into sex slavery, in India and beyond, this film adaptation of Patricia McCormick's haunting novel SOLD launches its digital release on January 10, 2017, after copping numerous awards on the film festival circuit.
It is available for download on a variety of platforms (see below) in a wide-ranging, grassroots effort to fund the 'Taught Not Trafficked' campaign - one of the latest initiatives to combat what experts estimate is now a $150 billion criminal industry. 'Taught Not Trafficked' builds classrooms for children in Nepal, and provides safe housing, healing programs and vocational training for survivors of trafficking.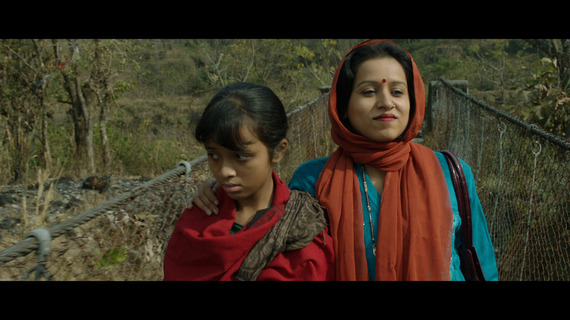 Drenched in the vivid colors of its shooting locations, SOLD is anchored by powerful performances by 13-year-old newcomer Niyar Sakia as a young girl trafficked from her home in Nepal, and Bollywood actress Sushmita Mukerjee in the role of the cruel brothel madam. Gillian Anderson and David Arquette join Tillotama Some (Monsoon Wedding), Seema Biswas (Water, Bandit Queen) and Ankur Vikal (Slumdog Millionaire) in this gripping depiction of one girl's hellish journey and eventual rescue - a composite story stitched from numerous real accounts.
Academy-award winning director and co-writer Jeffrey Brown handles the explosive story with sensitivity. "From its inception, SOLD was created as a tool for change, and as the engine driving the 'Taught Not Trafficked' campaign," Brown explains. "In the first 12 months our team will work with over 2000 survivors at five NGO's and with three businesses which exclusively employ trafficking survivors. By Year 5 we hope to be employing and healing 350,000 survivors in India, Nepal, and other countries."
The team hopes that individuals and organizations will take advantage of the digital release to arrange screenings in their communities to raise awareness of the global child trafficking phenomenon - and to raise funds for the NGO's on the ground in these countries. A mobilization kit on the film's website provides an invaluable guide for those who would like to help spread the word.
The feature-length version of SOLD runs 90 minutes and is available on platforms including In Demand, Amazon, Google Play, Xbox, Vimeo, Charter Communications, Dish, Cox, Sudden Link, Time Warner Cable, Comcast, Verizon Fits, Rogers, and Shaw.
A 50-minute PG-13 version of SOLD can also be purchased or leased for screenings through Roco Films.
For more information on SOLD and how you can support the 'Taught Not Trafficked' campaign, go to www.soldthemovie.com.
Related
Popular in the Community