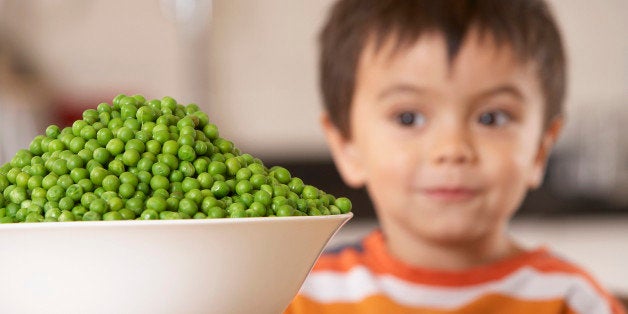 "My kid loves kale. He asks for the leafy green often."

"My kid follows the My Plate guidelines. She always finishes her veggies."
"My kid asks to go grocery shopping with me and loves to ask about the produce."
Let's face it, folks. If any parent said the sentences above, you would assume they were lying. While these scenarios might happen once in a blue moon, in the real world, according to the CDC, approximately 35% of adults are obese and 17% of children and adolescents aged 2-19 are obese. This is not emblematic of a nation of kids who "love kale."
In the northeast United States, the obesity prevalence is roughly between 20-25%. In other states, however, such as West Virginia, Louisiana and Indiana, adult and childhood obesity have a greater prevalence, with some topping the scales at over 30%.
As a dietitian and mom-to-be, I've witnessed the concern many parents have about their children's lifestyle habits. They want to see immediate positive results in their kids upon introduction of healthier foods -- primarily, they want their children to respond positively to fruits and vegetables. They want their kids to gravitate away from the video games and interactive apps and get active and healthy. Unfortunately, this type of behavioral change does not happen overnight.
Parents face many challenges when trying to get their children to eat a more healthy diet. Some of this is a result of today's children spending more time spent outside of the household, such as in daycare setting or after school programs -- these environments play a huge role in shaping their thought process about food. One key for parents is to try and make sure their children make healthy choices inside and outside the home.
Luckily, some child-care facilities are starting to catch on. Knowledge Universe, the largest private early childhood education provider and parent company to KinderCare, CCLC, has been working on initiatives to help children build lifelong habits. "This year we're also expanding our menus to include more whole grains, and planting school gardens in many of the centers," stated Carly Dunn, Registered Dietitian for Knowledge Universe.
In addition, organizations such as Wellness in the Schools (WITS) develop and implement programs that tackle key nutrition and fitness initiatives. Programs such as Coach for Kids encourage children to be active during recess by bringing in trained coaches to provide engaging games and exercises and Cook for Kids, in partnership with local departments of education, promote healthy eating through cooking and nutrition workshops. WITS programs serve approximately 30,000 public school children across New York City, Kentucky and Florida.
For every parent, there are little things you can start doing right now to have a positive impact on your child's lifestyle. The key is to start small and focus on the little things:
1. Encourage your child to cook with you - Increasing your kids' exposure to fruits and vegetables in a tactile way helps them build curiosity and interest in the activity. With child friendly kitchen gadgets, have them peel vegetables such as carrots or cucumbers.
2. Introduce new items to them at least 50-100 times - Many times, kids need multiple exposures to a food item in order to attempt trying it. For example, if you want them to eat a vegetable, try to prepare it in different ways (pureed, sautéed, roasted, braised) and then feed.
3. Be active with your child - No matter the age, there are plenty of activities you could do with him or her. I've seen kids come to my adult yoga classes and perform routines. You could go for a walk, practice jump roping, jump on a trampoline together, play catch or even bike ride outside. Sixty minutes of activity per day is suggested for kids, however, many barely get 30 minutes as noted by the Wellness in the Schools team.
4. Don't skip breakfast - Breakfast is the most important meal of the day. A proper nutritious breakfast will help set the stage for all other intake that day. Encourage your child to have breakfast and try to make it a family activity by eating together.

5. Get involved - Find organizations similar to Wellness in the Schools and volunteer when able. Giving back is the best way to spread the wealth.
6. Invest in a water bottle - Kids love having their own of things. Encourage water consumption by providing your child with his/her own water bottle. They'll soon realize it's empty and want to keep refilling it.
Most important: Don't get discouraged!