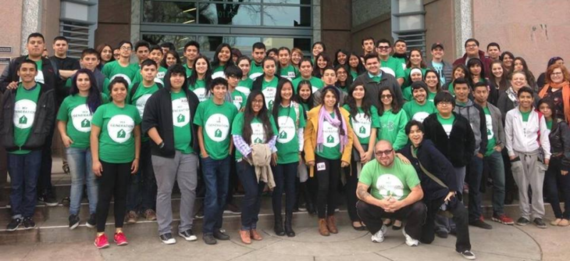 "None of us should have to be here right now fighting for our right to breathe."
That's what a young woman told the Environmental Protection Agency (EPA) at a hearing this week about smog pollution, after boarding a bus with 100 high school students before dawn and traveling for hours to deliver her three minutes of testimony.
The students live in a county with some of the worst air pollution in America, and one after another, they shared their personal stories, many noting they made the trip to speak for their family member who suffers from asthma or other smog-related ailments. Their stories left audience members and EPA staff alike visibly shaken, choked-up and teary-eyed.
They were among hundreds of Americans who attended three recent public hearings on the Environmental Protection Agency's (EPA) proposed standards for ozone, also known as smog. I myself testified in Washington, D.C., last Wednesday (you can read my testimony here), where supporters of a stronger smog standard greatly outnumbered polluter industry representatives.
The same situation played out in Arlington, Texas, and on Monday in Sacramento, California. In Texas, nine organizations worked together to turn out over 230 people to testify and rally for strong smog protections, while only a handful of opponents attended. The Dallas Morning News wrote that "the top doctors' organizations in Texas and Dallas County, along with other groups and individuals, pressed hard on Thursday for a much tougher federal limit on ozone, or smog."
Doctor Robert Haley of Dallas put it this way: "As physicians who care for those patients and see the asthma attacks, respiratory failure, hospitalizations and premature deaths, we believe that the citizens of these 10 counties are paying a high price for ozone pollution that could potentially be avoided."
In Sacramento, more than 400 people showed up to rally in support of strong smog standards, with 186 testifying. Of those, well over 100 were elementary and high school students -- some from as far away as a seven-hour drive.
I'm especially impressed and moved by the 107 students from Desert Mirage High School in Thermal, California. They got on a bus as 1:00am to get to Sacramento in time for the hearing. And their testimony was phenomenal. Here's one example from an excellent article about the Desert Mirage students:
For Sierra Club organizer Marina Barragán, who lives in Oasis and graduated from Desert Mirage two years ago, the fight for tougher smog restrictions is personal. Barragán's uncle died from asthma-related health issues eight years ago, and her 23-year-old-sister, Maritza, suffers from the same condition.

"I remember growing up, and my sister never played outside with us. I used to think it was normal," said Barragán, who helped organize the Sierra-Club led trip to Sacramento. "I thought it was normal that she could not go outside because she would start breathing really heavy."

Eventually, Barragán said, her sister's monthly hospital visits became more frequent, culminating in a summer when she went to the hospital three times in the same week.

"I realized this was not normal, no one should have to do this," Barragán said. "That is ridiculous. That is inhumane. No one should have to do that."

...

Speaking from Sacramento, Barragán said that east valley residents "shouldn't have to fight for clean air."

"None of us should have to be here right now fighting for our right to breathe," she said. "I already lost my uncle - I shouldn't have to lose my sister too."
Those who attended the Sacramento hearing said the EPA officials and many in the audience became teary-eyed listening to so many young people talk about how asthma affects their families.
This is a life-and-death issue for millions of Americans who suffer from respiratory issues like asthma. EPA must enact a smog standard of 60 parts per billion (ppb). Scientists, medical experts, and public health advocates say this is the level that must be enforced because of the health threats.
I'm so glad that hundreds of Americans were able to tell the EPA in person how much clean air matters to them. Now it's up to the EPA to do the right thing and create a strong 60 ppb standard that's based on recommendations from medical scientists, which will protect people like Marina's sister and countless Americans across the country. You can help -- send a comment to EPA in support of strong smog protections.
Related