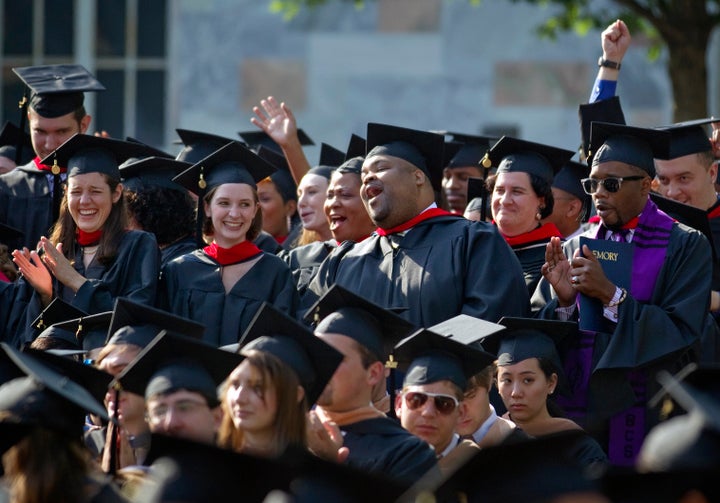 I've met students across Rhode Island who rely on Pell Grants. They work hard, play by rules, and are doing everything they can to get the education they need for the jobs of tomorrow. Yet during the debt ceiling negotiations, House Republicans made it all too clear that this vital program for middle-class families is on its hit list, pushing drastic cuts and referring to Pell Grants as "welfare" for our kids.
As the Congressional "supercommittee" prepares to recommend significant budget cuts this fall, there may be a fight for the future of Pell Grants -- and we need to be ready.
When Rhode Island Senator Claiborne Pell first proposed the grants that now bear his name, he envisioned a way to help students attend our country's wonderful colleges and universities, so they could share in the American Dream.
Today, a full Pell Grant covers just 34% of the costs to attend a public four-year university; down dramatically from the 72% it covered in 1976. Still, a Pell Grant can often mean the difference between being able to attend college or not.
But right now, we are facing a real threat to Pell Grants. Already this year, the House passed a budget that would have slashed Pell Grants, reducing the average award by $1,775 and slashing grants for more than 1.3 million students across the country.
The Senate blocked that proposal, but House Republicans made another failed run at slashing Pell Grants near the end of the recent debt ceiling showdown. Now we're faced with a "supercommittee" that must make $1.5 trillion in cuts -- putting the Pell program in real danger of the cuts House Republicans are pushing for.
Educating our children and giving them the skills they need to compete in a global economy is a smart investment in our country's future. On average, young adults with a bachelor's degree make almost twice as much and are three times less likely to be unemployed than their peers who only possess a high school diploma. And right now there are 9 million Americans who depend on Pell Grants to achieve their dream of a college education. Pell Grants aren't "welfare," they are a gateway to opportunity for some of our nation's best and brightest students.
With many families in Rhode Island and across the country still struggling in this economy, maintaining the Pell Grant program is more important than ever. Please take a moment to sign the petition to Save Pell Grants and send a reminder to the "supercommittee" on where American families stand on Pell Grants.
The bottom line is that our kids deserve a brighter future. They deserve an opportunity to attend college, regardless of their wealth or class. And our economy needs an educated work force that can compete in the global race for jobs. It's imperative that we raise our voices together to stop House Republicans from rolling back one of the greatest investments in our children's future, the Pell Grant.
If you are one of the millions of Americans who have personally benefited from a Pell Grant, please raise your voice and share your story here.

Sheldon Whitehouse is a U.S. Senator for Rhode Island and a member of the Senate Committee on Health, Education, Labor, and Pensions (HELP). He can be found on Facebook at Facebook.com/SenatorWhitehouse