While our nation enjoys time away from work, students are home from school and many are taking advantage of the various Veterans Day sales -- our nation needs to stop and remember the significance of Veterans Day. Honoring the sacrifices many have made for our country in the name of freedom and democracy is the very foundation of Veterans Day.
In the 11th month, on the 11th day, at the 11th hour, World War I ended -- the "war to end all wars." Sadly World War I was not the end of all wars -- nor was WWII, Korea, Vietnam, or the Cold War. Today our troops are deployed around the world and engaged in a global war on terror.
On November 11th, we commemorate all of our veterans of all wars through parades and ceremonies. Parades and ceremonies are important special events which need to be supported and attended. However, we can never forget that our heroes are counting on us for help on the home front every day as they work to reintegrate into the very society they left behind to protect.
As a veteran, I know firsthand the satisfaction there is in defending the democracy you so strongly believe in, but I can also attest to the trauma encountered from combat on the battlefield. It is troubling to return from fighting for your country, and discover a new fight -- a fight to find a place to live, a job to support yourself and your family, and a way to relate to your old friends and neighbors.
I proudly served in the United States Army during the Korean War, as an artillery operations specialist in the all-black 503rd Field Artillery Battalion in the Second Infantry Division. When I returned home to Harlem, I was awarded with medals, but those medals could not sustain me. I was still without a high school diploma, and little qualifications to get a job that I could survive on. It was not long before I was stuck rolling around delivery carts just to get by. Fortunately, I learned that the Veterans Administration (VA) could help me. I reached out to the VA and never looked back. Many of our servicemen and women struggle needlessly, unaware of the extensive health and career resources our great country offers its veterans.
Paying homage to our veterans goes beyond recognizing and awarding their efforts in the field of battle. Respecting our veterans includes providing them the ways and means they so desperately need to reintegrate into our lives and serve us again as productive members or our civilian community.
I recently hosted "A Day to Honor Our Heroes," an event that featured presentations on veterans' issues such as healthcare, homelessness, joblessness, as well as a veterans jobs fair. Held at the Bronx Community College, the event brought veterans from all over my district, many of whom were unaware of the assistance they could receive even after dedicating their lives to serving this county.
As a Congressman, I have been a stalwart advocate on veterans issues, authoring legislation which helped establish the Office of Minority Veterans Affairs in the Federal Department of Veterans Affairs, and also secured the creation of a full-service Veterans Outreach Center in my Upper Manhattan congressional district. Recently, I introduced the Restore Honor to Service Members Act, which would correct the records of gay and lesbian veterans who were dishonorably discharged under "Don't Ask, Don't Tell" (DADT). In addition, my Veterans E-Health & Telemedicine Support (VETS) Act aims to remove outdated barriers for veterans access to healthcare.
Veterans Day is a time to honor the living and remember those who have passed. The most important accolades veterans can receive are the resources they need to survive at home after surviving in hostile environments around the world. Although we cannot all fight, we must all shoulder the burden of war, and ease the pain of the less than one percent of Americas who currently take on this responsibility for us all. Celebrating our veterans should be a daily effort to assist those who have kept America free.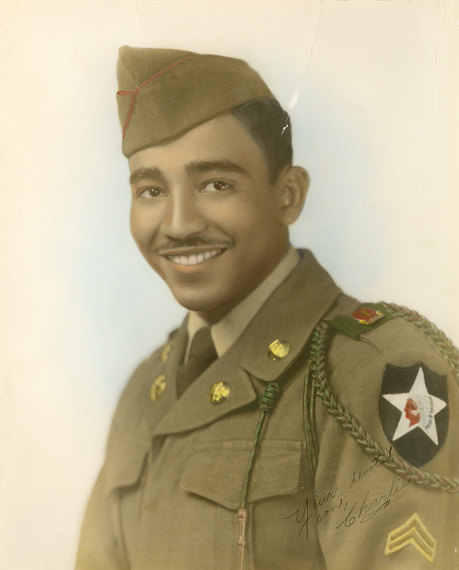 Staff Sergeant Rangel, 1952
Popular in the Community