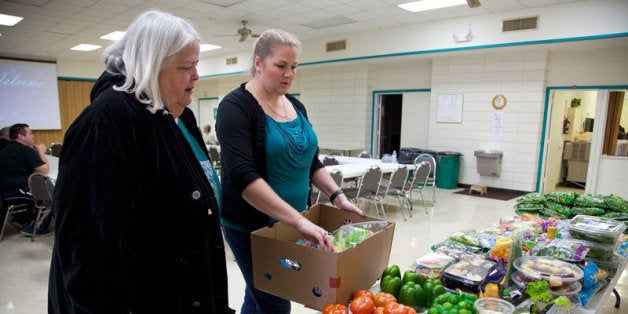 In photo: Judy (left) a client of Feeding America member Food Bank of Corpus Christi, picks up fresh produce from a pantry designed to meet the needs of clients with diet-related disease.
Through my time at Feeding America, it's become clear to me that many Americans have a misconception of what it means to struggle with hunger in our country today. Time after time, I've encountered critics who insist that a particular person we serve can't possibly be hungry because "she doesn't look hungry to me."
The reality is, however, that Americans come in different shapes and sizes. Unfortunately, diseases like obesity and diabetes are more prevalent in areas where people struggle to get enough to eat. If you think about it, there are pretty simple explanations for this seemingly contradictory phenomenon: for one, access to and affordability of health foods.
For many, fresh produce is more expensive than processed food and soda is cheaper than milk. If you have $5 to feed a family of four, are you going to spend it on a few apples or three pounds of instant mashed potatoes? With four people to feed, you're left with little choice.
At Feeding America, we recognize that food insecurity -- meaning people who lack, at times, access to enough food to live a healthy life -- and diet-related diseases are interconnected.
Obesity, heart disease and type 2 diabetes all disproportionately affect low-income populations. As the nation's largest hunger-relief organization, we have a responsibility to provide more food that promotes health and wellness among the people we serve.
As part of our nutrition initiatives, we recently launched the Healthy Food Bank Hub. The Healthy Food Bank Hub is a Feeding America site that offers information and resources to better equip hunger-relief professionals with resources to promote nutrition and public health professionals with the information they need to fight hunger. These resources include nutrition education strategies, best practices for getting to healthy foods in low-income communities, and budget-friendly, healthy recipes for the clients and patients they serve.
The site has already had tremendous success, and I think its success is based partly on the fact that its existence is critical to addressing hunger in America today.
Feeding America strives to provide those facing hunger not only with enough food to meet their needs, but also accessibility to healthy "foods to encourage" such as fruits and vegetables, whole grains, low-fat dairy and lean protein, as emphasized through the USDA's MyPlate guidelines.
In fact, 68 percent of the foods we distribute are classified as "foods to encourage." But with 49 million people facing hunger in our country and an epidemic of diet-related disease, we know we have so much further to go.
To learn more about how you can help fight hunger and promote health, please visit our Healthy Food Bank Hub. Right now, an apple a day may be out of reach for many Americans, but working together, we can solve hunger and make sure everyone in our country has access to the food they need to live a healthy, active and hopeful life.
Cisco support for a new transportation management system streamlined services for a network of 200 member food banks for a projected savings of US$1.5 million over 5 years or 12 million meals. For more information, visit: http://csr.cisco.com/pages/feeding-america

Calling all HuffPost superfans!
Sign up for membership to become a founding member and help shape HuffPost's next chapter