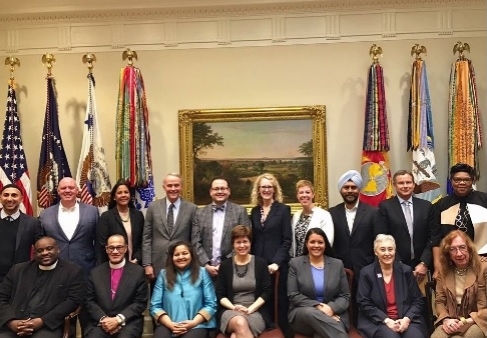 Far too many children -- more than one in five -- live in poverty across America. It is an unacceptable reality that has loomed large over the past year in my work with President Obama's Advisory Council for Faith-based and Neighborhood Partnerships. Charged to make ongoing recommendations to the Obama Administration to advance the fight against poverty, the Council brought together two dozen leaders from diverse faith traditions to work together and lift up a vision for a stronger, more equitable Union focused on ending poverty.
Our report talks about the thorniest challenges that will confront our next President:
Extreme inequality is a social ill with deep spiritual and communal implications. It not only perpetuates poverty, but also demeans human dignity, crushes the human spirit, and severs family communal bonds, ultimately resulting in the undermining of democratic institutions. It erodes families, communities, and nations by pulling us apart and wasting the gifts of our citizens who are deprived of opportunities to achieve and contribute.
Every day at Covenant House, our staff concentrates on making sure that the gifts of the homeless young people we serve are not wasted, that the kids have safe shelter, food, clothes, care for their physical and mental health, and then opportunities, in education and work, so they can become independent. And what gifts they are! I often say, the least interesting fact about the kids we work with is their homelessness.
The report contains practical, achievable recommendations for addressing poverty, some of which are already underway. As a nation, we need to

-Maximize construction of affordable housing through the National Housing Trust Fund.
-Target housing production for the lowest-income families
-Eliminate lead exposure in federally assisted housing units.
-Base child support orders in part on ability to pay.
For homeless young people, the report outlines how we need to make sure their mental health needs are addressed and to reduce the risks faced by unaccompanied minors, especially those immigrating from Central American countries. I am also very pleased to include in the recommendations a call for studying the most effective models for getting kids off the street and into apartments of their own.
Our discussions often took place in rooms at the White House and the Old Executive Office Building, but they were filled with voices and faces from across America, people whose stories of struggle are often neglected in our politics. Our report talks about the government's need to work WITH poor communities, to "recognize and address the emotional harm, trauma, and diminished social ties experienced by individuals, families, and communities in poverty, in addition to their material needs."
Anyone who has read Evicted by Matthew Desmond or A Path Appears by Nicholas Kristof and Sheryl WuDunn knows that poverty is a bludgeon that hits the heart, head and soul, not just the wallet. Reporting with former New York Times journalist Tina Kelley for my own book, Almost Home: Helping Kids Move from Homelessness to Hope, I met homeless young people in Alaska, New Jersey, New York, Louisiana and Texas, who kept slipping down the ladder of opportunity because of hunger, homelessness, multiple foster care placements, broken schools and trauma.

The Council also recommends that, whenever possible, interactions improve between government employees and impoverished people. Specifically, we write, "Government should strengthen the front-line delivery of services so that the provision of the material aid is uplifting to clients, resulting in transformative personal interactions and relationships that may lead to sustainable change."

Can you imagine a nation where this vision becomes reality, a vision worthy of our country's greatest aspirations? I can. We can and will end extreme hunger and poverty in America one day, but we won't cross the finish line unless we start running.
REAL LIFE. REAL NEWS. REAL VOICES.
Help us tell more of the stories that matter from voices that too often remain unheard.