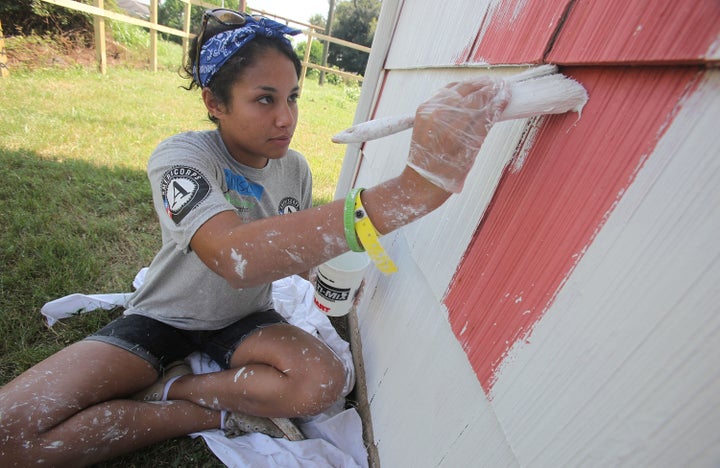 Since I can remember, I have always felt it unfair that just because someone is born in a particular country or city, or to a family of a certain means is a strong indicator of her available opportunities in life. This inequality is magnified in the developing world, where individuals living on $1 to $2 a day struggle to meet daily needs, and lack access to adequate housing and education making it even more difficult for them to break the cycle of poverty.
I'm passionate about doing what I can to change this dynamic and create opportunities for all people -- no matter where they are from or what their family history is. This passion is one of the reasons I decided to pursue my MBA at Presidio Graduate School in San Francisco, where the emphasis is on creating and fostering social enterprises that take into account social justice and environmental impacts, in addition to the bottom line.
My team from Presidio Graduate School -- consisting of Sarah Cabell, David Stripling, Shaun Webb and myself -- is among six finalists competing in the Housing track of the Hult Global Case Challenge Finals. Currently 1.6 billion people in the world live in substandard housing conditions, which contribute to illness, insufficient education, and crime. The United Nations expects this number to climb by an additional 3 billion (or 40 percent of the world's population) by 2030 due to population growth and rapid urbanization if nothing is done to curb the trend.
Given the enormous need, Habitat for Humanity International (HFHI) seeks to build 10 million houses in 10 years. It is an audacious goal to say the least, especially given the fact that HFHI has built 500,000 homes since its founding 35 years ago. We are developing an innovative business model for HFHI that will enable it to create affordable housing solutions at scale. At the end of this month, we pitch our concept to some of the world's leading business, political, and social change leaders including Bill Clinton and Muhammad Yunus. If we convince the judges we have the strongest solution, we will secure $333,000 for HFHI, which will be used to pilot our plan.
Our solution is to move HFHI from a donor- and volunteer-driven organization that slowly builds houses to a manufacturer of modular homes that streamlines the building process through employed labor, bringing economic development and job opportunities to those at the base of the economic pyramid. We feel this is a game changer because it acknowledges the purchasing potential of those at the base of the pyramid and delivers a market based solution that is self-sustaining, and not reliant on subsidies. Our solution uses highly efficient production techniques to lower costs and decrease the time required to build housing developments, while creating entrepreneurial opportunities throughout the supply chain. For our model to be successful it will require collaboration from multiple stakeholder groups including low-income individuals, governments, NGOs, multinational corporations, and micro-finance institutions.
Participating in the Hult Global Case Challenge has opened my eyes to the severity of the problem of inadequate or slum housing. It has strengthened my conviction that now is the most opportune time to develop solutions at scale that will address this problem. Multinational corporations are realizing the untapped market potential that exists at the base of the pyramid. Microfinance institutions are developing risk assessment tools and offering financing to low-income individuals who previously would have been deemed too risky. Social impact investment funds are becoming more commonplace to address the growing market of investors who believe in patient capital and who seek more than just economic return. There is a real opportunity to build a more inclusive economy while helping $1 to $2 per day wage earners become first-time homebuyers, thereby gaining access to capital. The time is now.
Winning the regionals of the Hult Global Case Challenge has opened up doors and enabled our team to have conversations with incredibly smart and talented professionals, including management consultants, urban planners, impact investors, and academics working in the affordable housing space. It has strengthened my conviction that business is an enabler of social good.
For others who aspire to work at the intersection of business and social good, my first piece of advice is to do your homework. There are so many resources available on the Web to help you get smarter about the barriers, opportunities, and best practices of what you are trying to accomplish. It is likely that others have tried to solve the same or similar social challenges and you can learn a lot from those with on the ground experience -- especially from those in developing countries where the circumstances are quite different than in the U.S.
Once you have the lay of the land, don't be afraid to reach out to people you think could inform your business model or become an ally or partner -- even at the CEO or director level. I have been amazed by the responses from people wanting to hear more about our idea and offer whatever help they can to propel it forward. Don't be afraid to pick up the phone or hit send. You will never know if you don't ask.
My final piece of advice is to be persistent and practice resilience. There are good days and bad days and many of the world's most pressing problems are messy and complicated. That is why they have not been solved yet. The development of real and lasting solutions will take collaboration from multiple parties, and collaborative working relationships take time to develop. It also requires flexibility and iterative thinking. Just keep going even in the face of tough obstacles -- if you keep at it eventually good things will come.
REAL LIFE. REAL NEWS. REAL VOICES.
Help us tell more of the stories that matter from voices that too often remain unheard.