In 1995 I dodged a bullet, big time. I was diagnosed with stage one uterine cancer for which the treatment was surgery—a hysterectomy—no big deal—I had long ago finished having children. The prognosis for stage one was 88% survival after five years. Pretty good odds. So, what was the bullet? A second tumor was discovered on my ovary (also stage one), which never would have been discovered if not for the surgery. This raised the question: did one tumor come from the other? If so that could cause complications. But a test for hormone receptors on each tissue sample showed that one tumor had significantly more receptors than the other, and thus were not related. Diagnosis: two primaries. As you can see, I'm still here.
Recently I was invited to a reception for Tina's Wish—a nonprofit organization with the narrow mission to fund scientific research for the early detection of ovarian cancer. Currently, 80% of women with the disease are diagnosed in the advanced stage of which the five-year-survival rate is only 27%.
Tina Brozman was the youngest judge ever appointed to the Southern District Bankruptcy Court and became the Chief Judge of the SDNY Court. She was married to Andrew Brozman, had three children Nick, Alix and Wallis, and was named one of the 50 Most Influential Women Lawyers in America by the National Law Journal. She was diagnosed with advanced ovarian cancer in 2005 and died two years later at the age of 54. She was not angry that she had the disease; she was angry she didn't know sooner.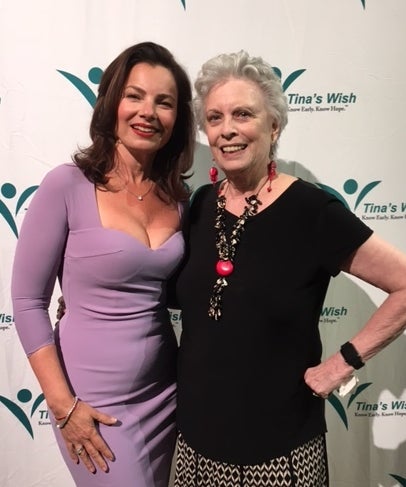 Fran Drescher, Emmy award-winning actress and producer, bestselling author of Cancer Schmancer, and 17-year survivor of breast cancer was the keynote speaker at the event. Her humor and clear-sighted reality took the edge off a grim tale. She also moderated a panel that included Dr. Leslie Boyd, NYU Langone, Dr. Kara Long-Roche of Memorial Sloan Kettering and Claudia Garza, an ovarian cancer survivor.
Ovarian cancer is the only gynecologic cancer without an early detection screen and it is the #1 deadliest woman's cancer. Tina's Wish has grown to become the third largest private funding source dedicated to early detection ovarian cancer research. Their mission: Know Early. Know Hope
My other take-away from the evening is that if you get cancer, go to a large-volume cancer medical center. I know from personal experience that they've seen everything and are adding new arrows to their quiver of stopping this multifaceted disease every day.
Related
Popular in the Community