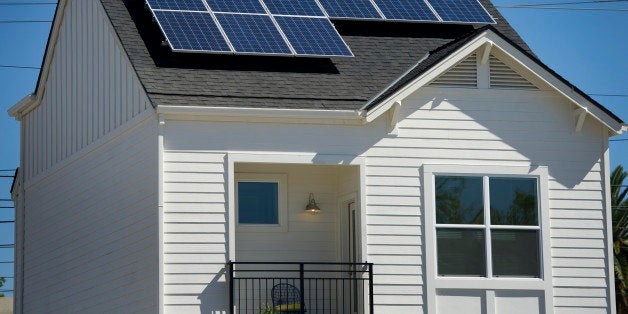 While the presidential candidates continue a disheartening debate about whether or not climate change is real, my home state of California has taken the discussion to a whole new level: We're showing that smart policies to protect our climate can help address other critical challenges, like housing, traffic and smog.
For those of you in other states, California's housing situation is insane. Affordable housing has become so scarce in lots of areas that many families struggle with unaffordable rents or substandard living conditions because that's all they can afford. For many - even responsible, working families with stable incomes and some savings - purchasing a home is simply out of the question (indeed, the homeownership side of the picture is so worrisome I'm going to write a whole column about it next time).
West Sacramento resident Esther Roberts and her four children know all about housing struggles. Without access to the affordable housing development where she lives, she says, "I would probably be living with all of us in a studio apartment in some place I don't want to be, just because that's the only place I could afford to keep something over my head."
What does this have to do with climate? Everything, if you connect the dots. Affordable homes don't just help families like Esther's. They can also make a big dent in smog, traffic and the greenhouse gases that are disrupting our climate - if we put those homes near public transportation and include other amenities that encourage walking and biking.
As the transportation experts at TransForm have documented, lower-income households who live near transit drive less than half as many miles as wealthier households. Creating 15,000 new affordable homes near good public transportation would keep over 1.58 million metric tons of greenhouse gases (and lung-damaging smog) out of our air. Smart policies can help fix several problems at once: cleaning the air, boosting our economy and helping the communities of color and low-income neighborhoods typically hit first and worst by both pollution and economic difficulties.
In California, we're doing just that, with a climate program that's helping build more affordable homes near public transportation in communities statewide. Under laws called AB 32 and SB 535, fees paid by polluters who put carbon into our air go into a variety of projects to help clean the air and save energy, including transit-oriented affordable homes for low- and moderate-income Californians.
This isn't some hypothetical future dream. California has already funded over 30 such projects in all regions of the state from carbon auction proceeds, with many more on the way in future years. One of these, West Gateway Place, is now underway not far from Esther's West Sacramento home and will provide 77 affordable homes for more families like hers. In many cases, construction either has already started or is about to get going.
This represents one of the great untold stories or our era, while California's climate effort - and Big Oil's relentless efforts to kill it - have gotten some attention, the news media have paid little attention to where those dollars go and what good they do. It's a part of the story that needs to be told, because some politicians continue to cynically peddle a false choice: that we must pick between protecting our climate and helping working families. In fact, we can do both and California is proving it.
In addition to helping families find safe, affordable homes, California's climate investments have already begun to help cut traffic, reduce smog, shrink families' energy bills, create tens of thousands of good-paying jobs and much more - all while combating the climate crisis that threatens us all. But don't take my word for it.
To learn more about affordable housing and climate, you can read about Esther and watch a short, informative video at UpLiftCA.org - where you can also learn about other Californians already reaping the benefits of forward-looking climate policies. And to get a fuller picture of what these climate investments do and where these dollars go, search for climate investments throughout California and using TransForm's searchable online map and database at ClimateBenefitsCA.org. California has built an amazing model that other states and the U.S. government should follow.
Meanwhile, there's much more that needs to be said about housing and homeownership. Watch this space for an update on some disturbing numbers we found in federal home mortgage data and ideas for what we can do about them.
Calling all HuffPost superfans!
Sign up for membership to become a founding member and help shape HuffPost's next chapter