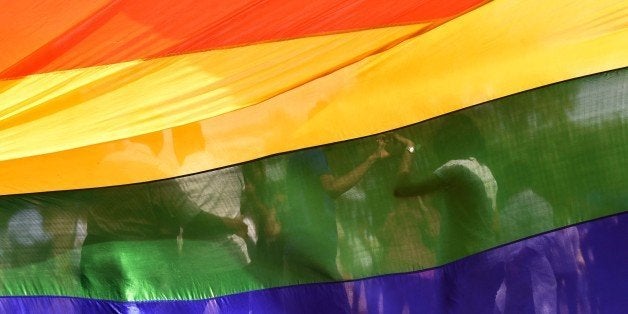 In many ways, the history of the LGBT community is a history of battling invisibility. Since the dawn of time, society has tried to make us invisible. We gained strength as a community only by shedding that invisibility, coming out, and proudly saying who we are.
Sadly, as far as we have come, our battle for visibility is not over. We are fighting discriminatory policies in states all across our country, against forces that want us to disappear. We face disproportionate challenges regarding poverty, suicide, isolation, substance abuse, and violence, yet most do not know of these challenges. We are the most targeted group for hate crimes, as exemplified by the recent tragedy in Orlando, once again by someone who just wanted us to disappear.
The LGBT community's disappearing act also plays out in the provision of the most basic services, ranging from senior long-term care facilities to meal programs to homeless facilities to employment programs. We do not even systematically collect data about how many LGBT people use these programs, so that we can understand how many LGBT people access a particular service and whether better outreach or more culturally competent service is needed. Over and over again, we hear stories from members of our community about how a particular program or facilities just wasn't targeted to the needs of LGBT people.
To address this challenge, I introduced legislation, which is currently working its way through the legislative process, to collect this very data. The legislation requires that our city agencies and city-contracted nonprofits collect data regarding the sexual orientation and gender identity of the people they serve. The legislation does not require an individual to submit the data, but service providers must ask the question and collect any data provided.
Data collection will help us improve services for LGBT people to improve their lives. We use data every day to analyze services by ethnicity and income level, which helps us improve outreach to diverse communities as well as the effectiveness of our services. If a non-profit service or city program is underserving the LGBT community, we can look at the program and ask why. Do we need to improve outreach or how the program is run? If there is over-representation, we can examine what need that program is filling, why the LGBT community is heavily accessing the service, and work to ensure we are addressing the need at issue in a culturally competent way. If a program is successful at serving gay men but not transgender women, we can work to fix that as well.
This legislation resulted from a recommendation made by the LGBT Aging Policy Task Force, which I created along with two of my fellow LGBT colleagues in 2012. That Task Force was born of the broad and significant need to deeply look at our LGBT seniors and the unique challenges they face. The current legislation requiring data collection is the second piece that has come out of the findings by that Task Force. The first - legislation I authored to create an LGBT Senior Long-Term Care Facilities Bill of Rights - created regulations to eliminate discrimination based on sexual orientation, gender expression, identity, and HIV status, as well as create a more supportive environment in our long-term-care facilities.
Scott Wiener is a member of the San Francisco Board of Supervisors, representing the Castro and other great neighborhoods. Supervisor Wiener is one of two LGBT members of the Board of Supervisors.
Popular in the Community