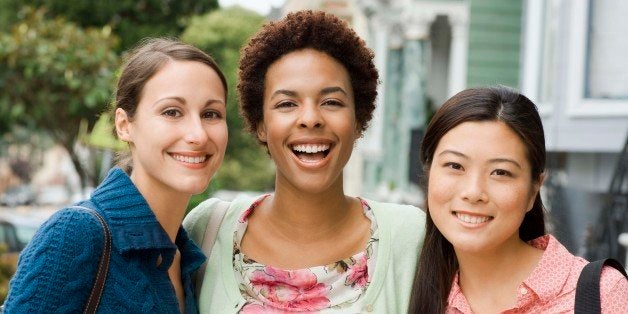 In the eight days after the now infamous Ray Rice video surfaced, the U.S. National Domestic Violence Hotline received 8,500 calls. Yet most of the headlines and public discourse around the Ray Rice scandal and violence against women have focused instead on victim blaming, wondering aloud why Janay Rice went on to marry the man who had so brutally attacked her. Courageous women from around the world have taken to Twitter, using the #WhyIStayed hashtag to share extremely personal, painful stories of their own experiences with domestic abuse, using their words to silence the media and encourage other brave women facing violence to find their own voices, speak up, and make those calls. And just a few days ago, the White House launched their It's On Us campaign, calling for men and women across the country to take a pledge to help stop sexual assault, with a specific focus on preventing assaults on college campuses.
While these high-profile examples come from the United States, violence against women is a global issue, and remains one of the most entrenched and horrific forms of gender inequality. The World Health Organization reports that 35 percent of women around the world have experienced physical and/or sexual intimate partner violence or non-partner sexual violence. Globally, as many as 38 percent of murders of women are committed by an intimate partner. And many women report that their first sexual experience was forced -- 17 percent in rural Tanzania, 24 percent in rural Peru, and 30 percent in rural Bangladesh.
The statistics are disheartening, but we can find hope in the rise of global conversations like #WhyIStayed and the It's On Us campaign. These platforms are empowering survivors, reaching new audiences, engaging new advocates, and building the global movement for gender equality.
Global Fund for Women's online project Imagining Equalityalso aims to be a platform for this movement, breaking the silence around violence by sharing the voices of survivors and activists who are speaking up and speaking out to bravely confront and advocate for freedom from gender-based violence in their homes, their communities, or their countries.
For too long, violence against women has been glamorized in popular media and normalized in many societies. In "Three Ways to Respond to a Rape Joke", activist and author Amy Logan shares her story of how she went from quietly, uncomfortably tolerating rape jokes as acceptable forms of humor to speaking out thoughtfully against them. In Logan's words we are shown that every time a woman speaks up against language that makes light of sexual violence, it makes a powerful impact, especially when it comes to our personal relationships.
And then there are forms of violence that are less insidious and that no society can justify, but that continue to occur on a daily basis -- such as horrific instances of sexual violence in conflict women and girls from Iraq to Syria are sharing, or the brutal gang rape and murder of a college student on a bus in Delhi, India in 2012, which sparked mass protests by thousands of people who took to the streets to express their outrage against such horrific acts of violence and the failure of authorities to protect women. This event was the impetus for the creation of Priya's Shakti, a campaign and interactive "augmented reality" comic book that aims to allow survivors of gender-based violence to tell their stories and asks the public to stand with these brave women.
The International Gay and Lesbian Human Rights Commission, a Global Fund for Women partner, knows that the first step toward progress to end gender-based violence is to listen to and acknowledge the experiences of survivors. That's why, for the first time ever, they undertook an extensive effort to interview lesbian, bisexual, and transgender survivors of sexual violence in countries such as Pakistan, Japan, Sri Lanka, Malaysia, and the Philippines. They used these interviews to create a report that outlines the many ways LBT survivors of sexual violence are discriminated against and shut out of social services -- the first report of its kind.
The Global Fund for Women is honored to support this work and the work of many other of our grantee partners around the world that have influenced the passage of laws on violence against women in 25 countries and counting. With zero violence at the heart of Global Fund for Women's mission, we know that sustainable shifts in social and cultural norms around violence come from legislative action as well as advocacy, education, and awareness-raising in communities, nations, and regions.
As these brave women prove, raising your voice is a critical part of the global movement to end gender-based violence. We must build upon current momentum to reach new audiences around the world and inspire others to share their stories. Join the many bold survivors, leaders, and activists and raise your voice by creating your own "Equality Is" badge, or join the conversation on Twitter with the #EqualityIs hashtag. Together, let's shatter the silence around violence and continue to work toward the equal world we all desire -- the world that all women deserve.