As the art world once again make their annual pilgrimage for Art Basel Miami, collective heads exploded this week with the announcement that industry leaders Jeffrey Deitch and Larry Gagosian would be putting on a ground breaking show of figurate work. This new show was nothing short than a public declaration that figurative art and artists once again rule the roost. The dynamic duo unveiled their first collaborative project entitled "UNREALISM" which celebrates the revival of figurative painting and sculpture. In honor of the art world coming to its collective senses, it's time we celebrate three of the industry's greatest figurative artists working today.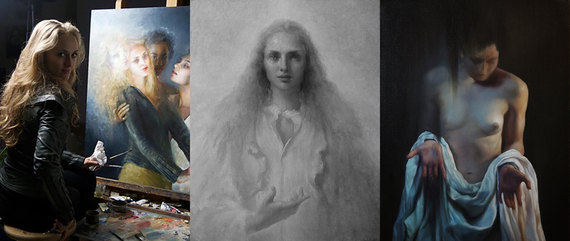 Maria Kreyn is a Russian born painter and focuses primarily on the human figure: mystical gesture, light, sensuality of skin, intimate space, and intricacies of the human expression are all hallmarks of her work. Kreyn emulates old master techniques and textures in order to honor the history of painting and the pursuit of beauty. What perhaps originates in the anachronism, or nostalgia of glory gone reveals itself as the utmost relevant - the human figure and timelessness.
Maria and her family immigrated to the United States in 1989 and she later received her education at the University of Chicago, studying mathematics and philosophy. The rich cultural intensity of her Russian heritage shines through each of her sublimely haunting paintings and drawings. Kreyn's academic background informs not only her paintings, but also her writing on esthetic theory and contemporary art. During the past five years, she has traveled and exhibited extensively throughout the United States and Europe from Terrence Rodgers in Los Angeles, to the National Arts Club in New York City, to Galleri PAN in Oslo.
Working now in New York City, Maria is drawing attention as emerging addition to the new generation of contemporary figurative painters. Her work continues to push the boundaries of the rigorous classical tradition with compelling and innovative conceptual thinking.
The Modernist: Simon Birch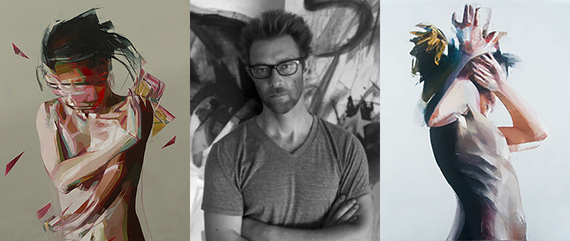 Simon Birch is a UK-born artist who has lived and worked in Hong Kong since 1997. Mr. Birch has presented solo shows in Beijing, Hong Kong, Los Angeles, Miami, and Singapore, as well as exhibiting in group shows at the Hong Kong Museum of Art (2008), the Haunch of Venison, London, and the Museum of Contemporary Art, Tokyo, in 2011.
Working primarily with oil on canvas, Birch has also ventured into film and installation work culminating in some particularly notable large-scale projects, including the 20,000 square feet multimedia installations HOPE & GLORY: A Conceptual Circus (2010) and Daydreaming With...The Hong Kong Edition (2012) at the ArtisTree, TaiKoo Place, Hong Kong. These large multimedia projects integrated paintings with film, installation, sculpture, and performance housed in specifically configured spaces. Birch's work has been featured and reviewed in many international publications, including Artforum, The Guardian, The International Herald Tribune, and The New York Times.
Mr. Birch has recently relocated to New York City to launch 14th Factory a non-profit art's foundation. His work continues to extend beyond the gallery walls by contributing to many educational institutions, engaging with students and the general public.

The Maestro: Roman Kriheli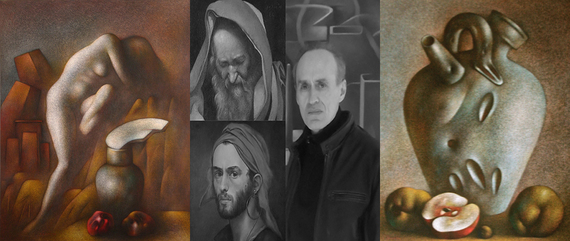 Roman Kriheli was born in 1956 in the Soviet Union, Republic of Georgia. He started painting when he was three years old and participated in his first group show at the age of five.
As a world-class portraitist, the artist defies description, particularly in his interpretation of beauty, which ranges from haunting profiles to interpretation of human form reminiscent of a contemporary Italian Renaissance transposed into a stark modern reality. Beyond his painting style in oil on canvas, complex aquamarelles and mixed media, a vast collection of provocative sketches touches on forbidden subjects suggestive of a 21st century Montmartre Artist's vision.
From the mid-1980's through the early 90's Kriheli led an internationally-recognized private gallery studio in Soho, Manhattan catering to renowned collectors, galleries and museums around the world.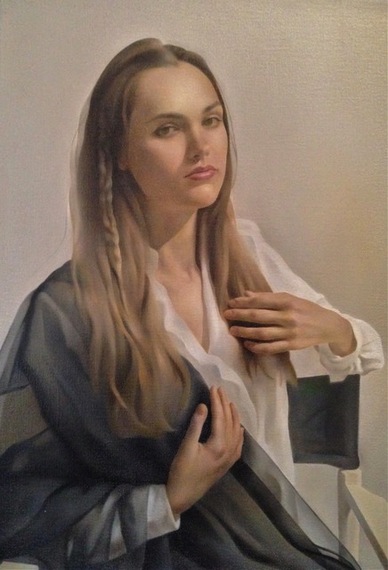 After a long period out of the spotlight, during the recent resurgence of figurative art, Kriheli created quite a stir with his painting The Most Beautiful Woman in the World (2013). Mr. Kriheli kept the art world on baited breath by releasing the title of the work months before revealing the piece during Art Basel. Kriheli's modern day Mona Lisa depicts an unknown contemporary subject, seated in an unassuming position and gazing calmly out at viewers. The captivating painting was originally offered with a US$1,000,000 price tag and eventually sold during a private auction at a reported US$4,500,000 to a member of the Royal Family of Qatar. Further proof modern figurative artists are once again prepared to take their rightful position at the top of the heap.
@all photos courtesy of Maria Kreyn, Simon Birch, and Roman Kriheli studios
Popular in the Community