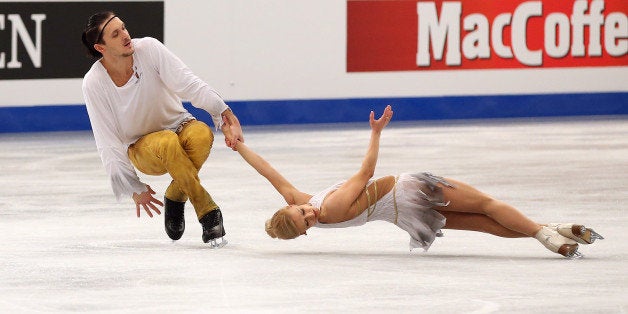 Cue up the "Carmen" and get ready for some Salchows, because it's Olympic figure skating time once again.
The 2014 Olympic figure skating competition is one of the first events to get underway in Sochi. It all begins on Feb. 6 with the first rounds of the team event, a brand new, fifth component. The addition of the team event isn't the only thing that might feel a little different for those who haven't paid much attention to the sport since the Nancy Kerrigan-Tonya Harding media debacle in the '90s.
Is it news to you that Michelle Kwan and Tara Lipinski are long retired? Want to be the resident expert at your Olympic figure skating watch party or the queen of your office betting pool? Here's what you need to know:
This hasn't changed all that much. In pairs as well as men's and women's figure skating, each competitor or team competes in two rounds: a short program with specified required elements (two minutes, 50 seconds in length at the Olympic level) and a final free skate (ranging from four minutes to 4:30).
In ice dancing, each team competes in a short dance (a combination of the old "compulsory" dance and the old "original" dance and set to a different required style of dance each year) and a free dance (four minutes in length). This year, the short dance is a quickstep in combination with each team's choice of either a foxtrot, the Charleston or swing. Each team must also trace a "Finnstep" pattern during their short dance.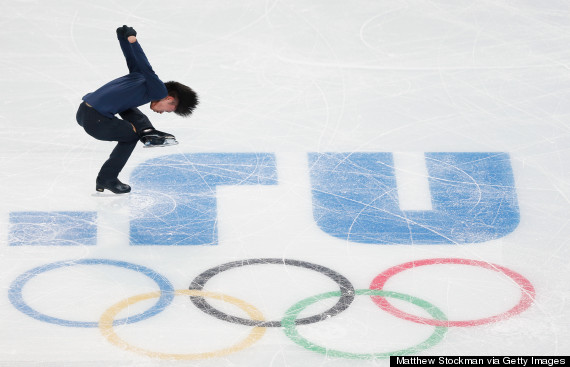 Tatsuki Machida of Japan practices at Iceberg Skating Palace on February 3, 2014 in Sochi, Russia. (Photo by Matthew Stockman/Getty Images)
Gone are the days of a judges' mark of 6.0 representing a perfect figure skating score. On the heels of a high-profile judging scandal at the 2002 Olympics, the International Skating Union (the sport's governing organization) developed an entirely new judging system intended to rid the sport of back-room politics and make scoring more objective.
Since 2004, all ISU figure skating competitions have used the Code of Points system. Under the relatively new system, each technical element a skater or skating team can perform is assigned a "base value" of points, as well as a level of difficulty when applicable. A triple axel, for example, is considered more difficult than a triple loop, so it is assigned a higher base value of 8.5 points compared to 5.1 points. Below, compare a triple axel jump..
Had the top skater fallen on the triple axel, she would likely earn a -3 grade of execution, plus another deduction of a point for a total, essentially, of 4.5 points. If a less difficult triple loop receives an excellent grade of execution of +3 (if it was done with ease with good height and speed and full rotation), it would earn the skater 7.5 points.
Spins and footwork sequences with more difficult positions or turns -- called "features" -- also earn a higher base value than those with fewer features.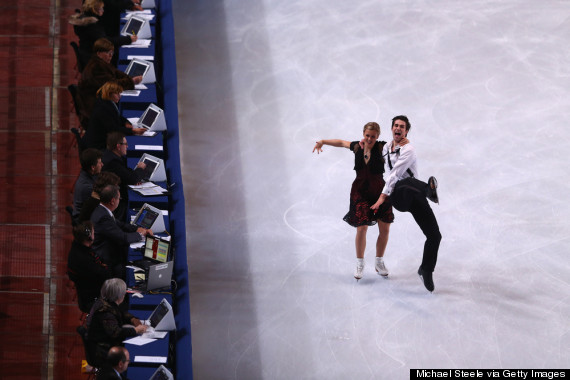 Ice dancers skate past the judges' panel during a fall 2013 event in Paris. (Photo by Michael Steele/Getty Images)
The panel of judges then awards a "grade of execution" ranging from +3 to -3 for each element depending on how successfully it is completed as it is performed. Falls on any element also result in a one-point deduction from the skater's segment total and jumps completed in the second half of a program earn a 10-percent bonus.
The resulting cumulative total from all the elements, with their average grades of execution factored in, is the skater's technical score (a.k.a. "technical elements score") for that program.
Skaters' presentation or "artistic" scores have also been quantified under the new system as each judge assigns a score between 0.25 and 10.00 in five different areas in pairs, men's and women's skating: Skating skills, transitions, performance and execution, choreography and composition and interpretation.
Ice dancing presentation scores are based on similar skills. In a nutshell, the total presentation -- a.k.a. "program components" -- score is added to the technical score for each skater or team and the skater or team with the highest total wins.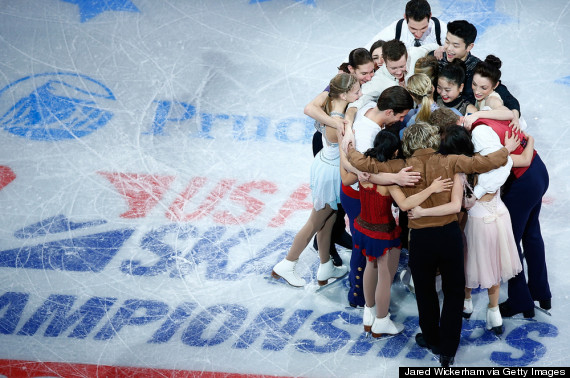 The U.S. Olympic figure skating team has an excellent shot at a medal in the inaugural figure skating team event. (Photo by Jared Wickerham/Getty Images)
This year, for the first time ever, the Olympic figure skating competition also includes a gymnastics-esque team event. Ten nations qualified to compete in the team event and will enter a team consisting of one pairs team, one man, one ice dance team and one woman. All skaters will perform a short program or short dance and be judged as they would be in their individual events. After each segment of the event, a point value ranging from 10 to 1 will be assigned to a team based on where its skaters placed its each segment. (For example, if a team's pairs team and men's skater place fourth and fifth in the short programs, they will earn their team 7 and 6 points, for a total of 13 points, respectively).
Adding drama to the event, each team can make up to two team substitutions between the short program and the free skate if they wish. The top five teams after the short program advance to the final and the team with the most points after all eight segments' points are totaled will win. The team event should be a tight race for gold between Canada, Russia and the United States.

South Korea's Kim Yu-Na could become the first women's figure skater to repeat as Olympic champion since Katarina Witt in 1984 and 1988 -- and the third to ever accomplish the feat. (Photo by Mike Hewitt/Getty Images)
NBC Sports Network will be airing much of the Olympic figure skating live, in full, starting Thursday, Feb. 6 at 10:30 a.m. ET. NBC will air tape-delayed coverage of the top skaters in prime-time each day of competition and most of the prime-time broadcasts start at 8 p.m. ET.
Calling all HuffPost superfans!
Sign up for membership to become a founding member and help shape HuffPost's next chapter
BEFORE YOU GO
PHOTO GALLERY
Sochi Olympics Figure Skating Contenders