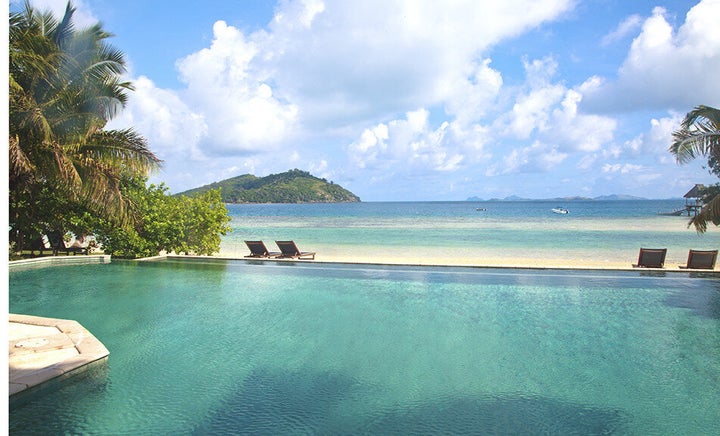 The "99 percent" have called and we have heard them. Beginning Jan. 1, 2012, Fiji -- the hub of international trade in the South Pacific -- will reduce or eliminate taxes on 99 percent of taxpayers and cut taxes across-the-board for businesses.
As a small nation historically swayed by larger economies, such as the United States and Australia, the time has come -- amidst uncertain global markets -- to fundamentally restructure our economy as a way to put money back into the pockets of our citizens and improve the climate for domestic and international business.
Critical components of our new economic policy are incentives to grow small businesses, which currently only make up about 10 percent of our economy, renewed investments in education and an emphasis on personal responsibility.
Poor and middle class Fijians have shouldered most of the tax burden for too long. So to achieve a fair and balanced tax system, Fiji is also temporarily instituting a "Social Responsibility Levy" -- to be applied progressively to anyone earning over $270,000 a year. This levy will apply to the top 1 percent. It will be reduced and eventually eliminated as people progress off of welfare programs and/or as Fiji's GDP grows.
One of the primary goals of these progressive changes is to help the Fijian people no longer feel constrained by the remnants of a colonialist past or the previous race-based governance system that fostered cronyism and corruption.
Since 2007, my government has enacted critically important political reforms that promote transparency and accountability, and ensure equal rights for all Fijians. We are creating a level playing field from which Fiji can base its future.
In 2013, we will have a new constitution, and in 2014 there will be free and open elections -- with universal suffrage for Fijians. For the first time in Fiji's history, there will be one-person, one-vote, one value.
Our path is guided by lessons learned from similar efforts around the world. Political reforms have the best chance of lasting when they are part of a comprehensive program that significantly increases the economic opportunities available to businesses, investors and workers.
This is why we reduced or eliminated taxes for 99.4 percent of taxpayers with an absolute rate ceiling of 20 percent for individuals (down from 31 percent) and businesses (down from 28 percent).
The less fortunate among us will pay no taxes at all.
To strengthen our commitment to serving the people, my government is increasing pay for civil servants as a way to attract and keep talent -- on top of which doctors and nurses will receive an added increase given their unique importance; yet, we are simultaneously introducing a performance-based management system across the entirety of government to ensure we only retain the best.
In addition, significant government-provided and market-created incentives for investors in 2012 will make Fiji an attractive country for international business. We are also investing considerably in the "Buy Fijian" and "Fijian Made" campaigns in 2012 to promote awareness about the many Fijian products created from our pristine environment.
We believe it is possible and necessary to be business-friendly while looking after the less fortunate. Personal empowerment and economic growth will lift all Fijians over the long-term.
Fiji is a small nation with big ideas, and a vision to enact them. We have a lot of work ahead to raise the lives and spirits of our people. However, we are convinced that by empowering Fijians, lowering our budget deficit, improving our infrastructure and increasing foreign trade and investment, we will grow our economy, and create a sustainable system that will provide for Fijians in the years ahead.
Calling all HuffPost superfans!
Sign up for membership to become a founding member and help shape HuffPost's next chapter