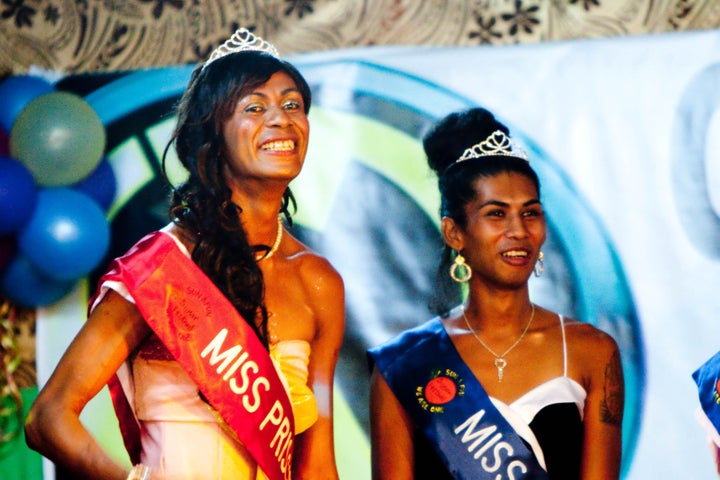 It's the sixth night of Lautoka, Fiji's annual Sugar Festival, and they're crowning the queen. Not the Sugar Queen -- that's tomorrow night -- but the Priscilla Queen, the winner of a series of competitions by transgender contestants to raise awareness about the transgender and gay community, at what is known widely in Fiji as Priscilla Night.
Hundreds of festivalgoers gathered by the stage at Lautoka's Churchill Park amidst the screaming glee of children on Ferris wheels and the expertly grilled lamb steak and chow mein combo dinners in the distance to watch these 11 Priscillas compete for the crown of Miss Priscilla 2012. Lautoka's Sugar Festival (held the last week in July to honor the nation's largest export) is the second in a series of three major week-long Fijian festivals, (Bula, Sugar, and Hibiscus) that feature Priscilla Nights, typically held on the last Friday of each festival.
Despite the military-run nation's conservative culture (women rarely wear sleeveless tops or skirts shorter than knee-length, and traditional Methodist, Hindu, and Muslim ideologies dominate), the gay and transgender communities maintain a visible presence throughout the country, and their rights are a frequent source of debate.
Michael Faga (pronounced "Fan-ga"), a charismatic DJ for radio station Mix FM and Sugar Festival emcee, kicked off the festivities with a snarky "Whatchu laughing at, you idiots?" serving to keep the potentially raucous audience in check.
The evening began with "Aishwarya Rai Kumar," a cross-dressing Bollywood dancer whose performance might be regarded by Western audiences as more caricature than character, but was a definite crowd-pleaser. After a kitschy, belly-shaking Bollywood dance, Aish pulled out a bottle of Benzene to perform her version of one of Fiji's time-honored traditions: South Indian firewalking.
Faga then went on to introduce each of the 11 Priscillas, consisting of both Indians and indigenous Fijians, the nation's two largest ethnic groups. Sporting names like Ingrid Sweetness, Jane Piper Halliwell, and Sylvia Underwood, each Priscilla proudly represented one of 11 Fijian cities and competed in three categories: Interview, Ball Gown, and Talent.
While the interviews of each contestant by Faga were inclined to be of the innuendo sort (when asked about their favorite activities, nearly every Priscilla said horse riding or gardening, which led Faga to ask about whether they gardened in the back or front, etc.), several Priscillas spoke about the persecution they face in the community.
The overarching theme of the evening was of charity and acceptance. The inspiration behind the Priscillas' self-designed ball gowns ranged from yellow bows representing second chances for inmates to the pink in Miss Sigatoka's ("Snap it once, enjoy it twice") dress as symbolic of breast cancer awareness.
The performance portion was equally impressive. While Miss Tavua performed a traditional Fijian meke dance in a long, floral sulu dress, Miss Korovou's Ingrid Sweetness wiled out her toned body to Christina Aguilera's "Lady Marmalade."
The audience equally cheered as they laughed, and occasionally there was booing at the more suggestive outfits, dancing, and interview answers of the raunchier Priscillas. But despite the playful innuendo of the interviews, the outrageous performances, and the disdain and disgust on the faces of some audience members, one serious sentiment surfaced clearly: the demand from the Priscillas to be accepted by a community to which they all significantly contribute.
Several of the Priscillas spoke about drunk boyfriends, and others about their work in the way of HIV/AIDS education and advocated for "plastics" (condom) usage. Before Miss Ba Town performed a nervous version of "Get Together" sans her AWOL guitarist, she implored of the audience, "We live with abuse, violence, and discrimination. Is this the definition of transgender?"
The festivities also included performances by some local Fijian bands, including a transgender dance trio called The Sweet Babes.
To close the evening, last year's Miss Priscilla, a stately Bonita Clemenshaw, appeared on stage to relinquish her title and crown this year's Miss Talent, Miss Personality, and the first and second runners-up to Miss Priscilla 2012.
The first runner-up was Miss Nadi, a crowd favorite for her skintight silver jumpsuit and high-energy performance of a Tina Turner medley. She accepted her tiara and sash in a blonde wig and sunny yellow ball gown with the allure of a 1940s Hollywood starlet.
But the audience clamored for one Priscilla in particular to win Miss Priscilla Queen 2012, and win she did --the demure yet confident Miss Navua, Amelia Bell. And it wasn't hard to see why. Elegant and refined, she spoke with seriousness about her contributions to charity and HIV/AIDS awareness and left little room for kitsch.
The Priscillas hugged and cried, and Michael Faga closed the evening with a powerful sentiment -- a sentiment that is especially pertinent in a country currently drafting a new constitution, and where many are voicing their opposition to the inclusion of gay rights in it. The sentiment resonated against the impending darkness of Churchill Park after the night was over and Fiji Bitter-fueled hooligans looking for a fight would be out.
He said, "We're here whether you like it or not!"
PHOTO GALLERY
Priscilla Night At Fiji's Sugar Festival
Calling all HuffPost superfans!
Sign up for membership to become a founding member and help shape HuffPost's next chapter