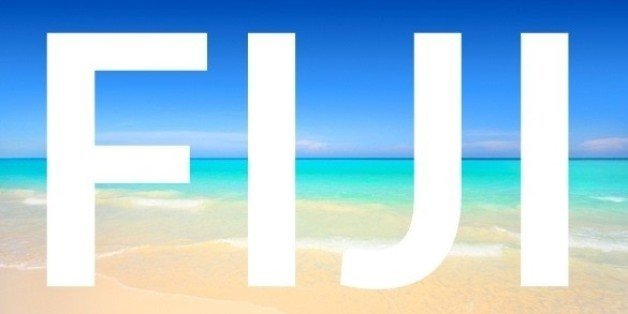 We all know that the U.S. guarantees the pursuit of happiness, but if you're interested in seeing what it looks like after the pursuit, you might want to book a ticket to Fiji.
Residents of the verdant South Pacific nation have got feeling good down. A 2014 WIN/Gallup International poll of countries found that Fiji's people are the happiest on Earth, with 93 percent of Fijians answering they were either "happy" or "very happy." To compare: 67 percent of Americans (a respectable, if not quite blissful, figure) considered themselves content with life.
Of course, scientists still can't pinpoint the font of happiness. But whether it's the pristine beaches, vibrant culture or just something in the (famous) water, Fiji is getting it right. We partnered with Tourism Fiji and scoured the archipelago to figure out what makes Fiji unique -- and its people so distinctly happy.
Vitamin-D Deficient? Fiji Isn't.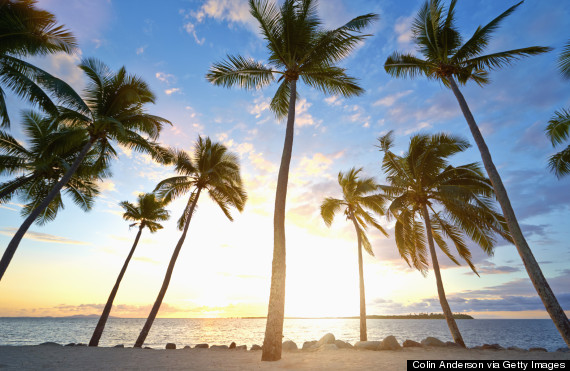 Remember this? It's the sun, and Fiji sees a lot of it.
As America plows through another polar vortex, it's easy to forget that the feeble yellow wisp in our sky was once called "the sun," and "warm." Almost half of adult Americans, even in states with milder climates, suffer from vitamin D deficiency. Lower levels of that vitamin, which the body synthesizes from direct sunlight, are connected to increased risk of depression.

Fiji: Vitamin-D-deficiency deficient.
If your winter seems never-ending, the sun-soaked beaches and jungles of Fiji will make you jealous. (The above picture probably isn't helping, is it?) Nestled in warm equatorial waters, the Fijian islands receive more than 11 hours of tropical sun... in December. Fiji's people apparently soak it in: a study of 511 Fijian women found that they brim with more vitamin D than geographically analogous India. That may partially explain why Fijians always seem to be friendly and smiling.
Fiji Certainly Knows The Power Of Water.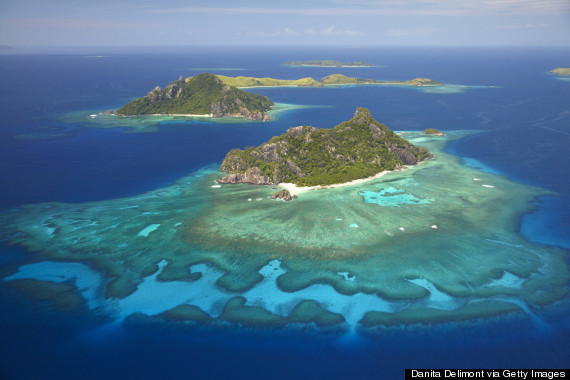 The blue of Fiji comes in many, many shades.
Outside of maybe "Point Break", we don't think we've ever seen an unhappy surfer. There could be a reason for that. Scientists recently dove into the study of water and happiness and discovered that a person's proximity to blue matters. A 2013 British study not only found that individuals living near a coast were healthier (regardless of their income), but also that a move closer to the beach "significantly improved" well-being.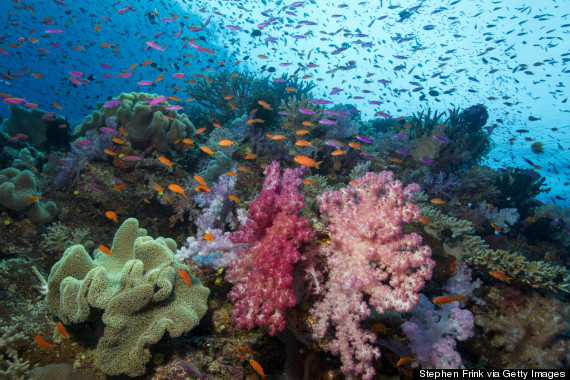 The view from below the water in Fiji is pretty good, too.
With Fiji's 702 miles of sublime coastline spread across 322 islands (more coast than all but four U.S. states), the waters of the Pacific are never far off. Not surprisingly, native Fijians' link to the water runs deep. Fiji's society promotes stewardship of the environment, and islands and villages, such as Beqa, take the lead in protecting local species -- even feared species like bull sharks. And it probably doesn't hurt that Fiji's warm waters are home to world-class diving, sailing, fishing and surfing that would make even Keanu say, "whoa."
Did We Mention Fijians Love To Dance?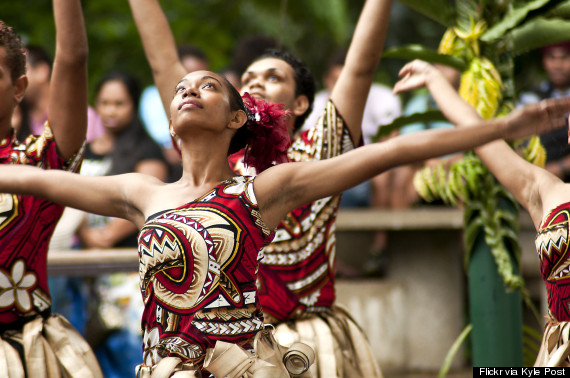 Dance is a Fijian tradition.
They call it meke, and it's a family of traditional Fijian dances involving vibrant costumes, dramatic storytelling and, occasionally, terrorizing opposing rugby players. Read about any visitor's trip to Fiji and you'll see ecstatic references to the Fijian love for song and dance, from elaborate resort shows to impromptu village serenades. As early as the 1890s, European visitors noted that, "so great is the love of the Melanesians for song that they sing at their field-work or when rowing or walking about."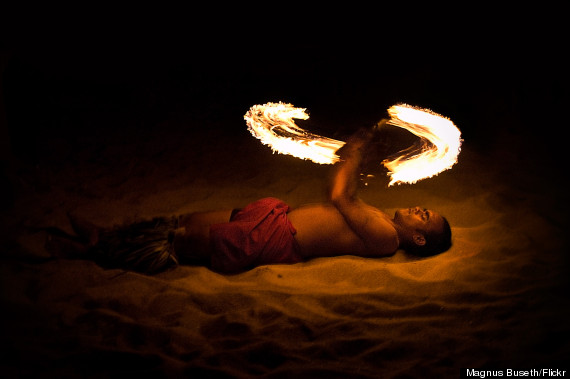 You might want to leave the Fijian fire dance on Fiji. Just saying.
Fijians' love for music might not just be a (happy) byproduct of their joie de vivre; it might also be the cause. A 2012 study found that enrollment in dance class reduced self-reported stress among depressed and anxious teenagers. And the brain actually releases dopamine, the chemical that makes us feel great, when we listen to music. So, go on, listen to this Fijian song and try to feel grumpy. We dare you.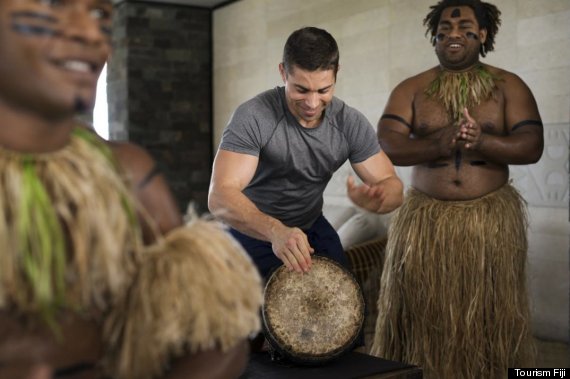 The drums, however, are safe for everyone.
Fiji Gets Fresh.
Run a quick image search for Fiji's Nadi Market and prepare to be astounded by the burst of color: the fiery reds of peppers, the royal purples of eggplant, and the earthy browns of the (ubiquitous) coconuts.
Fiji isn't just a tropical paradise, it's a foodie paradise. Situated squarely in the South Pacific, Fiji's staple foods developed around fresh local vegetables, roots and, of course, seafood. But Fijians also serve up a slew of curries, a legacy of the nation's large Indian minority.
Food makes us happy. No, that's not just us saying it: We have the backing of science! Fiji's food, in particular, is primed to build happiness. Seafood swims with omega-3 fatty acids, which are proven to reduce the risk of depression. Curcumin, a basic component of curry, actually builds new brain cells and boosts feel-good chemicals. And research shows that diets of fish, vegetables and oils elevate mood. But who are we kidding? We would eat Fijian food solely based on how delicious it looks.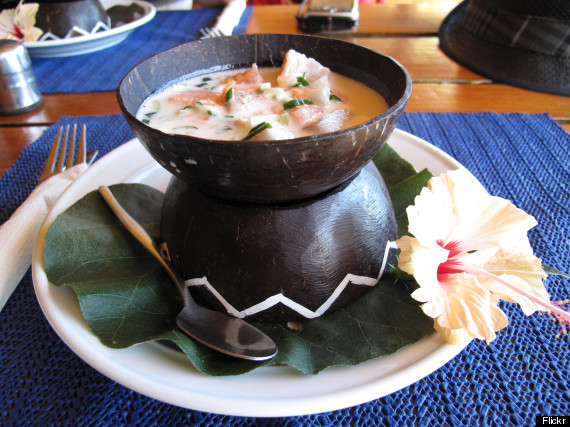 Bonus: this Fijian seafood curry will grow your brain.
Kava, Anyone?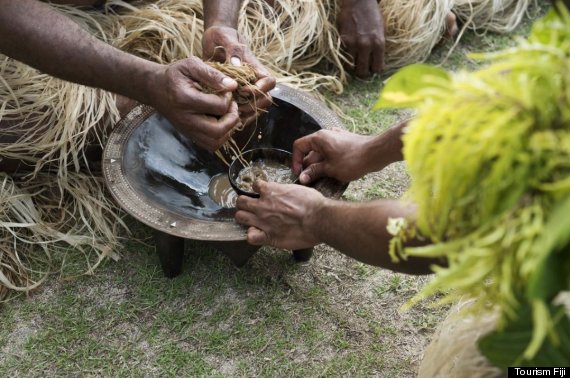 Kava ceremony.
Swing by any village in Fiji, and you'll inevitably be invited to sit down for a bowl of kava. The traditional drink, brewed from a species of pepper plant, is enjoyed by almost everyone in the country. The kava ceremony is a central part of Fijian culture, and etiquette demands that visitors give an offering of kava to a village chief upon their arrival. By all accounts, however, the taste is, er, not great; some reviewers describe kava's flavor as "muddy water, literally."
But kava's power is far more than ceremonial. Along with its infamous novacaine-like numbing and tingling effect, kava is a "moderately effective treatment" for anxiety disorder. Indeed, studies show that kava works on the brain in a manner similar to anti-anxiety drugs such as Valium. If that isn't enough, Fijian ceremony dictates you yell "BULA!" after each sip, which makesus happy based on sound alone.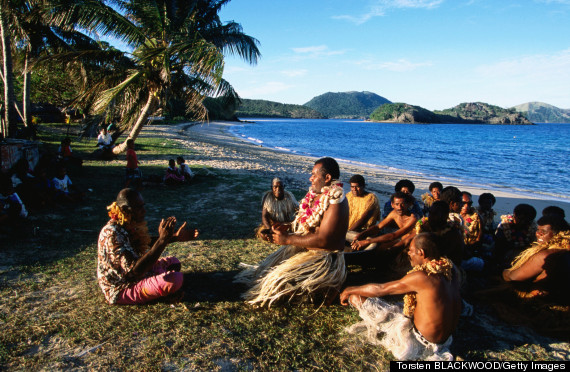 BULA!
A Secret Trick To Achieve Happiness: Be Around Fijians.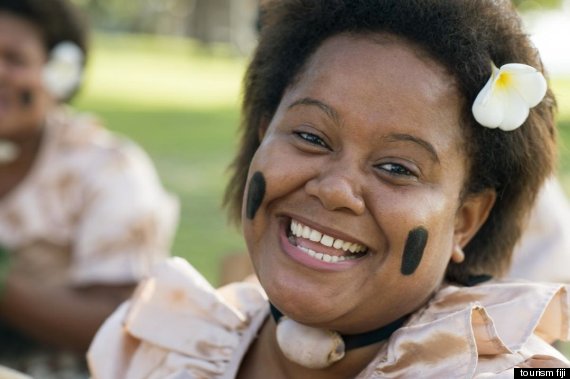 A Fijian smiles, because Fiji.
Despite our oft-professed introversion, humans are social animals. Numerous studies show a strong link between community and happiness: the more interaction and trust we have with our communities, the better we feel as individuals.
The biggest lesson to learn from Fiji's happiness is this: The good life stems from meaningful interaction with other people. Fiji's community ties are remarkably strong. Life centers around an extended family unit and a chieftain. Eighty-seven percent of the country's land is owned by the community and administered by a land trust. Moreover, Fijians embrace traditions of the past, from the unique and renowned fire-walking ceremony on Beqa Island to the mysterious turtle-whisperers of Kadavu.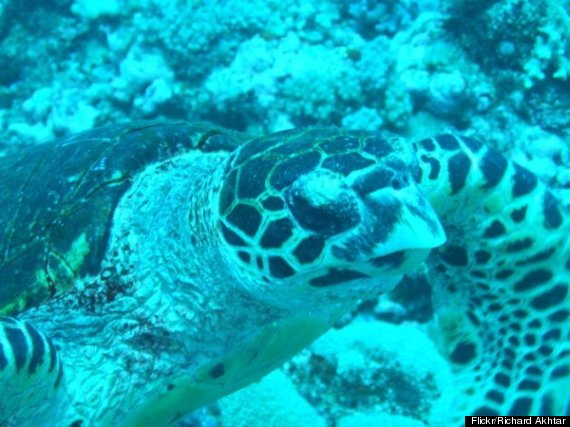 The people on Kadavu have performed their turtle calling ceremony since the late 1800s. He looks happy, too.

Here's one last fact: happiness rises the farther you travel from home. There's only so much an article can tell you. To really know the happiness of the island, you have to go, stay and soak in the light of the Fijian sun and people. Bula!

Correction: A previous version incorrectly stated that kava was brewed from the cassava plant and that a cassava should be given to a chief upon arrival in a Fijian village.
Related