Recently I had the opportunity to interview one of island reggae's legendary artists, Fiji (George Brooks Veikoso). He's one of the pioneers of the island reggae sound and continues to represent the Polynesian culture and music scene to this day. Fiji's voice is soulful and moving. Coupled with the fluid sound from the islands of the Pacific and the strong cultural roots and history, his music refuses to be categorized and boxed up. It's reggae, R&B, hip hop...it's island music.
You can close your eyes, listen to Fiji, and be taken anywhere you choose. It's spiritual. It's grimy. It's about love. It's about community. It's about culture. It's about truth.
All of it comes from "just another island boy living in America."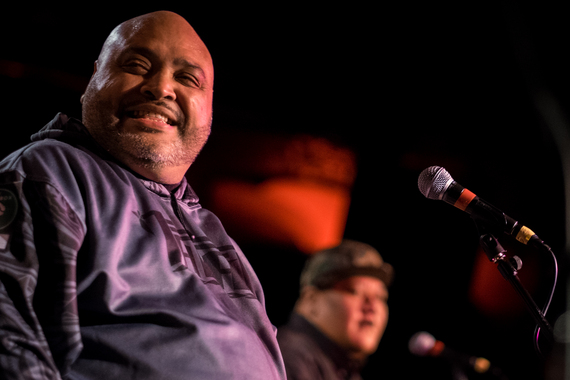 All Images Copyright Brad Puet
I've had a pretty humble beginning. I was born in Fiji. Where I was born was regarded as a ghetto in a garrison. Even though we were in a very poor area, it was full of athletes, musicians, and artists. As I was growing up, I had a lot of musicians to look up to. A lot of them were my uncles.
I landed in Hawaii at a tender age of 13 years old and I've been in America ever since. Being in Hawaii I learned a lot. I learned a lot from the Jawaiian (Hawaiian reggae) movement. People I looked up to are like Bruddah Waltah, Mana'o Company, and Kapena. There are a lot of really great groups that were out at that time. You know I can't even mention them all because there are so many. It was such a renaissance time for our music. It was a time when we were trying to distinguish our type of reggae. Jawaiian reggae is kind of like a political activist type of music. It stands for the indigenous people on one side and also for the musicianship coming off the rock (Hawaii) on the other.
Know this. Jawaiian will always be the undertone of our music no matter what. It's definitely all island reggae. The thing some folks don't understand about our music is that our music is very wide spread. It's a mixture of not just reggae but R&B and other influences. We have an acoustic side with a lot of beautiful harmonies. It's not one dimensional and it will never be that.
Back in the day, I was a bit of an outcast. You know because I wasn't Hawaiian. I'm not saying that in like a social way, I'm just saying it wasn't my time yet. But I was kind of a nudge. I went in and did a lot of background for a lot of songs. A lot of songs coming up at that time, I was in the background, you know like in the production and on the vocals, I was in the back. So that was what I did for a long time. I used to joke about it like, "Yo just put Fij on the ragga!" and then your song will be like, "Boom. Classic."
I never said anything though. I never complained. I knew that it was part of my path. So by the time I stepped up to do what I was called to do - which was be a lead singer - that was when everything opened up. It took quite a few years and then in 1994, I came out with my first record. Then the second record didn't come out until late 1996, early 1997. There were a lot of struggles in between.
As the years have gone by - what's that 27 years now - I've found my second calling. I believe that my role now is giving my mana'o (a thought, idea, and/or belief) to the younger generations. For example, one of the young artists that was brought to me from Compton, was J Boog. There are a few other artists that I mess with but Boog was one of my first projects to help groom and pass my knowledge to. So it is my second calling now, I show what I learned to the younger generation. I'm not saying that I'm a mentor or becoming their mentor. That's kind of a heavy word. I'm not a mentor.
I just want to show the bakers where the bread is, you know what I'm sayin?!?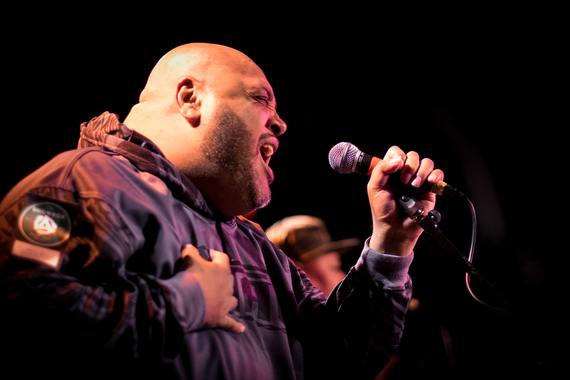 My music is based on real life experiences. The first thing I had to learn was how to accept who I am. As an artist, we all had dreams to be like Luther Vandross or Stevie Wonder. I had like a burden on my shoulder that wouldn't go away. It was like every opportunity that I could have had, didn't happen. I mean I'm a very stubborn person but I also had to read the signs and really, I read them signs. So I said you know what, "why don't we make our own island music production and make it to the same level of R&B." Then within that process, we have and created our own sound.
My music is based on a kid growing up without a father and a lot of insecurities. The music that you hear or like from me, is pretty much the road map to how I found myself. That journey is still in process. It's a constant learning process you know. I had to learn to really embrace my identity and not to be anything other than who I am.
There's a track on my third album, Gratitude. Its a song I wrote for my daughter called, Arieta. When she was born, it was my proudest moment in life. So I poured my heart into it. During that time, I started finding out more about my approach. So that's where I dropped the pen and told them to just press record.
I realized that every song has been written already and we as artists, are just the lucky vessels to receive it. The reality of any song I write is my experience. That's how it should be and how it gets translated. It's about the experience and in some cases the lack thereof.
So I would just spit my heart out and it would just rhyme. Then I would edit it but the bulk of the song would be where I would just let go. It'll write itself.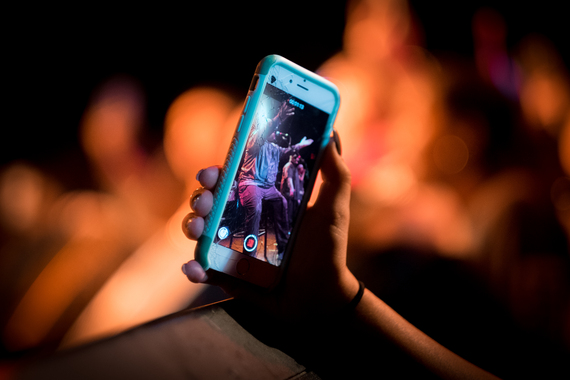 On Island reggae music's success:
There is enough tools as far as talent, song, instrumentation, that can propel this music to the forefront of music. The advantage we have as island artists is that we are responsible for ourselves.
We are the artists. We are the writer. We are the producer. We are the company. It really is in our hands and we need to take that responsibility.
Brian Ross, this Jewish man I admire and who was a part of the production of "We Are the World," asked me, "Fiji, what do you think the music business is all about?" I said to him, "To me it's music." Then he looked at me and said, "No. This business is about rights. If you own your rights, then you don't sell your rights, then you control your destiny."
So I never sold my rights.
On receiving any accolades (I called him the Godfather of Island Music):
You know I don't buy into that stuff. I want to be very clear. I don't like the accolades. It's not me you know. I am just one of the braddahs. You know what I'm saying. They can have that. I appreciate it and it's beautiful but it's not me. I'm just a braddah with the braddahs. Simple and plain.
We can let Boog and them be Godfathers. (laughter)
Seriously, I believe that everything I've done and continue to do is based on my responsibility. In order for this genre to be successful, we all have to do our part. I just try to do my part.
Brother Walter Waltah, my older brothers Kapena and Mana'o Company and all the others are the godfathers of the music. I'm just their younger brother. That's me.
All these youngsters are their nieces and nephews. (laughter)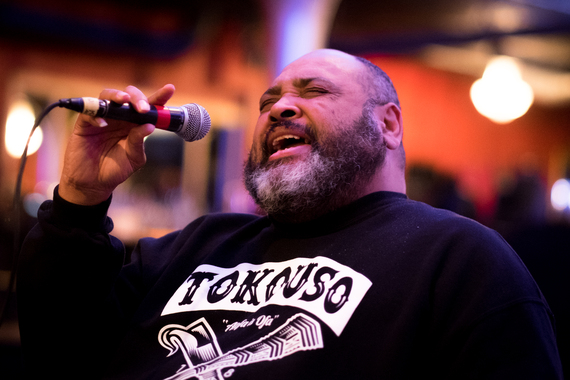 From there to now, I'm still trying to promote the unity between the Tongans and Samoans with Drew. It's more than that of course, it's all the Pacific Islanders who are getting into gang violence and stuff. We're trying to stop the violence between all of us. We're promoting the TokoUso movement and create a consciousness to help the kids know that gang violence isn't the way to go. For some it's all they know (and respect still to them) but for the generations to come, we want to push "love, love yourself, and love your culture" mentality.
Our movement is reaching a lot of folks but there is still resistance as always. Our brothers lost their brothers through other Bloods and other Crips you know. It's good though that we have a large amount of Samoans and Tongans that support the movement and support what we are doing. That's what are trying to do is just unite us all.
I'm grateful to see our music come into fruition and reach a larger audience with the idea of love.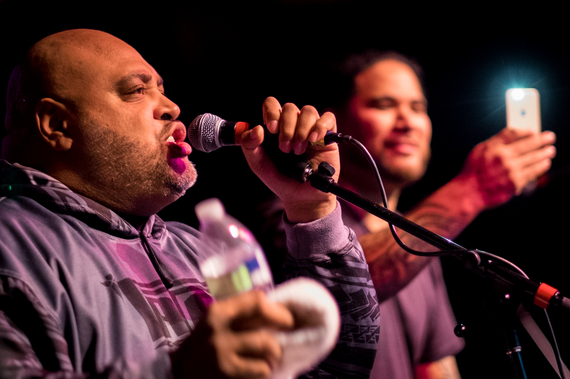 We all dream. I'm a real immigrant. I still have my Fiji passport...with a green card of course. (laughter)
You know, the news really bothers me these days. It's like that one dude in the neighborhood and be like talking some crazy, crazy shit and be like, "You hear about ISIS this and ISIS that."
If I hear ISIS one more time, man. I mean every turn I hear that. You mean you can't find these guys. We're America. It baffles me that we can't find these guys. And what is it really? The President says ISIL and this dude says ISIS. I mean really, who are you trying to scare. I don't know bro.
Other than that and in a nutshell, I'm just another island boy living in America. I'm just trying to balance the reality of where I'm at and who I am.
On Mahalo (giving thanks):
First off, thanks to all my fans & supporters both old and new. Thank you to Platinum Pacific for helping launch, Born & Raised, my biggest record to date. Thank you to Clayton Apilando, Dave Tucciarone, Michael Grande, Tim Nelson, Ricochet Records, Brett Fovargue, SouthPac Entertainment, Donny Kadokawa, Gizz Fola, Soli Mauigoa, Bernz Talanoa, Brian Foster, Jonas Teele, Wash House Music, Drew Deezy, 454 Entertainment & Yamada brothers for making my dream a reality.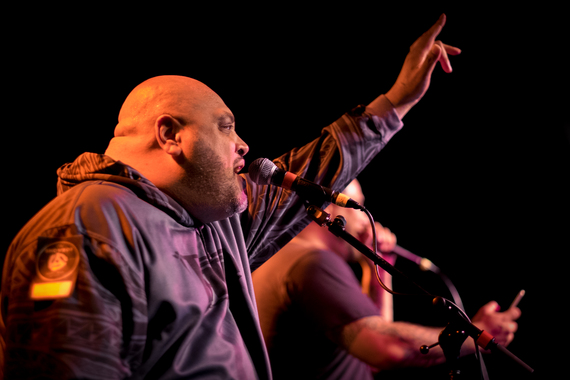 REAL LIFE. REAL NEWS. REAL VOICES.
Help us tell more of the stories that matter from voices that too often remain unheard.