The Huffington Post ran a celebratory item last week announcing the Occupy movement's most exotic and far-flung victory yet. In a piece titled and tweeted by HuffPost as "A Win for the 99 Percent," the head of Fiji's military junta and self-appointed Prime Minister, Commodore Voreqe Bainimarama, wrote that "the '99 percent' have called and we have heard them." Bainimarama's inaugural HuffPost blog announced his alignment with the Occupy movement via the promised reduction of taxes on 99% of Fijiian taxpayers, a temporary "Social Responsibility Levy" on the top 1%, as well as a business-friendly climate for foreign investors. He even bothered to respond in the comments section. HuffPost readers could be forgiven for not noticing that the piece was written by an unelected dictator under targeted military sanctions by the United States, who has placed Fiji under martial law and outlawed freedom of speech, press, assembly, and association. Nothing in the post even hints at Fiji's nightmarish human rights conditions or the writer's status as an international pariah, though his bio does contain his curiously long list of additional titles including also being Fiji's self-appointed Minister for Information and Minister for Finance.
Political dissidents in Fiji are regularly kidnapped by the military and taken to barracks to be beaten or otherwise tortured, where some have died; US Embassy cables released by Wikileaks even detail witness reports that Bainimarama himself beat his critics. Still, the junta leader brazenly declared on HuffPost, "since 2007, my government has enacted critically important political reforms that promote transparency and accountability." In reality, Bainimarama has enforced his rule with a sophisticated surveillance and censorship apparatus through which phone calls and the internet are tightly monitored -- I was arrested in Fiji after the police intercepted my emails, and threatened with rape and indefinite detention. As Minister for Information, Bainimarama has placed government censors in all newsrooms and only allows what the junta has called the "journalism of hope" to be published. Fijians have started dozens of protest blogs detailing the junta's abuses while their media remains censored.
The glowing HuffPost World item certainly appears to be a coup for the DC public relations firm Qorvis Communications, which has been under fire this year for its roster of despotic anti-Arab Spring clients from Bahrain to Yemen to Saudi Arabia. HuffPost itself has done excellent investigative pieces exposing Qorvis' odious clients. The Fijian junta hired Qorvis in early October on a $40,000 per month contract -- the same as its rate for Bahrain -- to burnish the regime's fraying reputation. Fiji's censorship and propaganda-running Ministry of Information announced that $1 million Fijian dollars (about $550,000 USD) had been set aside for Qorvis in its 2012 budget. Bainimarama explained in his budget address that Fiji had hired Qorvis "to assist with training and support for our Ministry of Information" on social media and the internet, and that "they will also help coordinate external communications."
Qorvis director Tina Jeon (whose Twitter bio notes that she's a "Yalie") has issued a series of tweets since the firm's contract began about her time in Fiji, noting her excursions to Bainimarama-led events like the big opening of a Chinese bauxite mine. The most stunning such tweet contains a picture of a young woman sitting on a yacht, typing into a smartphone as Bainimarama stands beside her: "No better place to write a press release.. #Fiji," the tweet reads.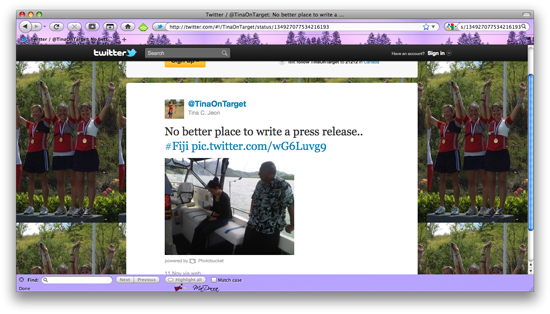 Qorvis declined to answer any questions about the work that its "Team Fiji" -- as one Qorvis employee called it -- has done so far. Qorvis partner and former State Department official Matt Lauer told me that "we do not discuss the intricacies of the consulting work we do on behalf of clients," and directed me to the company's Foreign Agent registration for Fiji, which contains no specifics other than boilerplate language about issuing material to the news media. Even though Qorvis was specifically hired to facilitate such news placements and has done so for its other autocratic clients -- such as when the firm placed an article by the President of Sri Lanka in the Philadelphia Inquirer -- HuffPost's blog editor told me that Bainimarama's post came directly from the junta's head office.
"Team Fiji" exemplifies the closed-door work that corporate lobbyists do to promote brutal regimes around the world, at cross-purposes to the State Department's own efforts. Hillary Clinton referred to Bainimarama's government earlier this year as the "dictatorial regime that unfortunately is now in charge of Fiji," while Qorvis works to give it a makeover and outlets like HuffPost provide it with a global platform on which to spread its propaganda. Qorvis itself, as well as a Qorvis "senior strategist" named Pablo Manriquez who is also a HuffPost blogger, promoted Bainimarama's "Win for the 99 Percent" pitch on their own Twitter accounts.
HuffPost Senior Editor Marcus Baram detailed Qorvis' tactics on behalf of other regimes, and explored the firm's unsavory client list, in revealing posts earlier this year. Baram reported that the firm's representation of rogue regimes, especially Middle Eastern autocrats trying to fight off the Arab Spring, was a big reason that more than a third of the firm's partners had quit over a two month period. "I just have trouble working with despotic dictators killing their own people," a former Qorvis insider told HuffPost, adding that "you take a look at the State Department's list of human rights violators and some of our clients were on there."
Harper's contributing editor Ken Silverstein took the Qorvis dissection to the next level earlier this month, when he detailed for Salon what he called this new "meta-lobbying" approach to public relations. Silverstein noted that a Qorvis employee had blogged on HuffPost in defense of the Bahraini regime while his company was retained by it. Qorvis even distributed a statement on the government's behalf blaming Doctors Without Borders for lacking the proper permits after the group was notoriously raided by security forces for treating wounded protesters.
The Fijian junta's cooptation of the 99% meme as it outlaws and brutally punishes any form of protest is a meta-lobbying joke well-played on HuffPost readers. Rather than champion the 99%, as his post claims, Bainimarama has, since seizing power in his 2006 coup, displayed utter contempt for all of the values that the Occupy movement has been fighting for. He has shunned western democracies while accepting hundreds of millions of dollars as well as military aid from China, where he has said that he'd like to see the United Nations moved. Local Fijian councils who don't support the regime just announced that Bainimarama is threatening to withhold money from their regions if they don't fall into line.
Bainimarama's war on the 99% is perhaps best epitomized by his escalating attacks on Fiji's unions and persecution of the country's union leaders, through draconian decrees, denying permits for meetings, detentions and beatings. Last week he denied increasingly alarmed international union observers entry into the country. (New Zealand press reported this week that police were even present against union wishes at a meeting a few days ago in which Fiji Water laid off a third of its workforce.) Union leaders have begged the international community not to give Bainimarama a microphone for his propaganda. In October, the general secretary of an international information, communication and technology union representing more than 3 million workers wrote a letter of protest requesting an emergency meeting with a Swiss conference that had invited Bainimarama to speak: "We protest that the ITU [International Telecommunication Union] is showcasing the leader of an illegitimate regime. A leader who has no democratic mandate but took power by force. Fiji is a country which is acting in fundamental breach of the UN's Human Rights policy and in contradiction to the ILO [International Labour Organization] Core Labour Standards." The letter concluded by noting that "the invitation to the Commodore brings shame on the ITU by giving a public and global platform which he is now using to legitimate his regime."
In the comments section of Bainimarama's HuffPost blog, International Trade Union Confederation General Secretary Sharan Burrow noted that "since Commodore Bainimarama seized power in a 2006 coup, Fiji has been sliding ever closer to absolute dictatorship, and no matter how much the regime invests in public relations, that simple fact remains."
Popular in the Community