WASHINGTON -- Vice President Joe Biden, long a defender of tradition in the United States Senate, said Thursday it might be time to change the institution's rules after Republicans blocked yet another one of President Barack Obama's nominees.
"I think it's worth considering," Biden said after the GOP nixed the appointment of Rep. Mel Watt (D-N.C.) to oversee the Federal Housing Finance Agency.
Biden presided over the session in his role as president of the Senate after swearing in the new New Jersey senator, Cory Booker (D).
Biden was asked specifically if the rules should be changed so that a simple majority of senators could confirm nominees. Normally, it takes three-fifths of the Senate, or 60 votes, if one party decides to obstruct someone.
The Senate changed its rules modestly at the beginning of the year to curb filibusters, and members agreed among themselves to be more judicious in their use of obstructionist tactics. But Democrats repeatedly have been forced to overcome filibusters since then, prompting them to consider a "nuclear option" rules-change over the summer.
The Senate typically sets its rules at the start of the year and it takes a two-thirds vote to change them. But under the nuclear option, or the constitutional option, the party in charge can use procedural maneuvers to set new precedents, then change the rules with a simple majority of 51.
Democrats decided against pursuing a rules change over the summer, after Republicans agreed not to block non-judicial appointments and helped move a handful of Obama's appointees.
That agreement did not hold with Watt, however, even with Biden presiding as senators voted.
"Mel Watt is absolutely, totally, thoroughly qualified, and it's a gigantic disappointment," Biden told reporters as he left later.
Republicans have argued that Watt is too political; they also blocked the last FHFA nominee, who was widely seen as non-partisan and well-qualified. The FHFA oversees the mortgage giants, Fannie Mae and Freddie Mac.
Later Thursday, Senate Majority Leader Harry Reid (D-Nev.) seemed open to changing the rules.
"I will exercise my right as Majority Leader to reconsider these nominations at some point in the very near future," he said in a statement. "I hope my Republican colleagues will reconsider their continued run of unprecedented obstructionism. Something has to change, and I hope we can make the changes necessary through cooperation."
Senate Majority Whip Dick Durbin (D-Ill.) sounded like he could be in Biden's camp.
"There's a tipping point," Durbin told reporters, refusing to go further. "There comes a tipping point."
Some of his colleagues, who have long argued for a change, suggested the latest blockades -- Republicans also blocked a federal judge nominee Thursday -- only highlight the problem.
But they didn't know if Reid would pull the trigger.
"We keep getting up to the edge of it, and then we make some, quote, gentleman's agreement ... and then you find out the gentleman's agreement doesn't hold," said Sen. Tom Harkin (D-Iowa), who has pushed for filibuster reform for 16 years. "I've been so frustrated by it."
Likewise, Sen. Jeff Merkley (D-Ore.), one of the leaders of the recent pushes to change the rules, said he didn't know what Reid would do, but that it was time to do something.
"We believe advice and consent should not be the ability of a few folks to sabotage the functioning of the rest of Congress," Merkley said.
"We've had up and down votes on executive branch nominees without a single filibuster from 1949 until the end of the Carter administration," Merkley added. "That's a tradition that [Senate Minority Leader] Mitch McConnell pledged himself to in January, and has now broken, and that's unacceptable."
Michael McAuliff covers Congress and politics for The Huffington Post. Talk to him on Facebook.
Before You Go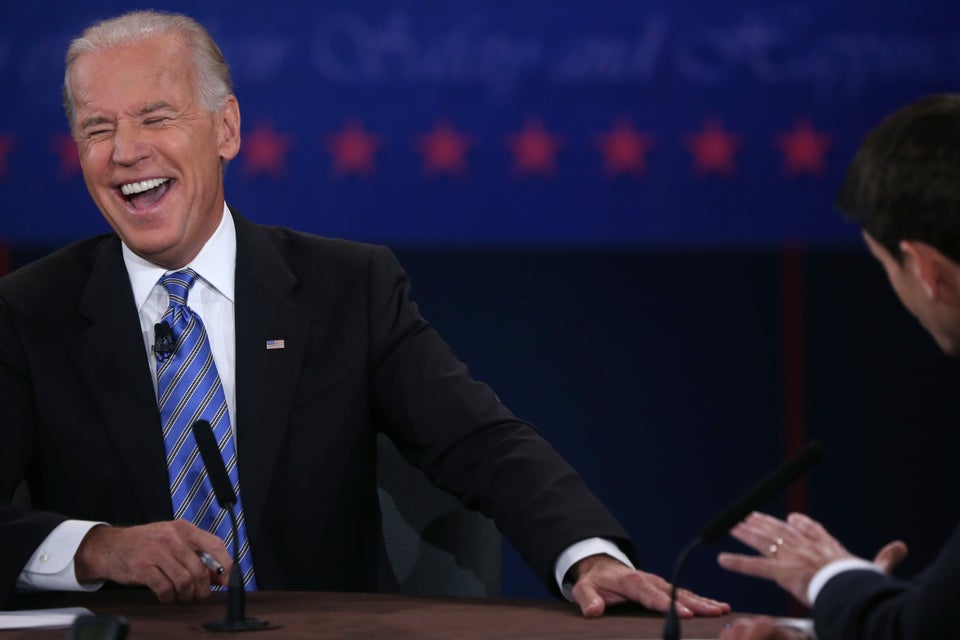 Joe Biden Makes Faces At VP Debate
Popular in the Community