WASHINGTON -- The Senate edged closer to a historic showdown over presidential appointments Monday night, with Majority Leader Harry Reid (D-Nev.) prepared to launch the so-called nuclear option after a rare all-senator meeting produced no compromise, but an agreement to keep talking.
"We had a very good conversation, that conversation is going to continue tonight," Reid said after the 3 1/2-hour meeting.
Reid declared himself fed up with GOP roadblocks last week and set a series of votes for Tuesday on seven of President Barack Obama's nominees for executive branch positions. Among them are nominees to the National Labor Relations Board, the Consumer Financial Protection Bureau, the Environmental Protection Agency, Labor Department and the Export-Import Bank of the United States.
Reid can use arcane Senate procedures to force votes on the stalled appointees with a simple 51-vote majority, instead of the 60 votes required to break a filibuster. Such a move is known as the "nuclear option" by opponents and the "constitutional option" by supporters.
Reid said after Monday's unusual meeting in the Old Senate Chamber that the nuclear option remained on the table.
One senator said that many of the Democrats told their counterparts in the chamber that "we'd rather fix this. We'd rather fix it without a rule change. It was fixed without a rule change in 2005 because Democrats agreed not to filibuster." It was clear, the senator said, that "folks want their to be a resolution short of a rules change."
"It's not at all clear" how that happens, the senator said. "We could get the votes tomorrow. We could get an understanding tonight between the leaderships."
The best chance for a deal would approve five of the stalled nominees, but would require Democrats to find quick replacements for the two NLRB members. "The idea of throwing these people out is unfair, but it's face-saving to Republicans," the senator said. Majority Whip Dick Durbin (D-Ill.) was asked if he'd agree to reform to the CFPB, as Republicans are demanding, and he flatly ruled it out. Asked if he'd agree to find two new NLRB members, he called it "unfair" to the board members, but pointedly did not rule out the possibility.
Finding them and approving them before the August recess remains a challenge.
Sen. Chris Coons (D-Del.), however, drew a line at making changes to the current lineup of NLRB nominees.
"I'm not conceding on that," he said.
Coons said the idea of agreeing to new NLRB nominees was "a topic of heated discussion" during the meeting, but his sense was that most Democrats aren't willing to go there.
"I think there are very strong feelings on the part of many Democrats that ... we cannot face a Labor Day without a functioning NLRB and without a confirmed secretary," Coons said. "We don't yet have any pathway that allows for a functioning NLRB in a predictable time frame.
Still, some Republicans maintained that changes to NLRB would be the best way to get a deal. Sen. Lamar Alexander (R-Tenn.), the ranking member on the Senate's labor committee, laughed at the idea that the White House doesn't have enough time to come up with new NLRB picks before the board goes dark in August.
"I can't image that the White House doesn't know of a couple of very good labor leaders who would like to serve on the NLRB," Alexander said.
Alexander said he held out hope that Reid and McConnell could reach a deal Monday night to avert a major showdown on Tuesday, but said he left the meeting feeling worse than when he went in.
"There are too many senators who don't understand the danger of the precedent of a Senate that can change the [rules] anytime it wants to, to do anything it wants to," Alexander said.
Democrats have argued that since the late 1970s, Senate leaders have used similar tactics to change rules some 18 times. They argued that doing it on presidential nominations -- not judges or legislation -- would be a relatively minor change that fixes unprecedented obstruction by the minority.
"This is really a moment in history where circumstances dictate the need for change. Minor change, no big deal," Reid said in a speech at the Center for American Progress earlier in the day. "Remember, all we want to do is what the Constitution says we should do. Filibusters are not part of the Constitution -- that is something that senators developed on their own to get legislation to pass. Now it is being used not only to get legislation from stop passing, but to stop nominees. It's in a totally different place than where it should be."
But changing the rules to get nominations approved has only been threatened in the past, and has not actually been carried out. Republicans say such a move would be nuclear indeed, and they've warned it will destroy the world greatest deliberative body, making it more like the majority-ruled House of Representatives.
The board normally has five members, but only has three now, two of whom Obama appointed during a recess in 2011 to keep the board functioning then. It needs at least three members to render legally binding decisions on labor disputes, and a federal appeals court has ruled that the two recess appointments are unconstitutional. The labor board is still functioning because the administration is appealing. In the meantime, the White House is also seeking to have the two disputed nominees confirmed in the normal fashion, as well as two Republican members to fill out all five seats.
Sen. Rand Paul (R-Ky.) said he doesn't "have a lot of hope" that Reid and McConnell will strike a deal, but said their best chance comes back to changes at NLRB. He lent support to the idea of replacing one of Obama's three pending NLRB nominees and then replacing the two current NLRB members with GOP-supported picks.
"That's a deal that probably would work. Actually, I think there are enough votes for that to fly," Paul said. "But people have to compromise on both sides."
While the nuclear option may be historic, so is the GOP's obstruction. In 2005, Republicans threatened to go nuclear over judicial filibusters by the then-minority Democrats. In that session of Congress, the majority was forced to file cloture -- to hold vote to break filibusters -- 18 times. In the last Congress that ended 2012, there were 33 cloture motions on nominees.
Democrats and Republicans cut a deal at the start of this session, and the GOP relented some on slowing down nominees. But the seven nominations that Reid is focused on now have been waiting extremely long times for confirmations. As of Monday, the CFPB's recess-appointed director Richard Cordray had waited 729 days. The EPA nominee, Gina McCarthy, had waited 133 days, Department of Labor nominee Thomas Perez had waited 120, days and two of the NLRB nominees -- Sharon Block and Richard Griffin -- had waited 578 days.
This article has been updated with comments from Sens. Chris Coons, Lamar Alexander and Rand Paul.
CORRECTION: An earlier version of this story misidentified Thomas Perez, who is nominated to lead the Department of Labor, as Richard Perez.
Before You Go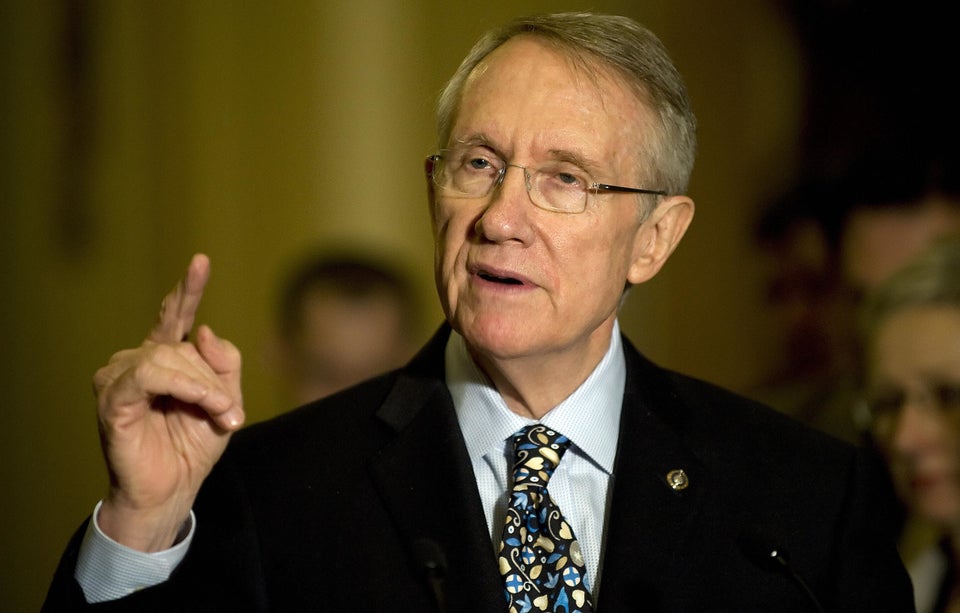 Senate Majority Leaders Through The Years
Popular in the Community