WASHINGTON -- With just a week left to influence the looming debate over filibuster reform, Sens. Jeff Merkley (D-Ore.), Tom Udall (D-N.M.) and Elizabeth Warren (D-Mass.), along with the progressive Daily Kos community, launched a petition on Monday to drum up support for a proposal that would eliminate the silent filibuster.
The hope is to maintain pressure for reform that would include the talking filibuster. Merkley, Udall and Sen. Tom Harkin (D-Iowa) have been pushing one such approach, which would still allow the minority to filibuster legislation but would require members to do so by actually standing and speaking on the floor. The Merkley-Udall-Harkin plan also seeks to streamline conference committee assignments and nominations, and eliminate the motion to proceed -- a motion typically offered by the majority leader to bring up a bill or other measure for consideration.
Their proposal is competing with a scaled-back bipartisan plan introduced by Sens. Carl Levin (D-Mich.) and John McCain (R-Ariz.) and backed by six other senators. In a statement accompanying the petition, Merkley argues that "other proposals out there don't go far enough, and won't change the culture of obstruction that paralyzes the Senate."
"Without a talking filibuster, obstructionist Senators will still be able to silently stall any piece of legislation they want without any accountability," he writes.
Merkley and Udall have claimed momentum for their proposal, indicating that they will have the 51 votes required to pass reform using the constitutional option.
Time to make a change to the filibuster rules is running short. Senate Majority Leader Harry Reid (D-Nev.) recently extended the first legislative day of the new Congress to maintain his ability to reform the Senate's filibuster rules later this month. The debate over the filibuster is set to begin on Jan. 22.
A HuffPost/YouGov poll conducted in late November found that 65 percent of Americans believe senators should have to participate in debate for the duration of a filibuster, while only 9 percent of those polled said that senators should be able to filibuster without being physically present.
Before You Go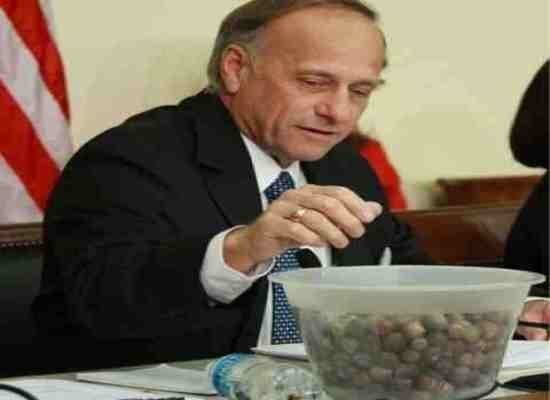 More Crazy Examples of Congressional Theatrics
Popular in the Community