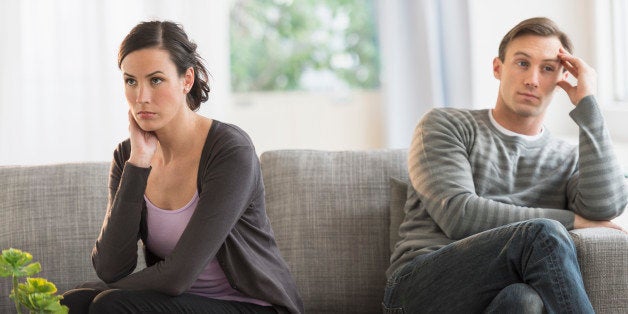 Drew Barrymore and husband Will Kopelman recently announced plans to divorce... and they're not alone. Across the United States, springtime typically sees a peak in the number of couples filing court papers to formally end their marriage. In New Jersey, for example, April is second only to March for the highest number of new divorce cases.
Whether or not you're a celebrity, you are the star of your own life. Deciding to divorce is not easy, and unfortunately, the divorce process itself sets people up to make mistakes. You may be angry, sad, scared, or filled with anxiety over ending your marriage...and now you have the prospect of becoming entangled with the court system. If you are not careful, even small oversights or errors you make can result in a more difficult and costlier divorce.
With so much at stake, what pitfalls should you watch out for? If you are one of the many people filing for divorce this spring, here are six common, but potentially perilous mistakes to avoid.
Mistake: Thinking you can file for divorce at any time
Stop and think strategically about your divorce. The date you file for divorce is important because it establishes a cut-off for claims against certain marital assets, including 401Ks. If you file for divorce in April, for example, division of a 401K will be based on its worth this month, not beyond. If you are the spouse contributing to the 401K or other retirement plans, you may want to move forward with filing papers sooner rather than later as a way to protect assets. If you are the non-contributing spouse to the 401K or other asset, it may be more strategic to file at a later date, depending on your situation. Your attorney can help you determine the best time to file.
In some states, your divorce filing date can be critical to the outcome of your divorce in other ways. In North Carolina, for example, you and your spouse must live apart for one year before you are legally able to file for divorce. Filing before you reach the one year mark could result in an invalidated divorce that requires you to re-do the divorce process from scratch.
Mistake: Thinking you can just hand divorce papers to your spouse
Once you've filed divorce papers with your local court, you need to serve the papers on your spouse, who then has a specific amount of time to respond to the court. Perhaps you and your spouse are on relatively civil terms at the moment, so you decide to simply hand your spouse a copy of the divorce papers rather than serving them through the Sheriff's office or other appropriate service method in your state. Skipping the formality of serving papers might not seem like a big deal at the time, but you may have just set yourself up for problems. Without a fixed date or verification that papers were served, your spouse can deny ever receiving the papers or dispute the date you handed them over. It is in your best interest to follow the rules and choose an approved service method that provides acknowledgement of service. This is not a place to take a short cut.
Mistake: Thinking you can guesstimate financial information
You MUST be accurate with your figures or you could lose thousands! Shortly after filing for divorce, depending on your state's rules, you will need to submit financial information detailing your income, living expenses, bank account amounts, credit card debt, mortgage payments, investment and retirement account amounts, expenses related to your children, and more. Even if you are not the spouse who normally handled your family's finances, do your absolute best to provide accurate and complete financial information. From support formulas for alimony and child support to dividing marital assets and debts in your property settlement, underestimating or overestimating financial amounts can create issues in your divorce that could significantly impact its outcome. To avoid inaccuracies, put time and effort into organizing your bills, statements, and pay stubs. Ask your attorney for help should you run into any obstacles obtaining needed financial information.

Mistake: Thinking your divorce will help you to "settle the score"
It is normal and expected to experience a difficult mix of emotions when going through a divorce, so do your best to stay focused and emotionally neutral as the process unfolds. Being angry or looking to "win at all costs" during divorce proceedings won't solve any problems. What it will do, however, is drag out the process, which in turn drives up the associated costs. Keep in mind that every dollar you or your spouse spend on "winning" the divorce is a dollar you won't be able to split 50-50. One good rule of thumb? Approach divorce as an opportunity to strike a favorable business deal rather than a chance to settle scores. If you are having a hard time keeping your emotions in check, it could be well worth talking to a divorce therapist to learn some coping strategies.
Mistake: Thinking you don't need a separation agreement
You might need a separation agreement to survive financially during the course of your divorce. If you have children, temporary custody orders can help create stability during what may be an intense transition for your family. Temporary child support can ensure your child's basic needs are met, including food, clothing, housing, daycare costs, and more. If you are the lower earning spouse, temporary alimony can provide you with money for your living expenses. Many people don't know these options exist, or if they do, they mistakenly think that separation agreements aren't needed because they hope the divorce process will be short. But what if your divorce takes longer than expected? You and your spouse can create separation agreements with the help of your lawyer or you can file with the courts for temporary support and custody orders. Have a verbal separation agreement with your spouse? This is a common mistake. If emotions flare up during the divorce process, the spouse contributing money to cover household expenses may suddenly stop making payments, or an angry spouse could deny the other access to the children at a day and time previously agreed upon. As with any kind of agreement, always get it in writing!
Mistake: Thinking it will be OK to delay meeting with a lawyer
Forewarned is forearmed. Get a free consultation with an attorney to understand what is going to happen next in your divorce, and to protect yourself. Once you file for divorce, important decisions, deadlines and possible court dates start heading your way. The best way to enter the divorce process is to be informed and prepared. Make an appointment to talk to a skilled family law attorney before you move forward with your divorce. Having a trusted legal advisor on your side can save you time, money and stress. Many family law firms, including my own, offer a free consultation for people considering divorce to explore their options and create a strategy for the road ahead.
As the old saying goes, in spring everything is full of promise...and this includes the new direction your life is taking. Just like trees bursting with buds and new leaves now that it is spring, creating a strong, error-free divorce settlement can set you up for years of new growth. A little extra attention to specific details will go a long way in helping your new life bloom.
Related