Here is our last count: four million Filipino immigrants in America. Nary a season on primetime TV without a Filipino face gracing the screen: American idol (Jessica Sanchez, Jasmine Trias), America's Best Dance Crew (Jabbawockeez); YouTube discoveries (Arnel Pineda, Charice Pempengco); mixed second generation Filipino-Americans (Cheryl Burke/Dancing with the Stars; Tim Lincecum/San Francisco Giants). Even Miss Universe Pageant has had Ms. Philippines in the top five for three years straight. However, in the privacy of your bedroom theatre, next to the leftover adobo chicken on the night table, is there a Filipino-American BOOK waiting for the limelight of your minds?
Time and again, I get together with my Filipino-American writer friends to discuss the state of our Filipino readership. It is often the most depressing conversation. We have implemented different strategies to get our village to read our books, but without considerable success. In 2000, I edited an anthology of Filipino and Filipino-American writers for The Literary Review's first issue of the millennium, in which I mentioned two harrowing statements from industry folks in my introduction:
Nobody reads Filipino books.
Filipino books don't sell.
Generalizations indeed, but might they also ring true in a Filipino readership context? In 2004, I accepted an invitation by the Philippine Embassy in D.C. to be the keynote speaker of an initiative to bridge Filipino-American literature and our community. The highly publicized event, with promotional stops at the National Press Club, was peppered with song and dance performances, probably a necessary strategy to bring a reluctant Filipino audience to a literary event. The auditorium was full during the performances, but unfortunately emptied out during the readings and panels themselves.

Converting immigrant communities into literary markets can be very challenging and complicated. Literature is introduced to most Filipinos in an academic setting as a top-down imposition more akin to catholic penance than scholarship. We certainly don't equate reading literature with our hedonistic attachment to dancing, singing, and eating pork. And if Filipinos do read a book, their colonial dictates will have them picking up a non-Filipino author. Ah, heartbreaking truths!
But surrender, my people, is not my Bataan. Our courtship continues until you open your doors. After all, the Philippines has kept my 13-year-old first novel alive; and it is now doing the rounds of a new generation of readers. What works there can happen here. So below, I share with you my own five truths:
One, what's good for the gander is good for the goslings. Many of you are raising children in America who will rarely get to read about their own culture in their K-12 schools. This is not the Philippines where Rizal's Noli Me Tangere is pounded on our brains from childhood. Outside the comfort of your Filipino homes, your kids are required to read literature written for Americans of European origins. American history books barely mention the Philippines. Ever wonder why our youth go out of their way to vote for their Filipino-American peers on these TV reality shows? Are they famished for mirror-image narratives?
Two, mother knows best. When my first book came out, my mom gave a copy to all her friends and neighbors in Flip-town Jersey City, the way she shared her special leche flan. Try it, she said, you might just like it. Perfect is the day they read the book, but she asked them to spread the word anyway, like gossip. She knows, the way I do, that the Filipino ingredient in these books brings the human experience a bit closer to the soul.
Three, 1 percent commitment. If 1 percent of four million or 40,000 Filipinos in the U.S. commit to buying a new Filipino-American book, we will be on our way to solidifying our presence in American letters and in our communities. One percent. Liken it to voting for a Filipino American Idol. It takes a village, indeed.
Four, self-preservation. Our stories are our culture. Fiction writers are our record keepers, our mythologists. We want to show our future progeny that we were once here. As America becomes more non-white, the Filipino-American diaspora will have to claim our space in these future multicultural villages. Who and where are these storytellers now? For starters, here's a list from Spot Philippines.
Five, poetry, like pork adobo, is king. It's National Poetry Month, opportune time to get your first Filipino-American poetry collection. Here is a website feast of our own poets who are changing the face of American poetry: Aimee Nezhukumatathil, Joseph O. Legaspi, Sarah Gambito, Patrick Rosal, Jon Pineda, Luisa A. Igloria, Eileen Tabios, Barbara Jane Reyes, Sasha Pimentel, Luis H. Francia, Paolo Javier, Eugene Gloria, Nick Carbó, Jean Vengua, Vince Gotera, and Oliver de la Paz.
Literature is our archipelago of deeper meanings. It is pure, real. It is adobo for the soul. Kundiman for the heart. I dream of Filipino-American children growing up surrounded by many books, especially OUR books. I see a 10-year-old child reaching out to a shelf and pulling out Joseph O. Legaspi's Imago. Let his soul rise with the words and imagery from the poem, Imagined Love Poem to My Mother From My Father:
Didn't you hear the fish mouthing my words/ as you were salting it: Do unto me, the spy/ up on the thick fruit tree, as you have done/ unto the milkfish? One day I hope/ to recite for you these verses/ and in my voice you will hear,/ from across the oceans surrounding/ the archipelago, as if reverberated through/ the ages, the voice of our future son.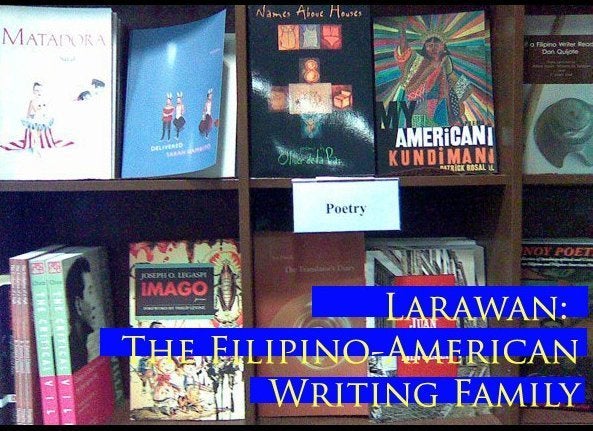 Portraits: The Filipino-American Writing Family
Related
Popular in the Community