This post is the latest in the series "Connecting All the Dots" an ongoing discussion about and across movements. While connecting two dots only makes a simple line, connecting ALL the dots can create a completely different picture that can help provide a new insight on the issues of the day.
A week ago today, white supremacist organizations and neo-Nazis gathered in Charlottesville, VA for what was planned as a "Unite the Right" rally, in part, to oppose the removal of the statue of General Robert E. Lee. A 32 year old woman, Heather Heyer, was killed in the violence that erupted in clashes with local residents and University of Virginia students who oppose white supremacy, or as a dear friend and colleague described them on Facebook, "an organized community defending itself and living its values." While chaos was swirling in Virginia, I was fortunate enough to be in Secaucus, NJ at the Fiesta in America, the largest Filipino American cultural festival on the East Coast, to speak about the Remember, Register, Recognize campaign for the Filipino Veterans Recognition and Education Project. Filipino Americans were joined by non-Filipino elected officials from many parts of my home state to celebrate diversity and to recognize the value of immigrant communities, hours before Heather Heyer and two Virginia law enforcement officers lost their lives to the racist bigotry that animated the rally in Charlottesville.
As an unconscionable attack on our values of inclusion and diversity, the rally and its tragic aftermath of violence and death, the events in Charlottesville have become a focal point for national discussions about racism, the history of the Confederacy, and our current political climate. My hope here is to connect all the dots, or at least to make connections between the conversations that have been happening about Charlottesville and what it means for Filipino Americans. For a population of 170 Filipino Americans according to Don Tagala from ABS-CBN (the 2000 Census counted 223 Filipino Americans), the connections and implications are outsized and significant.
The work to recognize Filipino WWII veterans is important here. The Filipino Veterans Recognition and Education Project has always been clear that these veterans and their sacrifice is an American story about the protection of democracy and the fight against fascism. The rise of neo-Nazis and white supremacy on display in Charlottesville is a reminder that the story of Filipino WWII veterans and the global fight against Nazism and authoritarianism still needs to be told.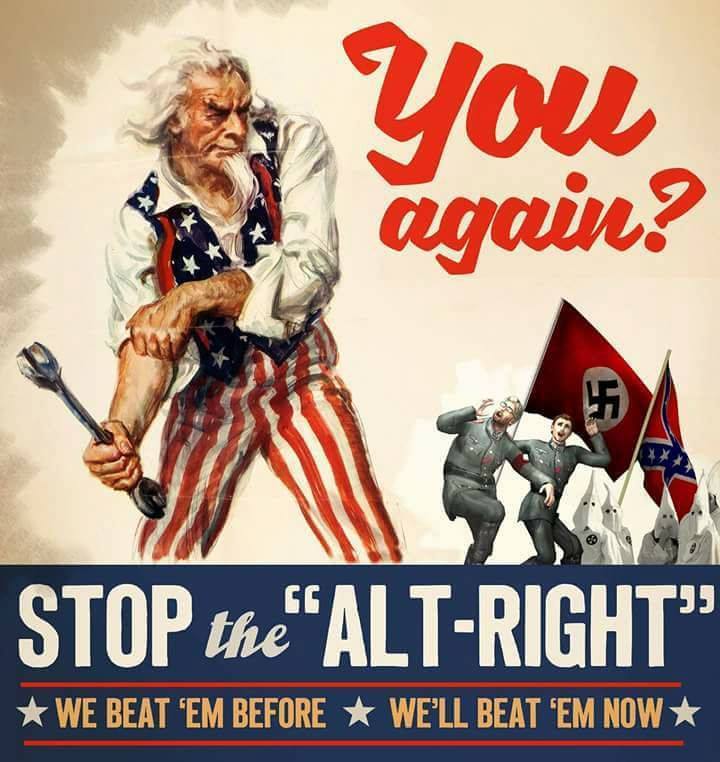 Donald Trump brought the Philippines into the national discussion about terrorism this week when he tweeted about General Pershing in response to the Barcelona attacks, in which, similar to Charlottesville, drivers plowed into two different crowds, killing at least 14 people. His tweet has largely been debunked by historians, as has the story about General Pershing's alleged execution of Muslim freedom fighters in the Philippines during the Filipino American War. By perpetuating this false narrative, Trump justifies a military action that clearly defies international human rights conventions on military actions in the name of anti-terrrorism. A more appropriate lesson to be learned from General Pershing is that history should not be revised in order to justify inhumane practices and colonialism.
Many Filipino Americans have stepped up and moved up to articulate a voice in opposition to racism and white supremacy. Here in Huffingtonpost, Kevin Nadal uses empirical and historical evidence in an open letter- #DearFilipinoAmericans, Let's Talk About Charlottesville. Our friend EJ Ramos David all the way in Anchorage Alaska took part in one of the rallies that happened around the country in the days after Charlottesville, "We want you to know that our love is with you. And love is stronger than whatever hate there is."
Bringing the focus back to Charlottesville, even its small population of Filipino Americans is making its voice heard. Don Tagala's reporting on the local community identified both residents of the city proper and students at the University of Virginia weighing in on the events surrounding them and echoed the call for an end to the racism affecting their city. In an interesting human interest piece, his story on the success of a local food truck is a sign that Filipino Americans will continue to play a role in the diversification of Charlottesville.
As a former student organizer who was part of a national movement of Filipino American campus groups that came together in the 90s thanks to an emerging technology called the internet, I have included the University of Virginia as part of my story as an advocate from the beginning. Looking at the impact that UVA Cavaliers past and present are having on how we understand their city as Filipino Americans gives me hope. One of those alums, Gem Daus, is beginning a second decade of teaching Filipino American studies to college students who are the next vanguard of advocates and leaders who will shape the Filipino American community for decades to come. We can do nothing less as our part in helping tell the broader American story for generations to come.
Ben de Guzman serves on the Executive Committee for the Filipino Veterans Recognition and Education Project. He is a former Virginia resident and sends a big hug to the UVA Cavaliers in his life, and to all of us facing the aftermath of Charlottesville.
Related
Popular in the Community