Next week, Americans will choose their next president and the votes won by both Hillary Clinton and Donald Trump will be dissected and sliced by constituency. Post-mortems will tell Democrats and Republicans who they can count on in upcoming elections and who they need to win over. Thanks to the tireless advocacy of Asian American groups armed with solid data from the National Asian American Survey (NAAS), politicians and pundits are beginning to acknowledge the importance of the Asian American vote, particularly in swing states like Nevada, Virginia, and North Carolina, where Asian communities, and especially Filipinos, can determine the outcome of an election.
Americans of Filipino ancestry form the second largest Asian group in the U.S. While the group had once been a reliable Republican constituency, a majority of Filipino Americans, along with other Asian Americans, now align themselves with Democrats. In the latest NAAS poll of registered voters, 54 percent of Filipino Americans said they would vote for Hillary Clinton and 25 percent said they would vote for Donald Trump (the largest proportion for any Asian ethnic group). Five percent said they would vote for some other candidate and 12 percent refused to answer.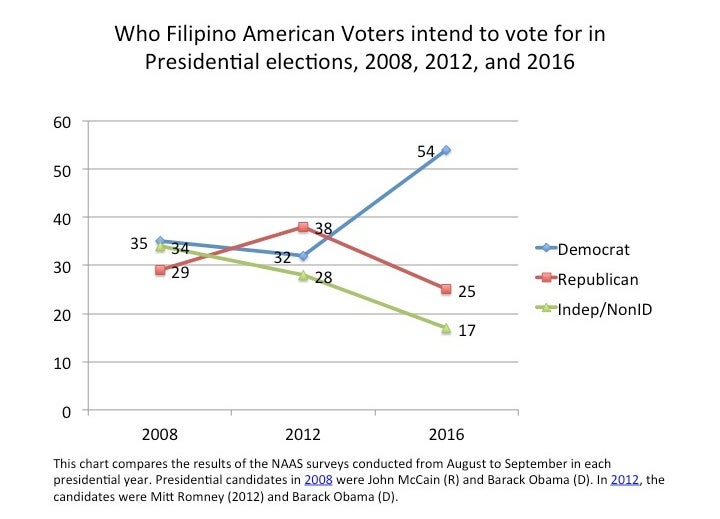 Nonetheless, it is a mistake to assume that Filipino Americans favor Democrats in general. The same survey conducted in 2012 found that 32 percent of Filipino Americans said they would vote for Obama, 38 percent for Romney, and 28 percent were undecided. In 2008, 35 percent said they would vote for Obama, 29 percent for McCain, and 34 percent were undecided. The proportion of people who remain undecided a month before the election is much smaller this year than in 2008 or 2012. The authors of the latest survey make the case that the highly exclusionary tenor of the current election cycle has moved Asians as a group toward the Democratic Party. It seems like Filipino Americans are moving with the larger Asian American population.
Before concluding that Filipinos are trending Democrat, however, we need to consider several factors. First, this has been an exceptional election year, and anything can happen by the 2020 presidential elections. Moreover, these data are about presidential elections. Filipino Americans may align differently for Congressional, state, or local races. Previous research has shown that Filipino Americans, like all Asian groups, have a large proportion of people who identify as independent or who do not identify with any party.
We also have to bear in mind that party identification is not the same as ideology. Ideology is usually described as liberal, conservative, or moderate. While it is true that conservatives tend to identify as Republican, there are also liberal Republicans. The same is true at the other end: most liberals tend to be Democrat but there also conservative Democrats. And there is a large middle. Survey findings from earlier this year revealed that 34 percent of Filipino Americans identify as liberal versus 26 percent who identify as conservative. This leaves 40 percent who identify themselves as moderate. With such a large middle, it is not possible to determine if Filipino Americans are more conservative or liberal since the moderate can go either way – or not move at all – depending on the candidate or issues. Understanding Filipino American views on particular issues, such as immigration or affirmative action, may be more enlightening than just the broad classifications of liberal or conservative. Furthermore, we need to learn more about other factors that influence the positions they take, such as gender, age, time in the U.S., citizenship status, and socioeconomic status.
The Filipino-American vote and the votes of other Asian American voters will make a difference next week. As the fastest growing minority group, their political clout will continue to grow. Filipinos and other Asian Americans may very well help Secretary Clinton win the White House. But the Democratic Party should not take them for granted. It is not too late for the Republican Party to right its ship and win more Filipino-American votes in 2020.
This analysis is part of my ongoing project on Filipino American political participation with Gem P. Daus of the University of Maryland, Asian American Studies Program.
Popular in the Community