Philippines President Rodrigo Duterte asked a woman to kiss him on the lips while the two were on stage at an event in Seoul, South Korea, on Sunday. 
Duterte, 73, was in South Korea for an official visit to the country organized by the Overseas Filipino Workers' organization. According to Reuters, there were over 3,000 people in the crowd, most of them Filipino workers living in South Korea. 
During the event, two women were called up to the stage to receive a book from the Filipino president. Both were visibly excited to meet Duterte and receive the gifts. As the two shook Duterte's hand they brought it up to their foreheads in a sign of excitement and gratitude.
As they went to exit the stage, Duterte called them back and gave one of the women a hug and peck on the cheek. The Filipino president then gestured to the second woman ― later identified as Bea Kim ― to kiss him on the lips, and the crowd responded with applause and laughter. 
"Are you single? You're not separated from [your husband]? But you can tell him that this is just a joke?" Duterte asked Kim, according to Filipino news outlet Rappler.com. 
Kim squealed and put her hands in front of her face while looking nervous, but eventually acquiesced and gave Duterte a quick kiss on the lips. 
"Don't take it seriously. It's just for fun, a gimmick," Duterte, who has a longtime partner and four children, told the crowd after the kiss. The Filipino president is well-known for past sexist and controversial remarks including jokes about rape and violence against women.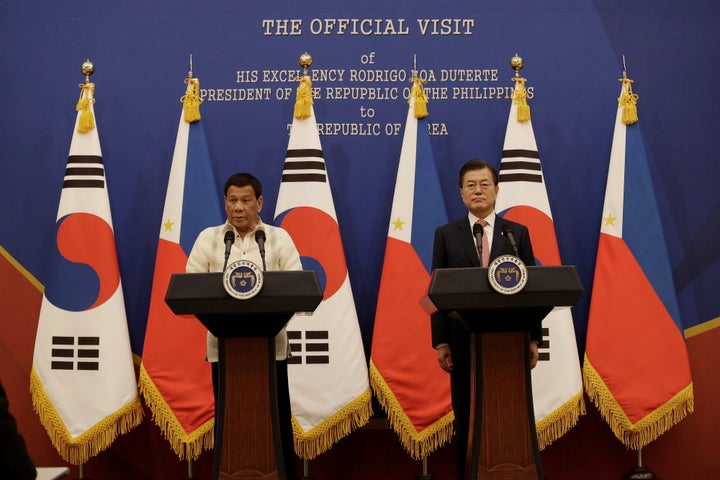 "The kiss doesn't mean anything except to entertain and make other Filipinos in the gathering happy. I assure you, for me and even the President, there was no malice in the kiss," she said, according to Newsweek. 
Many people, including a number of women's activists, were not happy with the public kiss from such a powerful figure. 
"It was a despicable display of sexism and grave abuse of authority. President Duterte acted like a feudal king who thinks that being the President is an entitlement to do anything that he pleases," senator Risa Hontiveros said in a Monday statement.
"It was not a meeting of two consenting individuals on equal terms," she added. "Uneven power relations were clearly at play. And President Duterte took advantage of that severe power disparity." 
Joms Salvador, secretary general of Filipino women's rights organization Gabriela, denounced the kiss as the "disgusting theatrics of a misogynist President who feels entitled to demean, humiliate or disrespect women according to his whim."
"It is unfortunate that the woman found it her obligation to publicly defend the act as 'no malice,' when it is the President who is duty-bound to explain not only because it was upon his prodding but he is bound, as a public official, by rules of ethics to explain his unruly conduct," Salvador wrote in a Monday statement.  
Calling all HuffPost superfans!
Sign up for membership to become a founding member and help shape HuffPost's next chapter