Eric Olander and Cobus van Staden are the duo behind the China Africa Project and hosts of the popular China in Africa Podcast. We're here to answer your most pressing, puzzling, even politically incorrect questions, about all things related to the Chinese in Africa and Africans in China.
When independent filmmaker Carl Houston Mc Millan was growing up in the tiny southern African country of Lesotho, he saw firsthand the effects of China's surging engagement in Africa. Even in this remote country, embedded within South Africa, far away from the major hubs of Chinese immigration in Johannesburg and Nairobi, he could feel his community was undergoing a profound change.
Unlike larger countries where the Chinese are building massive infrastructure projects and attracting thousands of Chinese workers and expatriates, in Lesotho the Chinese are largely economic migrants in search of a foothold to open a small business where many work tirelessly to earn enough extra money to send back to their families in China. These migrants are increasingly entering the retail and construction sectors, and according to the Chinese Embassy in Lesotho, make up 5,000 of the close to 7,000 foreigners estimated in the country by the World Bank.
These new foreigners, Mc Millan explained, were not warmly welcome in Lesotho where they encountered widespread prejudice. Sure, the new "China shops" offered lower prices and were conveniently open seven days a week, but they also put enormous strain on local competitors who were often unaccustomed to facing this new competitive pressure. Then there were the constant language and cultural barriers that sparked countless micro-tensions between the Chinese and locals. While this phenomenon of new immigrants struggling to adapt to their adopted country is typical in every country, it was very new and unfamiliar in Lesotho.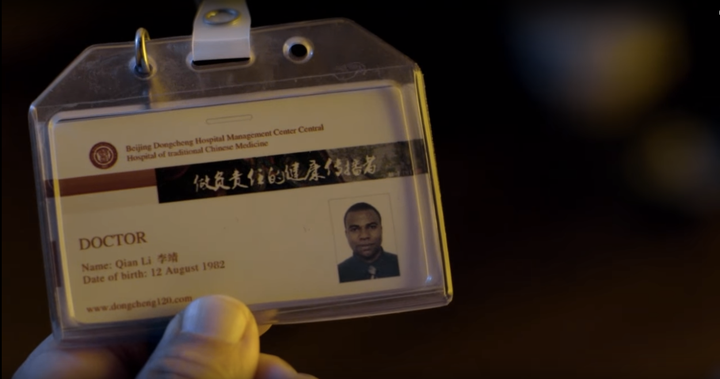 Within this struggle for acceptance and assimilation between the Chinese and the people of Lesotho, Mc Millan saw the opportunity to tell a bigger story about human dimension of the China-Africa relationship that is largely overlooked in the mainstream press and academic scholarship.
His new short film, "Laisuotuo" (the romanization of the word Lesotho in Chinese) tells the story of two migrants, an African doctor living in China and a Chinese shop owner in Lesotho, who both struggle to overcome painful stereotypes and racial profiling. The film was shot on location in both China and Lesotho all on a minuscule, self-funded budget by Mc Millan and his friends.
This beautifully shot short film featured a cast of amateur actors who shared Mc Millan's passion to tell a different, more human side of the China-Africa story. Mc Millan joins Eric and Cobus ― in the podcast above ― to discuss the challenges he had to overcome to make this film and what he hopes the audience will take away from the its core message.
Join the discussion. What did you think of the movie? Are you more or less sympathetic to the plight of Chinese and African immigrants who both struggle to adapt to new languages, cultures and customs?
Watch the full film here:
Support HuffPost
The Stakes Have Never Been Higher
Related
Popular in the Community