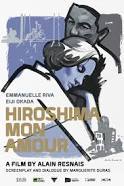 Rarely have text and image united to form such cinematic perfection as in Alain Resnais' 1959 classic Hiroshima Mon Amour. A poetic duet of sight and sound, this remarkably intelligent film remains a heartfelt ode to love and loss and to the triumph of memory over forgetting.
Based on the script by French Nouveau Roman author Marguerite Duras, Hiroshima mon Amour stars the beautiful garçonnet Emmanuelle Riva who plays an actress referred to only as Elle (Her) and an architect named Lui (He) played by the impossibly handsome Eiji Okada. The film alternates between the city of Hiroshima in Japan where Riva is on the last day of a film shoot and flashbacks to the occupied French town of Nevers during World War II. Both cities lie along rivers, Hiroshima on the Ota and Nevers on the right bank of the glorious Loire. Both cities have seen much suffering, although on different scales. In Nevers Riva had taken a German lover who is killed during the war. She suffers from a bout of insanity and is temporarily institutionalized.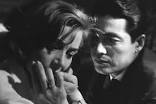 The two protagonists of Resnais' film form a brief, intense relationship that is coming to an end, but the main interest in the film lies in its remarkable sensuality. Duras' writing is unique in that it is experimental, yet rhythmic and aesthetically pleasing. Repetition, aporia, the use of short, poetic sentences -- all combine to produce a uniquely lyrical if modernist style. Even intonation plays a key role. When Riva repeats that Hiroshima is on the river Ota for example, her insistence on accentuating the last syllables of these words works as a kind of aural therapy for the viewer.
Duras juxtaposes two tragic aspects of WWII-destroyed love in one case and the terrible bombing of Hiroshima in the other. Her exquisitely succinct dialogue is a delight in and of itself, as its repetition works to imbed the reality of their respective experiences in the viewer's very soul: "Lui: Tu n'as rien vu a Hiroshima/Elle: J'ai tout vu (à Hiroshima)" ("He: You saw nothing in Hiroshima / She: I saw everything.") For how can language ever encompass the horrors that they have both experienced in their respective lands? Few cinematic adaptations render experimental writing in such a haunting, visually lush way. Through the use of repetition the film examines the limits of cinematic language and perhaps of language itself, foregrounding its inability to ever truly represent something as terrible as a nuclear Holocaust. Hiroshima Mon Amour, a tender love story, an ode to remembering but also a haunting admonition that sometimes the only thing the human mind can do is attempt to forget.
Resnais' clever camera movements works in tandem with the splicing of scenes from Nevers with newsreels of post-cataclysmic Hiroshima. Duras' insistence that we pay due homage to the past, and Resnais' exquisite adaptation of the written text also work hand-in-hand to affirm that in the end love, and not just the carnal kind that the stars experience here, but also love of beauty (of Nevers, of the human body and soul, of film itself) can overcome almost anything--even the memory of Hiroshima, once devastated and now rebuilt. Few films are simultaneously able to depict some of man's most horrific actions and at the same time transcend these by offering a message of beautiful, powerful renewal. Each viewing works like a new spring, a wondrous, rejuvenating new beginning.
Hiroshima Mon Amour was recently re-released in 2014 by Rialto Pictures: See here.
Calling all HuffPost superfans!
Sign up for membership to become a founding member and help shape HuffPost's next chapter