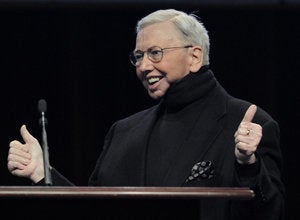 Abbie Hoffman once said, "I live in Woodstock Nation." That's not for me, but I'd gladly take up citizenship in EbertNation if it's anything like attending EbertFest, the annual festival in Champaign, Illinois where Roger Ebert champions a handful of movies he loves.
The fest's slogan could be "the friendliest, easiest film festival in the world" because it takes place over a leisurely five days (this year it ends Sunday), with about a dozen movies on display at the Virginia Theatre, a grand old movie palace with a giant balcony (where I like to sit in the front row as close to center as possible).
This is my third year at EbertFest so I have no idea what it was like when Ebert was robustly healthy and able to speak and interview and generally hold court but the warmth on display the last few seasons is something special. First, there's the affection from the crowd for a local boy done good. (This year, Ebert has donated $1 million to his alma mater the University of Illinois and the city put up a plaque by the home where he was born.)
They're just as enthusiastic over his delightful wife Chaz, who is a bit more New Age-y than Roger despite being a successful trial lawyer. (Really, did Ebert have to be successful in love as well as his career?) Chaz has hosted the festival more and more in the last few years as Roger's health has proved problematic. In 2007, Roger was mostly an encouraging presence. Last year, he couldn't attend at all due to a setback.
This year, he's looking vigorous and happy, coming out on stage with a cane to greet the filmmakers and using a computerized voice (dubbed Sir Lawrence, thanks to its British accent) to read out introductions that Ebert has typed. Like Dick Clark showing up for New Year's Eve despite a stroke, Ebert is damned if he's gonna miss his own festival and not say something. It's lovely to see the audience in hushed anticipation as Ebert flips open his laptop and then triggers Sir Lawrence to read off paragraph after paragraph of the words he's composed.
But perhaps the most unique aspect of all is the affection between Ebert and filmmakers. Everyone knows Roger Ebert is a world-class film critic; the Pulitzer Prize committee got it right when they made him the first one in that genre to receive the Pulitzer for criticism. But he's really an enthusiast. Yes, Roger will dissect a bad movie as easily as he praises a good one. But he's always been more interested in encouraging talent than in taking shots at people who stumble. Since he never minces words even about his favorite filmmakers, it's a credit to Ebert that artists know he is always on their side.
I've been quietly astonished at how many filmmakers have come to the festival and spoken about the direct encouragement they got from Ebert or just the strength they took from his reviews. Werner Herzog is perhaps the most famous example of this. But filmmaker after filmmaker talks about getting an email from Ebert wishing them luck on their first project (prompted by a request of a family member or friend) or the joy of knowing Roger liked their film. Movie critics have always pushed for recognition of those actors and directors they appreciate, but there's usually a wall dividing them. Pauline Kael wasn't exactly all warm and fuzzy, was she?
But Roger loves movies, really loves them and that enthusiasm comes through in his seemingly effortless writing, which for decades has managed to treat each new movie as worthy of discussion, worthy of respect. Roger may not give your movie a thumbs up, but just knowing that he has thought about it and mulled it over and come up with some insight can be its own reward.
I thought Ebert was too quick to praise filmmaker Ramin Bahrani. I appreciated his debut Man Push Cart and thought it showed great promise but Ebert saw deeper and didn't hedge his bests: this is a major talent, he said, bringing that film to EbertFest a few years ago. Since then, Bahrani has improved by leaps and bounds. His second movie Chop Shop was very good indeed (it's at this year's fest) and the just-released Goodbye, Solo is better still (it will be on my Best of the Year list for 2009) and proof that Ebert was right. Bahrani was recently given a "genius" grant by the Guggenheim Foundation, which is awfully nice. But it wouldn't surprise me if he was more moved when Roger told him on Thursday that he'd just added Chop Shop to his ongoing series Great Movies, an online (and book) compilation of new pieces discussing the best films of all time.
A thumbs up from Ebert is still the highest accolade (other than an Oscar) that a movie can get. EbertFest is like a week-long thumbs-up for artists who have labored on documentaries, animated films, and thoughtful features for years with even the prospect of a commercial release seeming dim at best. And then they enter heaven: warm, intelligent, insightful appreciation from the best critic around and a heartland audience -- far from the coasts where "art" films and documentaries are supposed to flourish -- that laughs and cries and applauds their work in a grand old movie palace of their dreams.
REAL LIFE. REAL NEWS. REAL VOICES.
Help us tell more of the stories that matter from voices that too often remain unheard.