Director John Sayles has completed his 21st feature film, Go for Sisters, shot in 18 days on a shoestring budget (reportedly less than $1,000,000). The title implies the nature of the relationship between Bernice (LisaGay Hamilton) and Fontayne (Yolonda Ross), who were so close in high school that it was natural to assume they were sisters. Years pass, Bernice turns up as a no-nonsense parole officer, while Fontayne, has made questionable choices and fallen on multiple hard times--landing in prison, struggling with drug addiction, and having her heart broken more than once. The two meet up again after almost 20 years when Fontayne, recently released from prison, gets assigned to her old friend.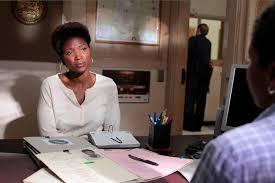 Fontayne (Yolonda Ross) meets with Bernice (LisaGay Hamilton) after 20 years. Courtesy Variance Films.
Sayles has explored difficult but interesting female friendships between apparent opposites before, perhaps most successfully in Passion Fish (1992) starring Alfre Woodard and Mary McDonnell with David Strathairn and Angela Bassett. In his dual role as writer and director, Sayles creates fascinating characters and continues to remain at the top of his game in casting and working with actors.
However with all this going for him, Go for Sisters is not a perfect film. The main storyline doesn't quite work--it runs a bit too long and isn't always credible. The movie is described as a thriller, did I forget to say Bernice's son, Rodney, is missing and the two women go off to find him? Since coming back from Iraq, he's not been in touch, bought a "truck," had an "associate" murdered, and may be involved in human trafficking across the border. (Hitchcock's concept of a "McGuffin" may apply here; you end up caring much more about the relationships between the characters than the ostensible goal of the plot.)
It's the performances that make this film work. Most are good, some superb.

Hector Elizondo makes a brief cameo. There's fine support by Harold Perrineau (Oz, Lost) as Wiley--trying to convince Fontayne to start using again and tempting her to come back and work for him while she's perspiring over a hot griddle slinging hash at a diner--and Isaiah Washington, who plays her ex-husband.
Edward James Olmos (Stand and Deliver, The Ballad of Gregorio Cortez, Mi Familia) plays Freddy Suarez, a former, L.A. detective dismissed with no pension and in poor health. He's almost blind in one eye from macular degeneration, complains about his cholesterol, is almost broke, and generally pretty burned out. But, he's still savvy and in spite of infirmities, is hired to bring son Rodney back from Tijuana dead or alive. Olmos comes close to conjuring world-weary, late Spencer Tracy in his portrayal of Freddy (I'm thinking especially of Tracy in John Sturges's Bad Day at Black Rock where his "disabled" character should never be underestimated) with down-to-earth, authentic-to-the-core, unembellished flair.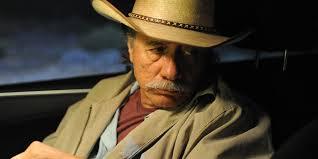 Edward James Olmos plays former L.A. detective Freddy Suarez with skillful, unembellished flair. Courtesy Variance Films.
LisaGay Hamilton's (Beloved, Mother and Child, The Practice) is a mother on a mission to find and rescue her elusive, selfish son. She goes from straight-laced parole officer to Thelma/Louise in momma-bear mode while simultaneously revisiting her old, complicated friendship with Fontayne. It's interesting to see them exchange roles. In Tijuana, Bernice, shoots a menacing thug in the knee because he's messing with Fontayne. It's now up to street-wise Fontayne to watch over her parole office and friend, making sure she doesn't go too far.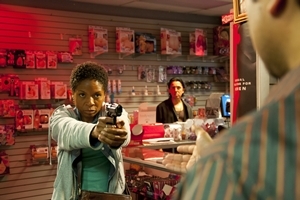 LisaGay Hamilton as Bernice is not a parole officer in L.A. anymore, she's packing heat in Tijuana. Courtesy Variance Films.
Ross does an especially fine job--sincere and tempered in her role as Fontayne even when the situations she's thrown into are a bit farfetched. She's the epitome of loyalty, sticking with Bernice when she's free to go back home and not risk her life trying to track down an ungrateful son who's gotten mixed up in human trafficking in Tijuana.
Despite the nature of the material, the film is not always a totally grim experience. Sayles peppers many scenes with irony and humor.
Look for the scene where Fontayne pretends to be an undercover LAPD detective, subdues a young hood by forcefully shoving a blunt object in his back threatening to blow him away if he doesn't get lost. Bernice: "Where did you get a gun?" Fontayne: "I always carry a 45." Cut to her slamming a large Colt 45 malt liquor bottle down on a table.
When Freddy shows up at a pawn shop to retrieve a gun, the owner can't help but react to Bernice and Fontayne by telling him "I like your posse," and then making a crack equating him with Tony Orlando. This is carried through when the two African-American women and the elderly Latino man must cross into Mexico. How are the border police supposed to believe these three are traveling together? They pose as "Freddy Suarez and Ocean," booked for a wedding gig. "I'm Freddy, they're Ocean," quips Olmos with a perfect poker face.
I knew the work of all the actors, except Yolonda Ross, even though she's been on HBO's Treme and won a Gotham Award for the film Stranger Inside. Her performance is what ultimately makes this a successful, female buddy film, Fontayne has evolved into a woman, who has no more use for guns, booze, drugs, men or prison, but leaves plenty of room in her life for friendship.
Go for Sisters, directed, written, and edited by John Sayles opens in NYC on Friday, November 8, 2013 at the Village East and AMC Empire 24. It debuts in Los Angeles on Friday, November 15, 2013. Running time: 122 mins.
Popular in the Community