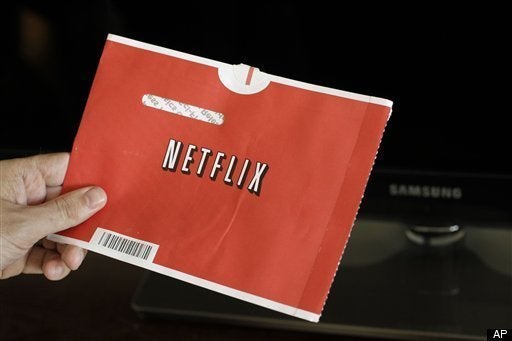 "What have the Romans ever done for us?"
- Reg, Life of Brian (1979)
They're going to take over. Resistance is futile. In fact, they're already here. They look like us, they hustle like us and they seem to enjoy our organic foods, beaches and ample sunshine. If you want to suss one out, you have to listen for them -- they don't sound quite like us. Instead of pitching ideas for pilots and features, they're hyping their next iPad app, social media site, mobile game or distribution platform.
They're the young, creative tech sector that's been invading the office space in Santa Monica and Venice. And those who aren't local have been making their presence felt in the Hollywood community online or by sending ambassadors to let us know they come in peace. What do they want with young Hollywood? Our brains. Not in a zombie-apocalypse kind of way, though. No, these guys seem to be our Roman occupiers.
Basically, what they want is to let us keep our culture and traditions -- our art. They want to make use of it and get a cut of the profits. And in exchange, they want to build the roads to deliver it and the walls to protect it.
I've been bumping into these guys and gals more frequently around town, both incidentally and at hosted parties to introduce themselves to young artists. Kickstarter is only the beginning of what these guys have in store for us. What's cool about most of them is that they aren't the pirates of the previous dot-com era, the ones that pillaged our content and repurposed it for the web. It seems they really appreciate the art (and business) of making movies and they are quite sincere in wanting to help the independent filmmaker in creating original content and getting it out to an interested audience.
"The social and mobile Web needs content," said Jason Brady, a recent transplant to Los Angeles, whose startup, Play Entourage, is a mobile app that will allow people to effortlessly discover parties, screenings, and other events in their own neighborhood and around Los Angeles.
"In the past, the Web was rehashing links and everyone else's content. There was somewhat of a stand-off between us [tech] and them [entertainment]," said Brady. "It's hardly surprising given that technology disrupted your industry. Some years have passed now and it's really great content that people want to engage with. How they engage with it is where the tech industry comes in."
"Play Entourage sees enormous potential to work with the entertainment industry," Brady enthused, "for emerging artists in both film and music to gain exposure to a more targeted community, who are local, mobile and social, with new and innovative models around content and distribution."
Sean Hood, screenwriter on Conan the Barbarian and Halloween: Resurrection, has written online about the coming need for filmmakers to connect with Silicon Valley. "Writers and filmmakers will increasingly have to pitch and create spec projects with a mind to internet distribution and transmedia," noted Hood.
"When you no longer need to distribute your content on a spool of film," Hood added, "or send it over broadcast tower, or pipe it through a TV cable, anyone can fund and distribute content. Since the people with all the money and the new platforms are in Silicon Valley, that's where you will see the artists going as well."
Quora has created one of these vibrant online communities, currently populated primarily by screenwriters and producers, and is facilitating the online meet-and-greet between Hollywood and the tech sector over a congenial question-and-answer format.
"For screenwriters and content creators themselves," says Hood, "Quora is a gateway to the tech industry. I've met all sorts of people involved in startups as a result of contributing to Quora."
Marc Bodnick, formerly of Elevation Partners, joined Quora in the past year and, as a movie fan, has been active in cultivating Quora's online Hollywood community. Bodnick appreciates Silicon Valley's contribution to modern-day special effects and applauds films that are "largely driven by directors who know how to use CGI to create magical universes that are totally believable and riveting -- Inception, 300, The Dark Knight, Rise of the Planet of the Apes."
Like most of us who've now gotten hooked on the tech sector delivering other information on demand, Bodnick wants to see Silicon Valley go beyond special effects and help Hollywood with its distribution problem.
"I want to watch Rise of the Planet of the Apes at home, on the same day it is released in the theaters. Theater companies will obviously fight this, but it seems inevitable to me," said Bodnick. "On-demand options will keep getting better as Apple, Netflix and others keep innovating. All of this, I think will lead to day-and-date distribution."
Film Annex is looking to help the independent filmmaker solve the distribution problem as well. The site is an online platform that gives filmmakers, artists and content creators a free platform for self-distribution, interaction and funding. As Eren Gulfidan, creative director of the site, explained "Film Annex is the platform to go to if filmmakers wants to monetize their films or are looking for funding."
"One of the many things that makes us special" Gulfidan continued, "is the fact that we have strong, one-on-one relationships with our filmmakers. We provide them with a free platform and work with them to promote their films both on our site and on our social networks. Getting your film featured on our homepage for a week brings up to $2,000 of revenues. In addition to uploading their films, they can create photo galleries, write blogs, and interact with their audience through comments and messaging to let viewers know everything about their art and career."
Much has been made of the future of the relationship between Hollywood and Silicon Valley. Distributors and theaters may see these guys as invaders. Of course they do, they're usurping their power, altering the power structure. But for the independent filmmaker, these guys are collaborators.

So I urge you to welcome our new overlords, get to know them. They may just save our town. "We are right at the tipping point," agrees Hood. "Based on the kinds of projects and functionality people have been talking to me about in the last couple months, I'd say that 2012 may indeed be the end of the world as we know it."

Related
Popular in the Community