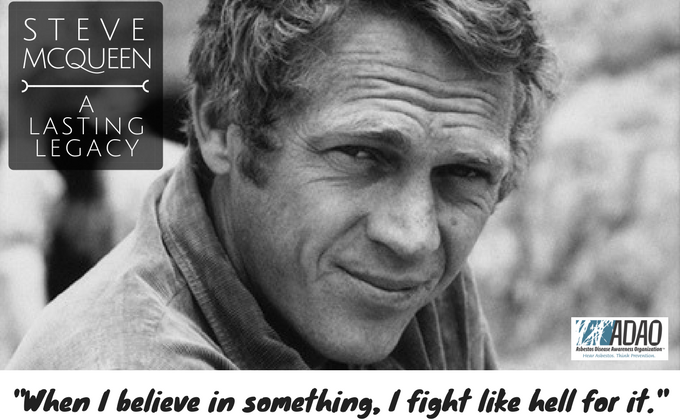 Steve McQueen, the 'King of Cool,' famously jumped motorcycles, raced cars, and generally did things that seem unjustifiably dangerous to the average Joe.
But it wasn't his daredevil stunts that killed Steve at just 50 years old — it was asbestos.
Barbara Minty McQueen had just a few short years with Steve before mesothelioma dashed her future with her husband, her 'pal,' the object of her love at first sight. She was devastated, but like the badass widow she is, Barbi channeled her heartbreak and anger into action and began fighting hard against Steve's killer.
Barbara has made a great impact and brought an overwhelming amount of attention to the cause through her book – "Steve McQueen: The Last Mile," published in 2007, which documents their three-and-a-half-year relationship with candid shots from 1977 to 1980, including some from the months leading up to his death. The revised edition, "Steve McQueen: The Last Mile… revisited," features a page about mesothelioma and the Asbestos Disease Awareness Organization (ADAO) to raise further awareness. Her book has been presented at numerous international conferences, and even to First Lady Michelle Obama.
Now, she's bringing the message to an even wider audience with the release of a new book examining Steve's life, "Steve McQueen: the Salvation of an American Icon." Published just last year, this book was a join project between Marshal Terrill, who coauthored "The Last Mile," and Greg Laurie, founder of the Harvest Christian Fellowship and the upcoming Harvest America festival on June 11.
Barbi will be speaking at this year's Harvest America festival in the University of Phoenix stadium, which boasts more than 63,000 seats. Barbi's speech will also be broadcast to millions of viewers watching the live stream of the festival from churches, theatres, and living rooms around the globe.
As ADAO's Celebrity Board co-chair for years, Barbi has been using her voice to spread awareness and education, but partnering with the Harvest network brings asbestos awareness to a massive new audience. Millions of people have attended Harvest events and using social media, they have connected with 150,000 just on Twitter.
Steve once said, "When I believe in something, I fight like hell for it." What Barbi believes is that no one should have their life or their love needlessly stolen by asbestos, and she is taking Steve's lead and fighting like hell to make asbestos-caused diseases a thing of the past.
Steve's story offers us an important reminder: Asbestos does not discriminate. Asbestos is so often stereotyped as a blue-collar concern, but the truth is without a ban, we are all at risk of exposure — everyone from miners, to housewives, to Congressmen, to movie stars and rock stars and everyone in between.
Take a lesson from the King of Cool and arm yourself with knowledge. You can find resources online at adao.us.
Calling all HuffPost superfans!
Sign up for membership to become a founding member and help shape HuffPost's next chapter
This post was published on the now-closed HuffPost Contributor platform. Contributors control their own work and posted freely to our site. If you need to flag this entry as abusive,
send us an email
.