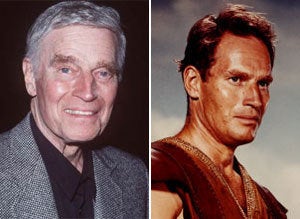 Charlton Heston, who appeared in some 100 films in his 60-year acting career but who is remembered chiefly for his monumental, jut-jawed portrayals of Moses, Ben-Hur and Michelangelo, died Saturday night at his home in Beverly Hills, Calif. He was 83.
His death was confirmed by a spokesman for the family, Bill Powers, who declined to discuss the cause. In August 2002, Mr. Heston announced that he had been diagnosed with neurological symptoms "consistent with Alzheimer's disease."
"I'm neither giving up nor giving in," he said.
Every actor dreams of a breakthrough role, the part that stamps him in the public memory, and Mr. Heston's life changed forever when he caught the eye of the director Cecil B. De Mille. De Mille, who was planning his next biblical spectacular, "The Ten Commandments," looked at the young, physically imposing Mr. Heston and saw his Moses.
Popular in the Community