The film Margarita With A Straw is so unexpectedly brilliant, on so many levels, that I was completely mesmerized. Focused on taboo within taboo, the fragility of our collective human condition and the joy and possibility of life, the film is required viewing.
Not knowing as much about Indian cinema as I should, I was unfamiliar with its actors -- which led to even further surprises. However, since half of the film is set in New York City, I felt right at home. As much of it was filmed on Roosevelt Island, I felt at home literally -- I live here.
The film was directed by Shonali Bose and stars Kalki Koechlin and Sayani Gupta, all of whom I had the privilege of dining with following its NYC premier at the 15th Annual New York Indian Film Festival (NYIFF) of the Indo-American Arts Council (IAAC). The Arts Council, founded in 1998, is directed by the amazing Aroon Shivdasani, who I profiled here. Its flagship project, the film festival, is directed by our friend Aseem Chhabra.
It is really hard to explain this movie without giving it away. The main character is a wheel chair-bound young woman with cerebral palsy living in India who moves to New York to attend NYU. The only actress that went through my mind is the talented deaf actor Marlee Betany Matlin. Another character -- an NYU activist named Khanum played by Sayani Gupta, is blind.
My first thought, given I did not know the actors, was that the casting director had found the most unbelievable actors with disabilities to play the challenging roles. When they bounded up on stage at the end of the NYC premier, I realized their acting abilities were grander than I had imagined. Kalki said she had prepared for her role as a woman with CP for six months. Sayani also shared that she had trained, blindfolded, for her part in the film.
In its simplest level, the movie is about this young woman's desire to fit into the world, whether in India or the U.S. The character, Laila (Kalki Koechelin), just wants to belong. We see her first at the University of Delhi, and then at NYU. High on her agenda is creating music, going to school, messaging friends -- and eventually, having sex.
Laila is challenged but not defeated by her own body. She falls in love with several people and is intimate with more then one of them. Her mother, who has moved to New York to take care of her, misconstrues the nature of her daughter's relationships, assuming the physical handicap precludes romance. The daughter, in turn, misconstrues her mother's health.
In college, I volunteered one summer at a camp for adolescents with cerebral palsy. The sexual frustration the campers felt was palatable. I tried to discuss this perceived problem with the health staff in residence, but was discouraged from even asking such questions. Laila goes on to do what I hope each and every one of those campers did in life.
Director Shonali Bose told me after I saw the film:
When life hands you lemons you can be bitter and sour or you can make a yummy Margarita with them and raise a toast! That's the essence of Margarita, With A Straw. The film became a deeply personal film for me as it was written in the crucible of death of my son, acceptance, and moving on. I wrote from the very core of my being. And this film has captured -- all the pain, struggle, joy, peace and acceptance of this time period in my life. Although, the events and characters are completely different.
Kalki Koechlin, who played the woman in the wheelchair, said:
I never know what to expect from any audience, or I don't really dwell on that before a screening because I don't like having preconceived notions on other people's opinions. But I do love New York, as a city, and I feel it is artistically vibrant, with interesting conversations to be had with the people of New York. I fell in love with the city when we were on MWAS and enjoyed so many things, from the food, the music scene, art, theater, and stand up. I was looking forward to conversation after the film and really enjoyed the response of people both Desi and American who seemed to connect emotionally with Laila's story.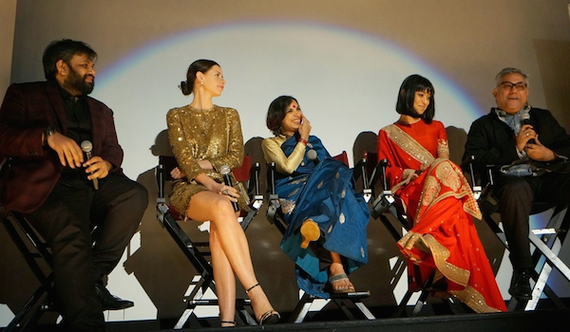 Post-Screening Discussion. From L to R:
Nilesh Maniyar (Co-Director), Kalki Koechlin, Shonali Bose, Sayani Gupta,
and NYIFF Festival Director Aseem Chhabra. Photo Credit: NYIFF.
Sayani Gupta, the blind NYU activist of Pakistani-Bangladeshi parentage, said:
Someone told me after watching the film that Laila and Khanum's love story in New York City made him miss the time he spent with his ex-girlfriend in NYC. I found Khanum's soul here in this city and to come back to see people love and appreciate her is truly gratifying! It was my first visit to NYC when we shot the film, and both Shonali and I had to work hard on making Khanum look at home here. And now, after watching the film, people think I am from here. That's a great feeling!
Films are not created overnight. Margarita, with a Straw was first conceptualized in 2010. The script was the winner of the Sundance Global Filmmaker Award in 2011 and was also selected for the NFDC Work in Progress Lab during post-production in 2013. The film made its world premiere at the 2014 Toronto International Film Festival (TIFF). The movie then went global, screening in Estonia, the U.K., and South Korea.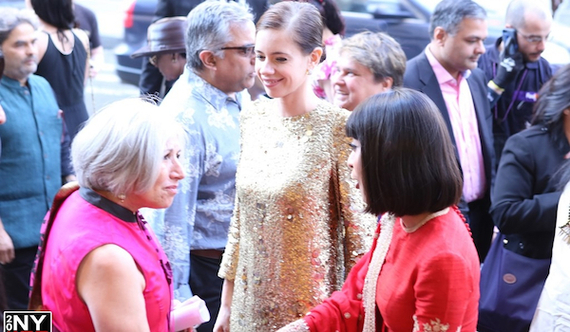 NYIFF Opening Night Red Carpet.
From L to R: Aroon Shivdasani, Kalki Koechlin and Sayani Gupta.
Photo Credit: NYIFF.
The Indo-American Arts Council has a history of getting it right. With the early help of Jonathan Hollander, whom I have written about, as well as Advisory Board members Vishakha Desai, my first Indian friend Sundaram Tagore, Mira Nair, Salman Rushdie, the IAAC is the pre-eminent South Asia arts organizations in the U.S. With support from dedicated interns, the organization accomplishes everything on time and under budget. The return on investment for this organization is so high my own foundation supports it. We particularly support its Literary Festival at Columbia University.
If you want a well-curated South Asian experience -- from film to dance to literature to art to theater -- let Aroon Shivdasani and her team be your guide. Film guru Aseem Chhabra and all the other global citizens make this 15th annual New York Indian Film Festival the best place to see South Asian art in the U.S. and increasingly one of the world's best film festivals in any category.
Related
Popular in the Community