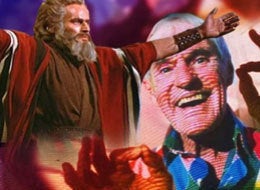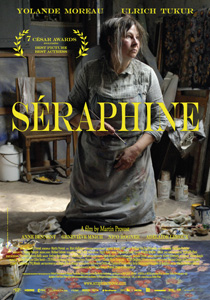 Belgian-born actress Yolande Moreau (Vagabond, Amelie) gives a stunning and heartbreaking performance in this partly fictionalized biography of the painter Seraphine, a simple woman who drew most of her inspiration from the beautiful French countryside of Senlis. There is a touching, early scene where Seraphine, already in her late 40s, heads home after an exhausting day of hard work, yet stops and climbs a tree just to sit and visually savor the bounty of the landscape she loves so much.
Like Barcelona's modernist Catalan architect, Antoni Gaudi (who in terms of education, social class and other privileges couldn't be more different), the spirit of Seraphine's work is to be found in her devout Catholicism and in the wisdom of nature. Her feral intensity and use of color, light, movement and thick impasto are similar to Vincent Van Gogh's paintings of sunflowers and starry nights.
Seraphine de Senlis (a.k.a. Seraphine Louis) lived from 1864 to 1942. So extreme was her passion to paint that the laundress and maid by day would stay up all night in her tiny rented room mixing her own paints, which she made from everyday items: blood stolen from the local butcher carefully poured into a bottle, melted candle wax from votives pinched from church, what appeared to be pigments yielded from fruits and flowers, and home-made red wine.
Seraphine had been quietly painting for seven years before she met the famous German art dealer, curator and collector, Wilhelm Uhde played flawlessly by Ulrich Tukur (Solaris, The Lives of Others). Besides a love of art, the humble Seraphine and the sophisticated Uhde shared other things in common: both have "secrets," suffer from bouts of melancholia, and are outsiders -- she because of her eccentricities and poverty, and he, as a German living in France, "who will never marry." Their chemistry is palpable and works well to carry this fascinating story forward.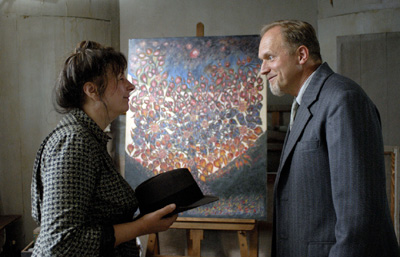 Yolande Moreau as Seraphine and Ulrich Tukur as Wilhelm Uhde exhibit a delightful chemistry during the height of their relationship as friends and as artist and patron.
Both also feel money has nothing to do with happiness. Uhde explains that he does not collect art to sell, but sells to be able to collect. For her part, Seraphine tells Uhde, after he places a large sum of money on his desk in the rented house she cleans, "You cannot buy me."
She is upset because she is about to lose him and seems unaware of the grave dangers ahead. It is 1914, and invasion by the Germans is imminent. Uhde must flee Senlis or risk being shot as a deserter.
In their 12 years apart, Seraphine's work has evolved. Uhde arranges to give her a monthly allowance and send her proper art supplies. As she paints more frequently, rents the entire floor of her old flat, and receives more respect as an artist, these "great expectations" become stressful and produce symptoms of mania. She goes on spending sprees -- buying an expensive, hand-made wedding dress replete with tulle veil -- and wants to buy a palatial, six-bedroom chateau. In the Great Depression of the 1930s, Uhde is in no position to purchase an extravagant home with the Paris art market no longer clamoring for the work of Rousseau, Seraphine, and other artists he has discovered.
With mania in full swing and a growing grandiosity now mixed with paranoia, her beliefs and perceptions become distorted. Seraphine feels certain that Uhde hates her work and is refusing to sell it. Their relationship deteriorates as her symptoms worsen. The film's third act is sketchy and somewhat confusing, especially in terms of the reasons for Uhde's later behavior, and the results are tragic.
Martin Provost has directed only two other features (Le Ventre de Juliette, Tortilla y Cinema), so sweeping the 2009 Cesars with seven wins must have been a thrilling experience. In his script (written with Marc Abdelnour), he took aspects of Seraphine's life from a thesis and the letters of a psychiatrist who knew Uhde's sister, Anne Marie, (played in the film by Anne Bennent) and created a very compelling narrative.
The frisson between Provost and Yolande Moreau parallels some of the same magic between Seraphine and Uhde. According to Provost, his writing "was nourished by her presence at my side." This spirit is present in the film with its painterly design, lighting, framing, and beautiful cinematography by Laurent Brunet and in the inspired performances by the entire cast.
Provost has tackled two difficult subjects: the life of an artist and the subject of mental illness. Two other French films come to mind in their depictions of female artists: Camille Claudel (1988) and La Vie en Rose (2007), each is unique but similar in how creatively and successfully they convey real-life stories on film.
The genre of the biopic can often disintegrate into one-dimensional parody. Provost and Moreau made a pact to portray Seraphine without trapping her in hysteria, sentimentality, and the stereotypes often associated with women, artists, and the mentally ill. They have presented us with an always charming, sometimes funny, and ultimately tragic portrait of a woman who is more than an artist or a mental patient. Seraphine is an authentic character we feel we know and care about.
Seraphine (2008) directed by Martin Provost, screenplay by Provost and Marc Abdelnour. Cast: Yolande Moreau, Ulrich Tukur, Anne Bennent, Genevieve Mnich (Madame Duphot), Nico Rogner (Helmut), Adelaide Leroux (Minouche), Serge Lariviere (Duval) and Francoise Lebrun (Mere Superieure). In French with English subtitles. 125 minutes. Opens Friday, June 5, 2009 in limited release.

Popular in the Community