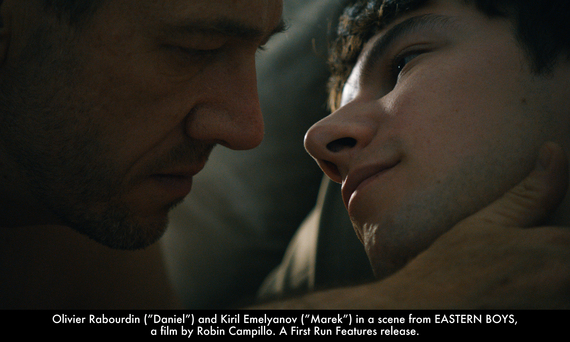 At the finale of Robin Campillo's masterful Eastern Boys, the bourgeois, middle-aged Frenchman, Daniel (Oliver Rabourdin), has overhauled his relationship with the Ukrainian hustler Marek (Kirill Emelyanov) into something totally unexpected. The journey to that climax is a rollercoaster of flirtation, betrayal, larceny, lust, love, dauntless deeds, comeuppance, and finally a benevolent acceptance of the pair's interconnectedness in a manner that neither of these devoted halves could foretell.
The film begins documentary-like, and you won't be able to guess who the lead characters are for the first ten minutes or so as the camera goes sightseeing amongst a bevy of young males meandering to and fro at a train station among self-absorbed travelers. Are the lads thieves or hustlers or just out for a lark? Some men eye them warily with a slight lust unsure of whether to approach or not. One station guard's suspicions are raised due the actions of the youngest member of this gang, but he has no reason for making an arrest so he just snarls.
Then a brigade of officers show up, and the horde, apparently composed of highly testosteroned Russian and Ukrainian illegal immigrants, scatter. The lens suddenly focuses on Marek quickly going down a staircase. A hesitant Daniel pursues and tries to make conversation after the gawky beauty sidles up to a wall.
"I don't speak French. I'm sorry," Marek replies in English, a little belligerently to his possible john. "What do you want? . . . I do everything. . . . Can we go to your house?"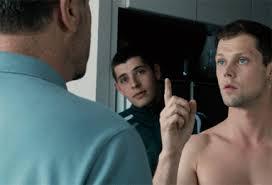 A date is set up for the following day, and the nightmare begins. Daniel buzzes in what he thinks will be an afternoon delight. Instead he has a home invasion, a materialistic rape, an emotional violation. He stands almost in a vegetative state as he is surrounded an ongoing parade of youths in bloom who terrorize him with their audacity. Fearful for his life yet sexually aroused, he can't react as everything that he has worked for his whole life, everything that has supplied him with an identity, from a television to a computer to a painting to a shirt, walks out of his apartment, carried out by objects of his desire that he wanted to control with his almighty dollar for an hour or so. But the working class have rebelled.
The latter can be marked up as one of the most memorable scenes in film possibly of the past decade, one that is compulsively watchable, wackily erotic, and totally discomforting. Think of Lindsay Anderson's (If (1968), Michael Haneke's Funny Games (1997), or Barbet Schroeder's Our Lady of the Assassins (2000).
But after his personal apocalypse, a few days later, Daniel is buzzed again. It's Marek. The boy wants to know if Daniel still wants to have sex with him for money. Yes, the buyer still wants to go on with the transaction. After all, what is left for him to be robbed of.
So the sex occurs, at first without kisses, and moves on to passionate triweekly copulations, all paid for. The two meet, fondle, and dig more deeply into each other's psyches with each passing tryst. But suddenly, the duo find they have different needs. Trust issues aside, can the relationship take yet another turn?
And can Marek get his passport back from his former gang mates so he can start a truly new life? The latter plotline lets the film turn its back momentarily on the psychosexual dynamics of the Daniel/Marek relationship and move onto a slightly violent thriller plateau. It does so successfully, but then nearly everything Campillo has taken on has been rather triumphant: his screenplays for director Laurent Cantet (e.g. Heading South; The Class) and his own Les Revenants (They Came Back), which has been adapted into two critically acclaimed TV series titled The Returned.
Now with Eastern Boys, Campillo has fashioned an empathetic exploration of what it is to be an immigrant intertwined with an acutely original love story. This offering, which has just begun its run at Lincoln Center, is clearly a highpoint of 2015 for any lover of challenging, yet immensely entertaining films.
Popular in the Community