Woods Hole, MA: My Perestroika tells the story of five rather ordinary Russians who have lived during extraordinary times, in mind-boggling times, dangerous, for some, incredibly rewarding times. With childhoods in the cozy cocoon of the Soviet Union, teenage years during the collapse of the communist regime, adulthood in the hopeful promise followed by the economic depression and finally the tempered realism of the new Russian Federation. This is one of the great stories of the last century. Actually, thew story of post-communist Russia is still unfolding.
In presenting a profoundly insightful and overall stupendous chronicle of the final generation raised in the communist state and the first generation to become adults in the new Russia, My Perestroika must be considered one of this year's best documentaries.
Filmmaker Robin Hessman avoids the all too common pitfalls of having a dynamic big story told by dreary academic experts and long-winded social commentators, and of course a gang of dry historians. No, she goes the other way. Her film focuses on the lives of five Russians and through their voices we hear their personal experiences, their nostalgia for the past -- yet not one wants that past to return. We listen as they speak about their exhilaration during the revolution, the optimism, the excitement, and when their great hopes died and sometimes when their dreams were realized. These sharp voices are seamlessly woven with grainy home movies, Russian newsreels and Soviet archival footage. It's a mixed bag of individual Russians telling one gripping national story.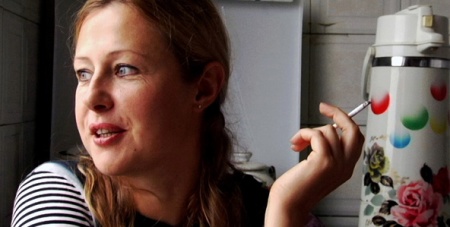 All five of the Russians attended the same school, have known each other since childhood, and today represent a rough cross-section of Russian society. There is a husband and wife who are school teachers and rather middle-class, a musician who lives on the artistic fringe of society -- "I'm outside society, I don't work" -- a wealthy businessman with a chain of 17 stores that sell expensive French-made shirts and a woman who works for a billiard table company - "I've fallen behind."
The wealthy capitalist, Andrei, with his chain of successful stores, is of course much more comfortable with capitalist Russia than Ruslan, who, during the transition from communism to capitalism, was a famous punk rock musician and today plays for change in the metro, and Olga, the prettiest girl in the school class, now single and stuck in a low-wage job. As for history teachers Borya and Lyuba, although their lives have certainly changed, their personal lives seem the most consistent.
When a society is turned upside down, the professional status and material life for some people improves and for others they plunge. Some are left standing tall, others barely standing. What makes Russia unique is the speed that the old system crashed. "In 1984," says Andrei, who quickly found his way in the new economy, "we left for the army from one country and returned two years later to a totally different country."
In 1966, I enlisted in the United States Marine Corps and after training was deployed to Vietnam. Two years later, I was discharged and returned to an America I could not recognize. I did not know what music was popular, how to communicate with my peers who had not been in the war, how to move my life forward. Everything seemed to have changed. I was lost in an alien world.

Although this swift transformation of America society during the late 1960s may have appeared all-encompassing -- certainly for us who lived through those turbulent and confusing times-- the change was primarily limited to the youth culture with repercussions in the political culture. The high-speed journey from the Soviet Union to the Russian Federation was much more transformative, nearly completely changing Russian society, including the adoption of new political and economic systems. Mainstream values were suddenly obsolete. The future was totally uncertain, actually unknown. Whereas America in the 1960s was shaken, Russia in the 1990s was turned upside down.
My Perestroika tells this story of tragedy and hope in the very best possible way, by giving voice to those who were in the upheaval. For Borya, Lyuba, Andrei, Olga and Ruslan this is not history or a political abstraction, this was and is their lives. And it's always the lives of individual people that make the best big stories.
The total package of strong individual voices with just enough historical context of a major social and political transformation makes My Perestroika a documentary gem.
"My Perestroika" will be screening at the ArcLight in Hollywood from August 6-12 and at the IFC Center in Manhattan from August 13-19.
Related
Popular in the Community