In French director/co-screenwriter Catherine Corsini's latest film, Three Worlds, three disparate characters -- Al, Juliette and Vera -- cross paths in the aftermath of a tragic car accident on the streets of Paris.
Al
The driver, a young auto executive, Al (Raphael Personnaz), and his two childhood friends are under the influence of a sloppy bachelor party, having consumed much, too much alcohol. To make matters worse, they are listening to loud rock music, playing around and looking at photos of sexual indiscretions on their (not so) smart phones.
Supremely distracted, Al hits Adrian (Rasha Bukvic), an illegal Moldovan immigrant. He exits the car, looks at the bleeding victim, panics and decides to flee. His pals, complicit in the crime, vow to say nothing. They delude themselves into thinking there are no witnesses and that someone will eventually call 911.
Al comes from humble beginnings -- his mother (Martine Vandeville) was a cleaning lady for the company he will soon inherit through marriage to the boss's daughter, Marion Testard (Adele Haenel). He struggles with the thought of losing everything -- money, position and relative comfort for the rest of his life. But coming into the final heat of this upward mobility marathon will prove to be a nightmare.
After working hard as an auto mechanic in his youth and rising to owner/entrepreneur at 30, his identity as businessman with the trappings of expensive, tasteful dark suits (Armani) and cars (Mercedes) are difficult to shed (especially in France's economic recession).
Juliette
Meanwhile, from the window of her well-appointed apartment, Juliette (Clotilde Hesme), a graduate student (probably) bound for a career in academia, witnesses the hit-and-run car accident. She runs to Adrian's side, yells to her friend to call 911, and waits for EMS and the police. Just prior to the accident, we learn Juliette is pregnant and very ambivalent about the baby's father, Frederic, an amiable philosophy professor (Laurent Capelluto), with whom she bickers about every aspect of their relationship.
Just as Al is discombobulated by his bachelor party and the accident, Juliette is stupefied by her pregnancy/relationship, almost welcoming the distraction of the car accident. She becomes overinvolved in every way -- going to the hospital to check on Adrian and comforting his wife.
Vera
It's probably no accident that non-EU Moldova -- one of the poorest countries in Europe -- was chosen by Corsini as Vera's (Arta Dobroshi) country of origin. She is Adrian's grieving, but feisty wife and is flat broke. She forms a bond with Juliette, who gets to know the couple's family and friends who are the most loyal and passionate characters in the film.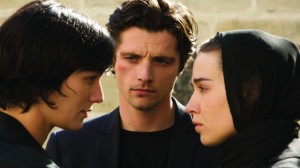 An unlikely trio, Juliette, Al and Vera, cross paths in Three Worlds.
Photo: Courtesy of Film Movement.
Plot
The plot thickens when Juliette spots a guilt-ridden Al in the hospital. Although certain he is the hit-and-run driver, she does not identify him for the family or the police, but instead, follows him. An already cluttered plot becomes even more complicated when Al and Juliette become involved in a relationship of urgent desperation that becomes sexual/romantic.
There is nothing about the film that makes the viewer lose a certain level of interest. Will Al's secret be revealed and will he lose everything? Will Adrian live? Other secrets pile up, keeping the suspense high and the plot moving forward. Yet, something doesn't quite work.
Performances
All of the performances are well crafted, but I found myself neither despising nor caring very much about any of the characters [except for Al's mother, played with great skill by Martine Vandeville, who echoes American character actresses like Anne Revere (A Place in the Sun, Gentleman's Agreement), who have played sacrificing mothers to such great effect].
When not sufficiently moved or satisfied while watching a film, I become an unstable critic/reviewer who falls into the trappings of playing casting director, which is entirely unfair to the filmmaker. So with apologies to Catherine Corsini (Leaving, La répétition), I couldn't help but think how compelling Montgomery Clift would have been in the part of the tortured and alienated Al (think of his George Eastman in George Stevens' A Place in the Sun based on Theodore Dreiser's powerful novel An American Tragedy). Perhaps only Clift could believably deliver Al's frantic pleas at Adrian's bedside: "You have to live. You have to live. Please. You can't die."
Poetic Justice
The script may not be as taut as it should be, but Corsini has taken on enormous subjects: immigration, class structure, poverty, money and greed, and the unintended consequences inherent in the misuse of modern technology. She's searching, I think, to explicate France's current moral crisis. For most of the film, Vera appears to be the most powerless, desperate character; she's in dire need of money and takes it. But in a twist of irony near the end, which feels like poetic justice, this illegal immigrant is elevated to judge and jury over the fate of a native son of France.
Three Worlds (2012) is directed by Catherine Corsini and co-written with Benoit Graffin. Cinematography by Claire Mathon and edited by Muriel Breton. It opens in New York City on Friday, June 21, 2013 at the Quad Cinema.

REAL LIFE. REAL NEWS. REAL VOICES.
Help us tell more of the stories that matter from voices that too often remain unheard.