Kandahar Break, a new independent film written and directed by David Whitney, offers a love story as old as Romeo and Juliet at the core of a more contemporary thriller, every scene of which is packed with suspense. We are at first confronted with the stark landscape of Afghanistan: forbidding, dry, lonely, and frightening. The drama takes place in 1999 -- pre 9/11, before this strange and foreign place had assumed a large hold on our collective psyche. But this rough, mountainous region does have such a hold on us today, so the story becomes larger and scarier as each scene unfolds.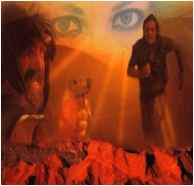 Richard Lee, played by Shaun Dooley, is a member of a team of British engineers who are trying to find and destroy land mines that spot the dangerous countryside. But working for the Taliban, whose stringent rules restricting the freedom of women are well know, creates a big problem for Richard and a female Afghan interpreter named Jamilah with whom he has fallen in love. Throw a vengeful, murderous old Afghan warrior into the mix -- a sort of aging Mercutio, if you will -- and the couple's troubles are compounded.
Other important considerations include the pros and cons of a company like Genco (the mine clearing outfit) being employed by the Taliban, the motivations of doing such business, the ethical questions involved, and the curious logistics of working in a country so dangerous that one can be shot for urinating in the wrong place. The film is sprinkled with scenes of negotiation between Brits and tribal chieftains, and each time betrayal seems just a heartbeat away.
It would be cruel of me to reveal more of the tightly woven plot, but I can say that every moment of this film is infused with edge-of-your-seat tension; and the small, short, violent skirmishes invoke a heart-pounding sense of the terrifying confusion that one must feel in battle. Kandahar Break -- unlike, say, Syriana -- is a compact thriller; the plot is not difficult to follow, so you won't be spending a lot of time asking yourself what the heck is going on to the detriment of getting emotionally involved with the characters.
The suspense and the danger endemic to Kandahar Break was unfortunately not confined to the movie's script. Shooting this film on location in Pakistan was not without peril. According to a press handout sent to me by a publicist,
While shooting the political thriller in late 2008, fiction turned into reality as the cast and crew found themselves under attack by members of the Taliban near the Afghan border. Four Pakistani crew members were shot and wounded, which led to the immediate evacuation of the crew. After waiting six months to plan and refinance the last bit of filming, the original cast and crew flew to Tunisia to complete the movie.
Kandahar Break will be released on DVD by Peace Arch Entertainment on September 21, 2010.

Popular in the Community