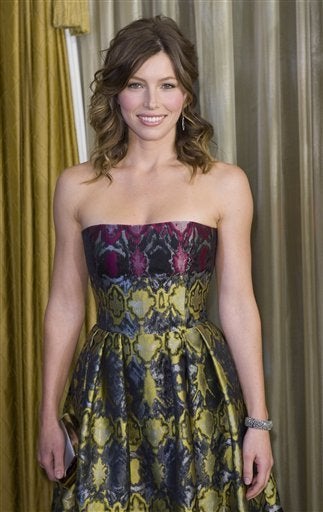 Director/co-screenwriter Stephan Elliott (The Adventures of Priscilla Queen of the Desert) had his work cut out for him in adapting one of Noel Coward's more obscure plays. Coward continues to cast a long and glamorous shadow as American audiences currently enjoy his better known and well-loved play Blithe Spirit on Broadway (with a cast that includes Angela Lansbury, Christine Ebersole, Rupert Everett, Jayne Atkinson and Susan Louise O'Connor).

Easy Virtue was originally written in 1924 when Noel Coward was 23 years old. It was later adapted into a silent film and dark thriller by Alfred Hitchcock in 1928 and now, back into a light comedy about post-WWI English mores and manners at the dawn of the modern Jazz Age by Stephan Elliott and co-writer Sheridan Jobbins.

A wildly naive and well-born young Englishman John Whittaker (Ben Barnes) is smitten by and quickly marries Larita (Jessica Biel), a modern American woman whom he meets in, of all places, the "scandal ridden" French Riviera! With a shady past, hair as platinum as Jean Harlow's (always a recipe for "trouble") and zany, current circumstances that find her racing cars in Monaco, how can a flapper girl bordering on 30 adapt herself to jolly old England?

A daughter of working-class Detroit, Larita accompanies John home for "a few days" to meet his parents in their enormous estate in the English countryside. While his dissociated, WWI-fatigued father (Colin Firth) decidedly approves, John's formidable mother (Kristin Scott Thomas) couldn't be more opposed to the impulsive union.
Upon meeting her new "Mum-in-law," Veronica Whittaker, an eager-to-please Larita exclaims, "The pleasure is all mine." Mrs. Whittaker drolly replies, "Oh, you're American." Thus begins the battle of the quickly tarnishing Victorian gentry of post-WWI England vs. the shiny new platinum Art Deco era of the roaring 20s whose motto was "Let's Misbehave!"
On the surface, Veronica and Larita couldn't be more different. Veronica is an accomplished equestrian, while Larita shocks the English gentry during a fox hunt by riding a motorcycle. Larita longs to live in London, while Veronica is determined to keep the couple sequestered in the country. Veronica adores flowers. Larita is allergic to flowers. Veronica is basically allergic to Larita. You get the picture.

Much of the film revolves around the battle of the aristocratic matriarch vs. the modern flapper, but there is also plenty of subtext and back story about the father and son. John has decided to remain at the manor when it is revealed that the family is in dire straights financially. He clings to his love for Larita until news arrives from a relative in London about her status as a widow whose husband died under suspicious circumstances. The straw that truly breaks the camel's back, however, is a scandalous tango at Veronica's annual Christmas ball between Larita and Mr. Whittaker, who seems to have come back to life (a potent tango can do that to people).

Newlyweds Ben Barnes as John Whittaker and Jessica Biel as Larita a modern American woman with a penchant for fast cars, motorcycles, multiple scandals and, in the end, older men. Photo: Sony Classics.
While director Stephan Elliott may not have the "Lubitsch touch" (think Cluny Brown, Ernst Lubitsch's 1946 masterpiece poking fun at English manners and starring Jennifer Jones, with sublime comic timing, as a plumber's niece flung into the manner born), his film is beautifully photographed and masterfully designed to show the contrasts between a fading, formerly golden Victorian England and the blinding platinum glory of the emerging Art Deco era. This is also reflected in the costumes (note Larita's tony evening gowns against the worn velvets and satins of her sister-in-laws) and in the sets (compare the frayed edges of the manor's period furniture with Larita's impeccably polished motor car), which make for a completely consistent and symbolically meaningful visual style.
Regarding performances, Biel's role is central and the most demanding. It's hard to tell if she's sometimes stiff from a lack of experience and training or because the intent is to make her character seem uncomfortable and out of place. She doesn't fit in, but whether it's the character's authentic uneasiness or the actress is in over her head is hard to figure out. Biel is not without her charms in several scenes, but in trying to portray a "fiery" siren, she's just too restrained.
While playing casting director is not a film reviewer's primary job, one cannot help but imagine if this film had been done in the early '30's, the role of Larita might have been played by Bette Davis or Barbara Stanwyck each of whom had several turns as fiery platinum blondes battling class conflict. In the 90s, Jennifer Jason Leigh might have played the misbehaving flapper to great effect. In 1996, Kristin Scott Thomas herself could have been plucked fresh off the set of The English Patient, in which she played the passionate, independent and very blonde Katharine Clifton, and had her turn as Larita.

Kristin Scott Thomas as the matriarchal, mother-in-law Mrs. Whittaker flanked by her daughters in fading evening wear in Easy Virtue. Photo: Sony Classics.
What is obvious in this current production are the almost seamless performances of Scott Thomas and Kris Marshall (Furber, the butler) in their charming, just slightly-over-the top but well-crafted character roles. Their timing for light comedy and English wit is impressive. More scenes with Furber would have been a desirable and delightful touch.
Colin Firth gives a nuanced performance as the titular head of the Whittaker brood. His background, like Biel's, is shady and fraught with trauma, which makes them kindred spirits from the start. He plays the lost WWI veteran racked with survivor's guilt, who will never again be able to blend into the English countryside, with sincere melancholy.
Easy Virtue is well done in many respects and mostly entertaining, but ends with a cliche that's no real surprise. It's a well-intentioned, made-for-grown ups film that you really want to love, but, at best, only like. It requires a stronger actress to play the pivotal leading lady on which so much of the film depends.
Easy Virtue (2008) Directed by Stephan Elliott. Screenwriters: Mr. Elliott and Sheridan Jobbins adapted from the play by Noel Coward. Released by Sony Picture Classics. Running time: 1 hour 36 minutes. Starring: Jessica Biel, Colin Firth, Kristin Scott Thomas, Ben Barnes, Kris Marshall, Kimberley Nixon (Hilda), Katharine Parkinson (Marion), Pip Torrens (Lord Hurst), Christian Brassington (Phillip), Charlotte Riley (Sarah). Opens Friday, May 22, 2009 in limited release.
Popular in the Community