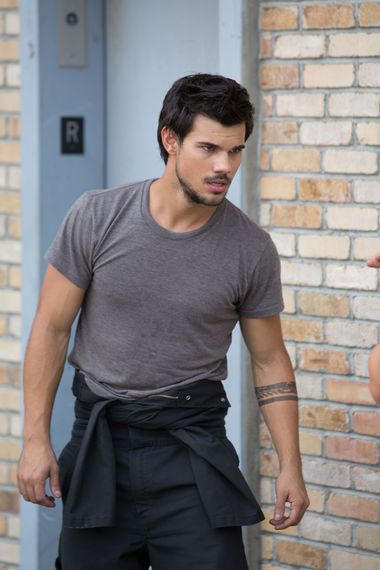 I'm one of those "glass half-full "critics when it comes to Taylor Lautner. Film after film I hope he'll pull a Sally Field, who went from The Flying Nun and Gidget to Sybil and Norma Rae. Would Abduction or Twilight Saga: Breaking Dawn Part 2 reveal the young man's inner Laurence Olivier? No, sadly. The lumbering hunk remains just a lumbering hunk in those two. Prize-winning pecs and abs plus a cute smile were what the glamor boy's fans had to settle for.
"Well, maybe Tracers will be his Wuthering Heights," I was murmuring as I scooted onto the subway last night, heading for a midtown screening room. I should have known better. I should have checked out the director's CV before hoping for the best.
The Barcelona-born Daniel Benmayor had previously helmed a Schweppes commercial with Hugh Laurie and two deodorant ads, which would make you think he could avoid creating malodorous art. There was also the feature Paintball, of which Reel Film Reviews notes: "a progressively unwatchable disaster that doesn't seem to possess a single positive attribute, which is actually kind of impressive in its own way, admittedly."
Tracers, which probably could be edited down into several fine antiperspirant commercials, isn't that ghastly because it's filled with dozens of stuntpersons utilizing parkour, a discipline that Wikipedia notes includes "obstacle courses, running, climbing, swinging, mantling, vaulting, jumping, rolling, quadrupedal movement and the like." And who doesn't like to see folks nearly break their necks every 10 seconds, especially Taylor, when he's actually performing the stunts called for.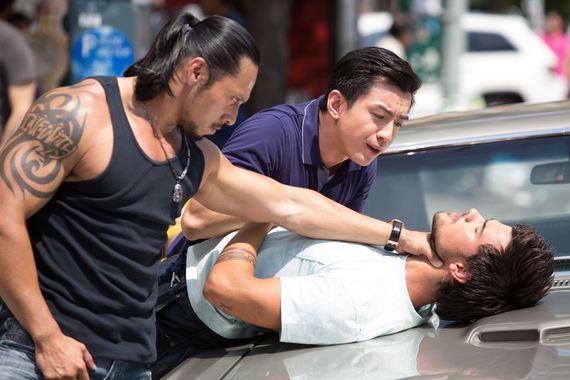 Here our boy plays Cam, a high-school dropout with a bad haircut who's served time in prison for minor robberies and so forth. With his sentence up, he's now employed as a bicycle messenger and lives in a garage beside his deceased dad's muscle car that's in need of much bodywork. Well, this could be the start of a sweet life, except Cam has borrowed $15,000 from a Chinatown gang that will vaporize his landlady and her winsome skateboarding son unless Cam pays up.
Luckily, at this point, Nikki (Marie Avgeropoulos), a lovely lass in a hoody, falls off a car she's jumping on and lands on Cam and crushes his bike. It's love at first pileup, and our hero soon joins Nikki's crew of parkour aficionados who are criminals for hire.
Where can this all lead to besides a major craving for ibuprofen? Are you now asking yourself whether Cam and Nikki will have one slightly steamy sex scene so we can view Lautner's pecs for a few minutes to block out screenwriter Matt Johnson's dialogue? Will Taylor get to walk on his hands, ride a bike down numerous staircases, and get punched in the stomach by a muscular, tattooed baddie? And will the finale be more vapidly gnarly than everything that preceded it? Of course.
But Taylor does smile before the end credits roll, and that's enough to make the bluebirds chirp, the daffodils bloom, and the hornets sting. There is a cinema god.
Calling all HuffPost superfans!
Sign up for membership to become a founding member and help shape HuffPost's next chapter