There's a new film out on Dean Kamen's latest and greatest invention, "Slingshot." That's the name of both the fascinating documentary by Paul Lazarus and Kamen's latest, life-altering brainstorm.
Get This: Dean Kamen has built a portable, low-energy, hyper-efficient, water purification system and is working with the Coca-Cola Company to distribute it NOW. Slingshot is here and will--according to Kamen--solve approximately 50% of the world's water-related health disease and deaths, once it achieves a disparate installed base in third-world countries.
The New York City week-long premiere will be on Friday, July 10th through Thursday, July 16th at Cinema Village, 22 East 12th street, New York, NY 10003. The trailer alone is impressive.
Dean Kamen is quite simply the world's greatest living inventor ... bar none. I wrote about Kamen himself here and then about his great STEM-educating organization, FIRST here.
Kamen, as the film makes clear, has never derived the appropriate name recognition he deserves, partially because he's so unassuming and also because he invented one thing anybody who does recognize the name knows immediately: the Segway.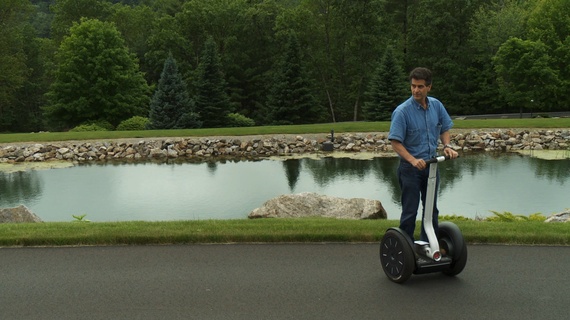 Dean Kamen on one invention ... in front of the target for "Slingshot" ... fresh, clean water for the world
But the iconic Segway, has perhaps defrauded Kamen and his DEKA brand. You see, Dean Kamen and his awesome research facility, DEKA have also been responsible for much more important medical and humanitarian inventions than the two-wheeled scooter. This list is long and tugs at one's heartstrings: the first drug infusion pump (think insulin among other medicines); two heart stents; the iBot, a wheelchair that allows the disabled to stand-up and climb stairs; an air-powered, springboard device allowing humans to 'jump' to the top of buildings in a single bound; and a portable kidney dialysis machine.
Many of these things he sold to Johnson & Johnson, Baxter Healthcare or other hungry acquirers. Kamen doesn't want for anything at this point.
Except big things for Humanity. Two things he told me he's targeting (and has been for decades now): clean air and clean water for the world's people. All of them.
To most people, these are inconceivable things for us to impact.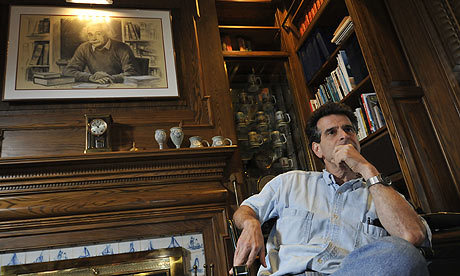 Kamen is not to be trifled with when he's thinking about big, weighty, global problems. He follows in the footsteps of Archimedes, Einstein, Galileo and da Vinci.
He's been working on electric engines, like that in the Segway, because he wants clean air and carbon-spewing engines work against that. Someday, I strongly predict, Kamen will announce an engine that is carbon neutral and doesn't require carbon-based electricity to make it run.
But for now, Kamen has settled for solving the world's water problem.
One comment on the Cinema Village theater website: "Caught this at the Boulder International Film Festival in March. Three words: 'Goosebumps. All. Over.' You gotta go see this documentary, it'll change how you view the world."
Oh yeah ... my film review?
"Slingshot" is OUTSTANDING. If you want to make an indelible gift impact on your family, your friends, your children and yourself, Slingshot is a certain success. Go see it and learn more about Dean Kamen and his sui generis ability to solve some of the world's most serious problems.
Support HuffPost
The Stakes Have Never Been Higher
Related
Popular in the Community