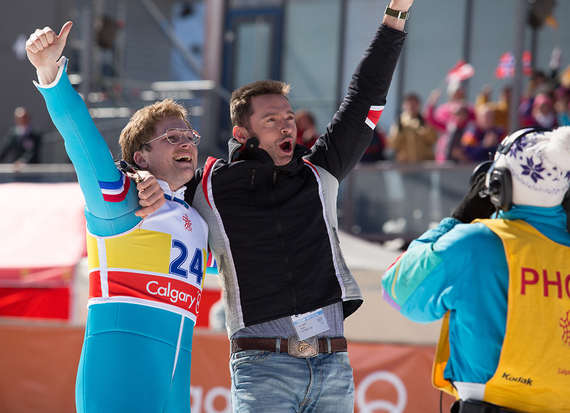 Hugh Jackman and Taron Egerton
Feeling depressed about the state of the world? Refugees? Political candidates? Not sure what to do? Here's a suggestion: go and see Eddie the Eagle. Its one of those little-engine-that-could films that shouldn't work, but does. A lot has to do with the choice of Taron Egerton to portray real life British ski-jumper, Michael 'Eddie' Edwards, who through sheer determination and will, took part in the 1988 Calgary Winter Olympics. Taron who is almost unrecognizable from his debut role in Kingsman: The Secret Service, imbues Edwards with innocent exuberance and a stalwart will. Shut out, discouraged, the butt of jokes, Michael Edwards ignores it all, intent on his one childhood goal - to participate in the Olympics - any Olympics.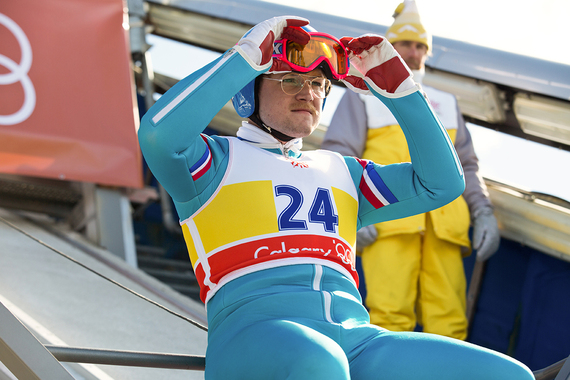 Taron Egerton as Michael 'Eddie' Edwards
His dogged good humor as he attempts to excel at sport after sport to the destruction of the neighborhood, the consternation of his dad who just wants him to be a plasterer, and the unwavering support of his mum, will have you chuckling. This is not a saccharine film. Anyone who has ever gone after a dream, and failed, who has tried, when others have told them they can't, who good naturedly has attempted to reach beyond their boundaries and been rebuffed, will come out of this movie smiling.
Rather like Cool Runnings, the film that documented the improbable story of the Jamaican bobsled team's effort to compete in the same Winter Olympics, Eddie the Eagle is an inspirational story full of warm belly laughs. We watch with horrified fascination, as Edwards, despite never having ski-jumped, launches himself into the air, falling, getting up and doing it again. In talking to the 'Eagle' he matter-of-factly rattles off a list of injuries that include a broken neck, a broken back, broken fingers and thumbs - yet he was never deterred. He tells of digging through garbage to find food, of having a protective helmet so old that it was tied together with string, and when he launched himself into the air, the thrust forward broke the string beneath his chin, sending his helmet - flying projectile manner, further than he, himself, was able to traverse. That self depreciating humor buoys the film and makes you root for him.
Hugh Jackman is the coach who has failed to live up to his own potential. He determines to let Edwards 'learn the hard way' that you don't decide to take up the sport of ski jumping and set your sight on the Olympics, with less than a year of training under your belt. Ultimately, he is won over by Edward's dogged determination. Christopher Walken is perfect in a small role that had the audience chuckling. Character actor, Jim Broadbent is perfectly cast as the British sport's commentator who gives Edwards the nickname: The Eagle. This is a great date movie, family movie, feel good movie.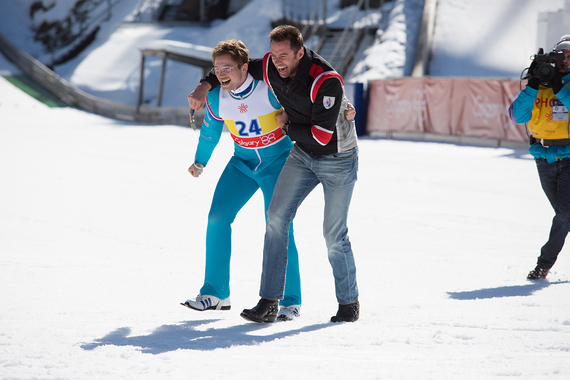 Check out the link below and fall in love. Go and see Eddie the Eagle. Let me know your thoughts. And if you don't come out smiling -- you may not be human.
Here is the trailer link.
https://www.youtube.com/watch?v=cK5g2qgCcIw
Calling all HuffPost superfans!
Sign up for membership to become a founding member and help shape HuffPost's next chapter