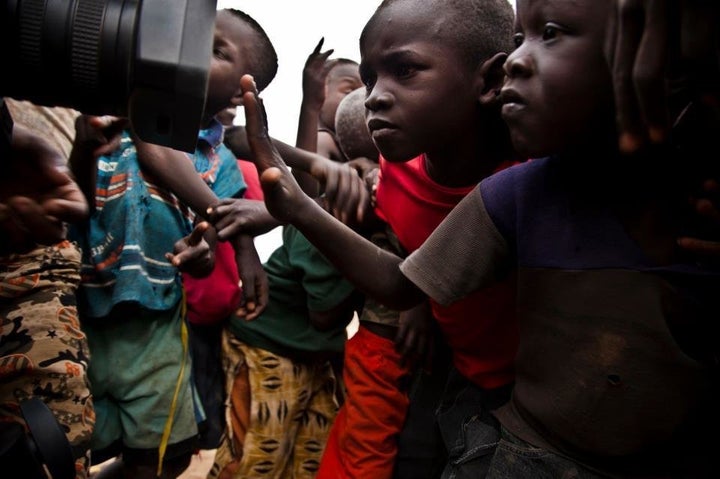 David Chen has spent hundreds of hours in search of good stories to present through podcasts, whether it's with cohosts Adam Quigley and Devindra Hardawar on the popular movie show /Filmcast, the podcasts he's devoted to such TV shows as Game of Thrones and Justified, or his collaboration with veteran character actor Stephen Tobolowsky, The Tobolowsky Files.
Now, Chen has thrust himself into the middle of one.
"After podcasting for five years, one starts to wonder if anything more can be accomplished with the format," Chen tells TakePart. "I started to wonder whether or not we could use our platform and audience to do good for the world."
Inspired by similar efforts on gaming Web sites, and a tip from a friend from grad school, Chen's cinephilia will lead to cinephilanthropy next month. /Filmcast is scheduled to air a special ten-hour marathon on Saturday, March 30, to raise money for FilmAid, a nonprofit organization that provides information, education and entertainment to refugee camps in the form of films. The contributions generated from the /Filmcast fundraiser are earmarked for FilmAid's efforts in Dadaab. The largest refugee camp in the world, Dadaab is based in Kenya and provides a temporary home to more than 400,000 displaced residents.
"People wonder what role film can have in a refugee camp, where people need basic necessities like food and water" says Liesl Spitz, FilmAid's Development and Communications Officer. "There are many NGOs in a refugee camp providing different services. One of our roles is to provide psychological relief, which is important for people in stressful environments."
Screenings of such crowd-pleasers as Mr. Bean's Holiday and Doctor Doolittle take the meaning of "feel-good films" to a whole deeper level for people cast into limbo in areas ravaged by war and natural disaster. But providing good-time flicks is only only one of the many ways that FilmAid transforms the escapist artform into real-world relief.
Beyond providing equipment such as inflatable screens to hold screening events, the organization has expanded its vision since its 1999 inception to include putting the tools to be a filmmaker in the hands of the refugees themselves. Part of FilmAid's mission is to offer video-based workshops to people in the camps. The displaced residents in turn make films about the issues they face on a daily basis, which can spark conversations within the Dadaab community, and also create discussion in the outside world when clips are uploaded onto the organization's YouTube Channel. In some cases, these films don't just reflect an unusually personal look into the life of refugees; they have practical, potentially life-saving applications as well.
"The average stay in a refugee camp is 17 years. We provide information and education for those who are staying over a long term," says Spitz. "In crisis short-term scenarios, such as mass numbers of new arrivals to Dadaab in the famine crisis of 2011, film can provide emergency information. For instance, if you've just arrived and you're standing in this line to be registered, you need to know that if your child is malnourished, you can go to the front of the line. This kind of logistical service is very important."
The donations pouring in indicate that many in the /Film audience have embraced the cause. A site that spends a great deal of time tracking movies about superheroes is doing its own small part to save the world.
As always, Chen wants to put on a good show, but has extra incentive this time.
"I certainly think the success of this fundraising drive could trigger similar drives in the future," he says. "We've almost hit our goal of $10,000, which is incredibly exciting. After reaching it, I'm most concerned with creating a ten-hour-long program that will be of a quality that will cause even more people to want to donate next time around."
Related
Popular in the Community