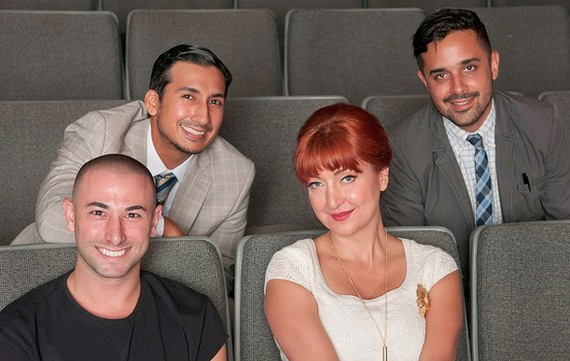 The Founders of Filmgate Miami. Executive Director, Diliana Alexander, pictured lower right.
Many would say that one of the largest differences between film and theater is the way that audiences interact with each medium. Recently films like Her explore individual connection to technology. 3D glasses and the cult classic, Rocky Horror Picture Show, begin to explore the ways in which film can become three dimensional, or interactive. Filmgate Miami is rapidly expanding the concept of interactive film by bringing local and international innovations on this theme to South Florida. Executive Director Diliana Alexander elaborates:
Filmgate's mission is to present interactive films. What is/defines an interactive film and what has been your audience's reaction to attending these events?

An interactive film in our view is one that extends the boundaries of a two dimensional space and spreads into different mediums, all while creating unique and immediate moments for the audience. The audience is permitted and invited to explore beyond the story on display, which creates a more meaningful and personal experience.
The audiences are thrilled because due to the involvement of technology, the experience is customized. One size fits all is no longer acceptable. Their participation or non-participation can influence outcomes, which is incredibly exciting to the audience and to the creator. The experience and the memories become collective.
Tell us about this years unique offerings?

Filmgate Interactive this year offers interactive screenings, interactive exhibits, the Interactive Tech Playground at the Rubell Family Collection, creative workshops and panels. We are thrilled to show the possibilities of interactive storytelling. For example, The Skype Show, created by New York generative artists Greencard Wedding, is a transmedia musical. Its statement about government support of artists in America is disguised by a love story with a happy ending, symbolized by a Friesian wedding cake consumed by the audience. The Lost Children, an immersive live and feature film experience, created by New York story architect Mark Harris, resolves around the familiarization of cult recruitment. The evening begins with an cocktail reception, where you witness the recruitment techniques of a cult. It is followed by an interactive film, which tells the story of Evelyn Hamilton, patron saint of the cult, and her battle against all odds to fulfill her destiny. But this is not an ordinary film. This film reacts to you in real time.
We also wanted to show the possibilities of interactive non fiction with projects coming out of the famous PBS POV Digital hackathons, The Aatsinki Season produced by Murmur , Unknown Spring, directed by Jake Spring and Empire, created by Eline Jongsma and Kel O'Neill. In addition, the National Film Board of Canada will present a version of their experience INSOMNIA, created specifically for Filmgate.
There is so much more, the best place to investigate is our website.

What makes South Florida (Miami and Miami Beach) a good location for experimental film work. What is the film community like?

It is a very unique time for the South Florida community. This is no longer a place where people come to live out their final days. The makeup of the state is changing and it is increasingly multicultural. Now everyone is talking about Miami being the South American silicon valley. Time will tell, but South Florida at the moment exudes the attitude of everything is possible, it has a new frontier feel to it. Since transmedia is also a new frontier, we are using technology that was not possible a few years ago, it is only fitting that everyone was so receptive to us when we said, "we really are interested in transmedia, we like the possibilities it has to offer and we believe it is the format of storytelling for our times and for the future." We were fortunate that grants programs, like the amazing Knight Foundation were receptive and excited about our Festival and offered their support.
What made it easier for us is that the artistic communities here were already cross pollinating. South Florida has an incredibly talented dance community and when we began Filmgate last year, we noticed that they were already experimenting with new tech and film. This is why we created the CNTL>ALT> DANCE program and asked dancer/choreographer Pionner Winter to curate it. We run a yearly organization, Indie Film Club Miami, which supports independent filmmakers to further their talent and produce projects. This year, we began introducing workshops on interactivity and incentives for interactive project which activated three locally grown pieces. Next year there will be more.
This is only your second year producing this festival, and already it has grown dramatically. Can you talk about the challenges and your vision for the future of Filmgate?

The challenge is to give an artist the confidence to use new technology such as haptics, mapping, games and apps for their creative needs, while not loosing track of good storytelling. It is also to ensure accessible entry points for filmmakers and visual storytellers, as well as for the audiences. Indie Film Club Miami has always believed in being democratic.
We will continue to invite the most original and engaging interactive projects from around the world, but an important goal is to activate new stories and relationships during the span of the creative conference and to continue developing these ideas during the year. In addition, as always, the challenge is to remain committed to the mission of the Festival and not get lost into the world of red carpets or advertising messages. We are a creative festival and we want our visiting and local artist to feel free to express themselves.