"I wanted to say that your work is very special. I think it is very important and it can be very effective. It was an honour for me to have you here." Dr Agnes Gereb, Budapest, Hungary, May 2012 talking about One World Birth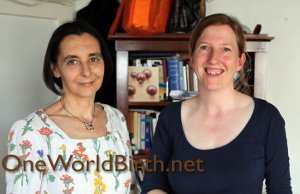 Earlier this month we filmed an interview with Dr Agnes Gereb, the Hungarian obstetrician and midwife who was imprisoned and is currently under house arrest for supporting women giving birth at home. The filming was for our ONE WORLD BIRTH new documentary film which will be released this summer.
Although it is legal for mothers to give birth at home in Hungary, any medical professional (without a special license) who helps those women can be criminally charged. Over many years, Agnes Gereb supported over 3,500 homebirths - each time risking arrest - because she believes in giving women a choice in birth. Agnes' beliefs are at odds with the Hungarian maternity system. It's a system where, according to the Hungarian Obstetrician we also interviewed, medical interventions like induction, epidural and episitotomy are routine, where OB/GYNs are paid cash "gratuitities" by patients to "ensure" good outcomes and where c-section rates in some hospitals are reputed to be at 50%. The price Agnes paid for going against the system was to be found guilty of "endangering life in the conduct of her professional work". She was sentenced to two years in prison. Earlier this year, the court of appeal doubled the suspension period of her medical and midwifery licenses to 10 years. (There is an international petition to support Agnes Gereb that already has over 10,000 signatures).
Next week we are filming at the Human Rights in Childbirth Conference in the Hague, Netherlands. The conference is looking at the implications of the Ternovsky vs Hungary 2010 ruling at the European Court of Human Rights.
Anna Ternovsky was a young pregnant Hungarian mother who had been supported by Agnes Gereb for her first home birth. Anna wanted to be reassured that an attending midwife would not be criminally prosecuted for supporting her second home birth.
Anna's lawyers argued under Article 8 of the European Convention on Human Rights which provides a right to respect for one's "private and family life, his home and his correspondence", subject to certain restrictions that are "in accordance with law" and "necessary in a democratic society". The lawyers argued that Anna should be allowed to determine the circumstances and location of her birth.
Anna won the case. This means that any mother in Europe now has the same right. This is a game-changing potentially world-changing ruling that could inspire Human Rights lawyers in other countries if not continents to look to Human Rights to protect women's birth rights.
Just recently another mother called Ivana Pojatina filed a lawsuit against the Republic of Croatia at the European Court of Human Rights in Strasbourg to protect her birth rights. Download file
This could be what the birth world and global birth advocates have been waiting for. However, whether European hospitals or birth care providers take positive action in the light of the Ternovsky ruling is another matter.
ONE WORLD BIRTH is releasing a documentary film this summer on this subject. The film features Agnes Gereb, Anna Ternovsky and many of the world's leading birth experts, amongst them legendary midwife Ina May Gaskin, MD and author Michel Odent, social anthropologist Sheila Kitzinger as well as many leading midwifery and obstetric professors.
To watch a 10 minute preview pitch video of our film featuring Agnes Gereb, Anna Ternovsky and many of the world's leading birth experts, please visit our website: oneworldbirth.net
Popular in the Community