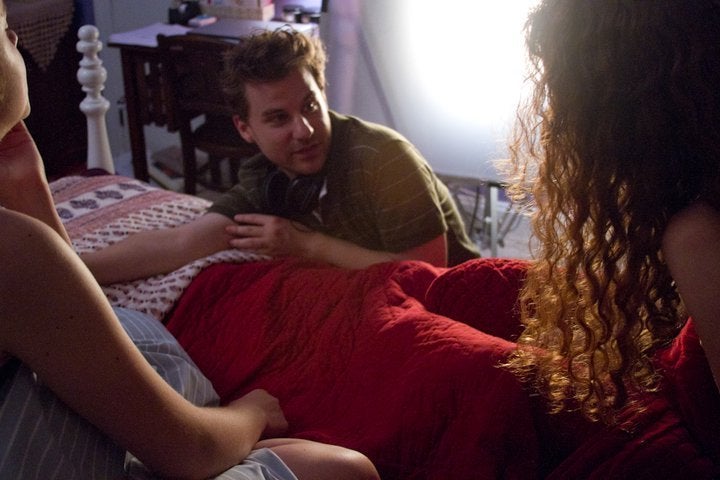 What Chicago filmmaker and actor Stephen Cone's second full-length film "The Wise Kids" lacks in big-budget actors or lavish sets, it makes up for with so much more.
The film, which premiered this summer to much acclaim at Outfest, follows three teens -- Brea, Tim and Laura -- at a vulnerable time in their church-centric, South Carolina lives. The trio of close friends are set to graduate from high school and embark on their post-graduate lives. One of them, Tim, happens to be gay, and finds support through Brea, the daughter of their church's preacher. Laura, however, has a difficult time accepting both Tim's sexuality and Brea's increasingly reluctant faith.
But despite its seemingly confrontation-prone storyline, the film resonates far beyond the teenage angst typical of the "coming of age" subgenre with its nuanced, stylish exploration of the weighty themes at play. In his recent review of the film, renowned local critic Roger Ebert called it "honest, observant, and subtle" and "refreshing" as he offered his three-star seal of approval.
Before "The Wise Kids" makes its Chicago debut at the 40th annual Reeling Gay and Lesbian Film Festival, The Huffington Post spoke with Cone about what inspired his evocative new feature.
HP: How long has this film been in the works? Watching it and just reading about your background, it felt like something that may have been ruminating for some time.
SC: Well, you could argue it's been ruminating since birth. I'm the son of a Southern Baptist preacher, so that's the life I came from and, I've said this before, but if you're the son of a minister, love movies and are interested in personal filmmaking, at some point you'll make a film like this. It's sort of inevitable after growing up going to church three times a week for 18 years. It gives you a lot to work with.
So some of the film could be considered autobiographical?
It's autobiographical in that I experienced some of what's in the film and a lot of it comes from observation and curiosity, wondering about all the strange and wonderful people I encountered when I was growing up. In terms of the project, though, I'm sort of a workaholic and I write fast and work fast. The whole thing from its conception as a movie to actually shooting it wasn't actually that long. We had our world premiere at Outfest in Los Angeles on July 9 of this year. From conception to the final days of post-production, it was probably a year and a half to a two year span. I like to make one movie per year, more or less.
(Scroll down to watch a trailer for "The Wise Kids.")
Speaking of Outfest, "The Wise Kids" was recognized with the grand jury awards for best U.S. dramatic feature and best screenwriting there and has been well received at practically every turn. This weekend, Roger Ebert wrote a glowing review of the film. Has all of this come as a surprise to you?
It's interesting. I'm a self-taught filmmaker and I've basically made like two shorts, a medium-length feature and two full-length features over the past five or six years. But I've never been to film school or had a film class in my life. When you're teaching yourself, you learn that what you're making may or may not go anywhere and I've learned to not really have expectations about where a movie is going to be. But it's been a pleasant surprise. There are so many movies being made that when you tackle something that's not necessarily a genre piece or something that rests in gimmick, you wonder if it'll find its home.
I feel like I'm finding my footing as a filmmaker and that there is stuff in this movie that people are really responding to. I was surprised when we got into Outfest in the first place because the movie is not an overtly gay film, so finding myself on this sort of gay festival circuit is a surprise and really interesting to me that that audience responds to it so strongly. On the other hand, I also want to see the film elsewhere, at non-gay festivals and in Southern towns, so I'm trying to push it in both directions. The reaction has been incredible, but I still feel like we're a bit of an underdog because we don't have any stars and it's not a sensationalistic film.
I think one aspect of that lack of sensationalism is the way it deals with people of faiths' varying views on homosexuality. Other films, particularly and understandably from queer filmmakers, sometimes paint faith-based opposition to LGBT lives with a very broad, bigoted brush. Was that a conscious or a subconscious decision?
It's probably half conscious and half subconscious. On on hand, when you're writing and going about making something, one of the keys is to go with your gut and not think too hard about things. On the other hand, there's a part of me that I think wants to push against other portraits of that. I grew up with all these people who were in my dad's congregation who were all very human, varied and diverse, no matter what you think about Christianity. I think it is a mistake to lump them into any one particular category. You don't see a lot of people dealing with that community in a really human, three-dimensional way. So, yes, part of it is a rebellion against that other stuff, but mostly it's just trying to make a good movie.
The film was also interesting to me as a gay coming age of film that wasn't terrible, when, frankly, so many are. What do you think might be missing in so many others that made yours a success? I know this is a loaded term, but "The Wise Kids" almost feels like a "post-gay" gay film.
I don't know, I guess they have their interests in the wrong place possibly. Maybe they need to put down their magazines, turn away from their websites and watch more movies, to really think about what it means to make cinema and tell a story. What's probably lacking is an interest in storytelling and maybe even nuances of human behavior.
And I like the post-gay thing and only because, as sort of pretentious as this can sound, I'm really deeply influenced by a lot of European cinema and a lot of that is very post-gay. You get the sense that they haven't thought too much about who's sleeping with who and what it means if they're sleeping with this character. It's a more fluid kind of portrayal of human sexuality in all its colors and fluctuations. And I like that term, not to by any means hop on the bandwagon of everyone being bisexual, but there's a sense in Europe of looking at human relationships and desire in a way that at any given moment, you never know what you're going to be dealing with.
Who are some of your favorite filmmakers who have really impacted how you approach the craft?
I'm a major cinephile and I see everything so it's very difficult to say who my primary influences are these days. There were three or four filmmakers in their 50s and 60s including Claire Denis, Arnaud Desplechin, Olivier Assayas, Andre Techine and Patrice Chereau who are all active French filmmakers and make films about people that feel very alive, almost like you've been touched by the actors. That's my primary interest: movies that express the sense of what it means to be alive and living in a body. Probably by greatest heroes that aren't working are John Cassavetes and Jean Renoir. In terms of current American filmmakers, I am a big Jonathan Demme fan. I'm a Sofia Coppola fan. I like [Terrence] Malick. There's a British filmmaker, Terence Davies, I like.
And finally, how does it feel to be preparing for this film's debut for the Reeling festival in Chicago, the town where you live, after all these months of being out on the circuit?
I'm kind of giddy about it, actually, but at the same time I'm worried about projection and wanting it to look just right. But that's always a matter of anxiety with me. But, no, the movie is so Chicago and we shot in Charleston, S.C., but so many cast and crew came from Chicago. I've been going to see movies at the Music Box for seven years, so it's amazing that it's happening there.
And what else is ahead for the film?
Outfest was really good for us. It got us representation in terms of festivals and sales, so we have people getting the word out, submitting us to festivals and things like that. We will continue to play festivals -- and have our other hometown premiere in Charleston later this month, too. We haven't had our European premiere yet, and we're not sure when that will be, but we will continue to tour the country and world with this film and cross our fingers for some solid distribution.
Tickets to the Chicago premiere of "The Wise Kids," kicking off the 40th annual Reeling Film Festival at the Music Box Theatre, 3733 N. Southport Ave., Thursday, Nov. 3, at 7:30 p.m., are still available. HuffPost Chicago will be featuring more films worth checking out during the festival later this week.
REAL LIFE. REAL NEWS. REAL VOICES.
Help us tell more of the stories that matter from voices that too often remain unheard.
BEFORE YOU GO