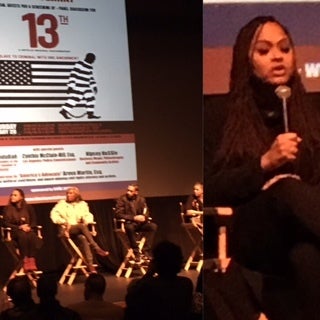 Filmmaker Ava DuVernay, best known for the critically-acclaimed film "Selma" about the equal voting rights movement led by Dr. Martin Luther King Jr., brings another thought-provoking medium to audiences in the form of the Oscar-nominated Netflix Original Documentary entitled "13th."
"13th" is an exploration of the history of racial inequality in America, with a focus on the 13th Amendment of the United States Constitution that outlawed slavery and involuntary servitude "except as a punishment for crime." The documentary examines how the 13th amendment criminal clause has resulted in a modern day form of slavery through mass incarceration that disproportionately impacts people of color, particularly African American men in America.
During a recent "13th" screening and panel discussion at the Nate Holden Performing Arts Center in Los Angeles, CA, Ava DuVernay pointed out the importance of making documentaries and films that give a voice to people who are typically not represented by "traditional" Hollywood. DuVernay stated, "The audience needs to voice what we want to see and get involved in the storytelling." She added that it's about "changing the narrative." The panel included a diverse group of speakers including Los Angeles Police Commissioner Cynthia McClain-Hill, Hip-Hop Artist Nipsey Hussle, and Melina Abdullah, Professor and Chair of Department of Pan-African Studies at Cal State University, LA, as well as the Los Angeles chapter lead of Black Lives Matter.
The panel discussion, sponsored by www.blackwoodalliance.com in partnership with The California Endowment, included conversations about the importance of artists involvement in raising the consciousness of people to empower positive change. DuVernay pointed out that "traditional roles are changing in terms of access." When asked by DuVernay how to get more young people involved in social change, Nipsey Hussle stated, "Content creators influence the young people. Let young people know that we have the power to create what we need." Melina Abdullah thanked DuVernay for "using her voice" to create change, calling it "art for liberation."
Ava DuVernay poignantly pointed out that the "13th" is more than just a documentary to be watched, she stated that audiences should be compelled to look at their belief systems and behavior and possibly be inspired enough to be moved.
The "13th" is showing in 190 countries in the world.
Popular in the Community