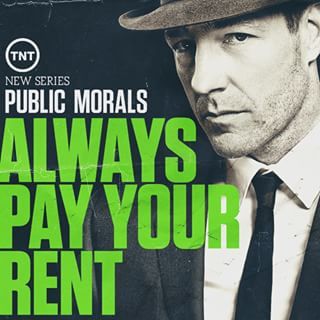 I was recently chatting with filmmaker Edward Burns who was excitedly talking about his new drama series, Public Morals, which premieres on August 25 on TNT. He was grateful that I'd found the series compelling with a host of outstanding elements from cinematography, set design and costuming to music -- the series kicks off with The Doors' "Back Door Man" and serves up other classics from the Stones, CCR, Sinatra and Bobby Darin, along with rediscovered and mostly forgotten gems.
The story itself is set in 1960s New York, a period that witnessed social upheaval, increasing violent crime, and a growing illegal drug trade that helped finance a major expansion of organized crime's operations. The French Connection case, the largest drug bust in US history, happened in the early 1960s, and all these factors began taxing police agencies.
But Public Morals, the series, is much more than a period cop show. Burns, a native New Yorker who grew up in a Irish-American, cop family describes the series he created, wrote and directed as a "family saga" set on the gritty streets of New York with cops and mobsters and a "blood feud between two Irish-American families."
Burns, who has often mined the tapestry of Irish-American family life in his movies from The Brothers McMullen to The Fitzgerald Family Christmas, plays police detective Terry Muldoon in the NYPD's Public Morals Division. Muldoon and his crew understand the lay of the land on the streets, that "there's the law and then there's the rules." For some, that meant turning a blind eye to seemingly victimless crimes.
When it came to what they considered victimless crimes, there seemed to be an attitude throughout the City, that everybody gambled, everybody played their daily number, everybody wanted to have a drink on a Sunday. That attitude came out of Prohibition, when everybody wanted to drink -- so why are we enforcing these laws? I was fascinated by how do you police 'sin' rather than traditional violent crime. That's how it was back then. Not just the cops but the politicians and citizens where it was accepted that you'd make allowances in certain areas.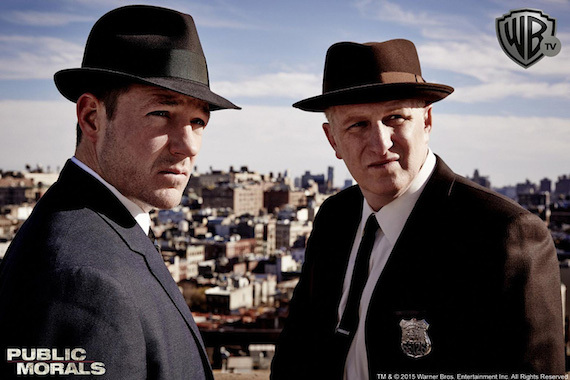 And, being a New York history buff, Burns further says of his Irish-American character Muldoon:
From everything I read about the NYPD's history, and I've got members of my family who were on the job, there was a type of cop that became part of New York folklore. That witty but tough talking Irish guy, who could be sympathetic when he needed to be. My character Terry is a composite of those cops.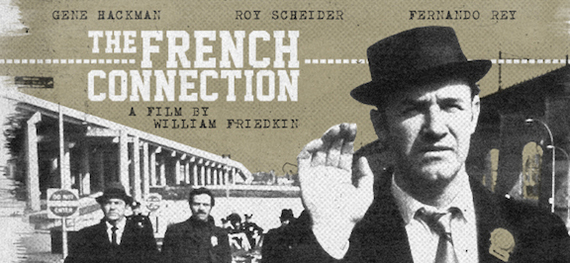 Irish cops reportedly ran the NYPD in the '60s, and sure enough, Burns pays homage to one of the NYPD's most famous Irish-American cops from that period, Popeye Doyle, the fictional character based on real-life detective Eddie Egan, who along with detective Sonny Grosso made that major French Connection heroin bust. That case inspired the brilliant and 5-time Oscar winning movie, The French Connection (1971), directed by Billy Friedkin. Burns has Muldoon's partner Charlie, played by Michael Rapaport, wear Doyle/Egan's signature porkpie hat.
Gold shield detective Grosso, who went on to become an award winning TV and movie producer after he retired from the NYPD, recalls:
What really interested the studio executives and The French Connection producers was not just the 60 kilos, by far the world's largest heroin bust. But that was more of a B-story. The A-story for them was these two very different cops -- one Italian, one Irish. They called me priest-like. And next to my man Eddie Egan, I was priest-like. Listen, I was certainly far from being a priest, but sometimes, Egan was so far out there. But as far out there as he was, I can't even count the number of young cops who told me, they came on the job because of what we did on The French Connection.

Irish Egan was a larger than life character who was loud, boisterous but still a great cop, who along with Grosso, made the most annual drug busts in the Narcotics Division. Grosso also says he was nicknamed "Bullets" Egan because he constantly pulled his gun out, explaining:
The bosses tell you, 'Don't take it out of your holster unless you're prepared to use it.' But that's so much horseshit. Egan pulled it out of his holster every five minutes, that's why they called him Bullets. He had six in the gun and eighteen more in his belt. He was constantly shooting it in the air when he chased perps. He thought he was so good with his gun -- truth is, he couldn't even hit the target on the range. But he was fearless and the first cop wading into trouble.
But no one could work with him, except for his Italian buddy Grosso who was his partner for 16 years, explaining:
He had had twelve partners before I became his partner. Nobody wanted to work with him. That's what I told Roy Scheider, who played me in The French Connection opposite Gene Hackman who played Doyle/Egan. As I was a consultant on the set, Roy said to me, 'How could you stand this guy?' I said, 'Roy, if I didn't like him who would?' Roy slapped his hands and said, 'Now I know how I'm going to play you!' And he must've known something because he got an Oscar nomination, and Hackman won the Oscar!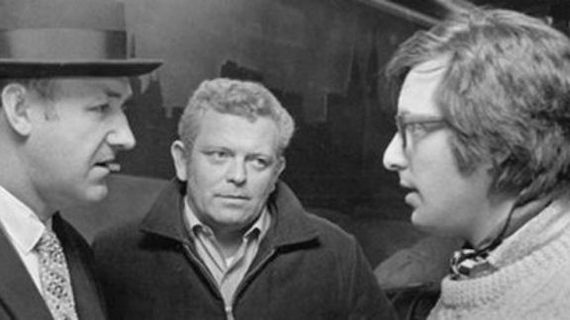 Gene Hackman as Popeye Doyle, Det. Eddie Egan, and director Billy Friedkin
Egan was full of brave Irish bluster, and Grosso adds:
My beloved mother Lillian would warn, 'I know Eddie's going to make sure you come home every night. But what I worry about is that one time, Egan might not come home.' Her comment was profound. And my pal Eddie was the greatest cop I ever worked with. God rest his soul!

A big fan of classic movies like Mean Streets, The Godfather, The Hustler and The French Connection, Burns says of Public Morals: "We made it like a good time at the movies and hopefully we deliver that entertainment to your living room on your television."
Calling all HuffPost superfans!
Sign up for membership to become a founding member and help shape HuffPost's next chapter